Wildlife Photographer of the Year exhibition drawing the crowds to Sewerby Hall and Gardens
Tue 7th June 2022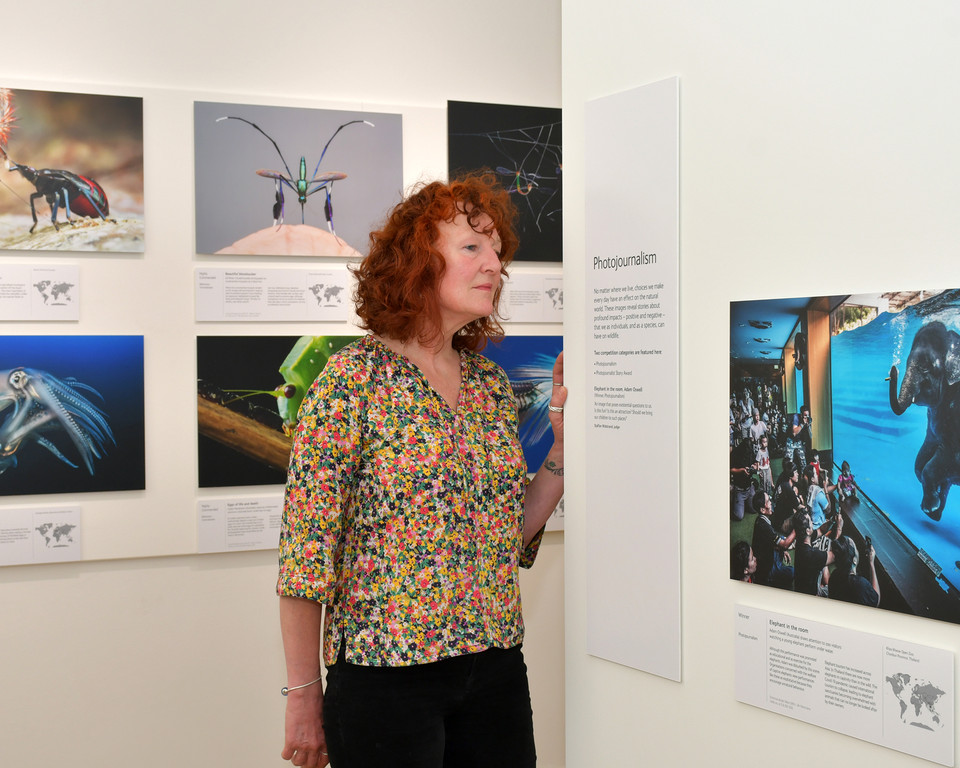 The Wildlife Photographer of the Year exhibition at Sewerby Hall and Gardens is proving hugely popular.
On loan from the Natural History Museum in London, the exhibition is on display until Sunday, 17 July, and, during its first four weeks, has seen an increase of 46 per cent in visitor numbers at the attraction, compared to the equivalent period in 2019.
Curator Janice Smith said : "We have had visitors travelling long distances to see the exhibition, and we have also had overwhelmingly enthusiastic reaction to the exhibition on our feedback forms, and on our social media. There is no doubt that more people are taking time to visit the house itself since the exhibition opened.
"It's also very encouraging to see that our visitors are taking lots of time to read all the captions which describe the photos, and are keen to absorb the information and key messages which go with the stunning images on display."
The exhibition features exceptional images capturing fascinating animal behaviour, spectacular species and the breathtaking diversity of the natural world.
Wildlife Photographer of the Year is the most prestigious photography event of its kind, providing a global platform that showcases the natural world's most astonishing and challenging sights for over 55 years.
Councillor Mike Medini, portfolio holder for cultural and leisure assets, said: "I am absolutely delighted that this amazing and powerful exhibition is proving every bit as popular as we hoped it would do! It forms an excellent addition to any visit to Sewerby Hall and Gardens, and I urge anybody who would like to see it to get there before 17 July!"
Entry to the exhibition is included in the admission price, and a range of associated merchandise is on sale in the Welcome Centre throughout the run of the exhibition.
Visitors can also see local East Riding wildlife photographs on display in the Bluebell Wood near the main entrance to the house, and can vote for their favourite picture in the Welcome Centre, or at the Echo Gallery in the Old Town at 70 High Street.
There is also a new trail to follow along the Woodland Walk, looking at local wildlife, with 21 signs giving fun facts and activities about wildlife which can be seen in the gardens, including stoats and roe deer.
Sewerby Hall and Gardens is putting on a varied programme of events and activities at weekends throughout the exhibition, with Rusticus activities every Saturday and Wildcats every Sunday. On Saturday, 11 June, at various times between 11.30 am and 3pm, there will be an outdoor Rusticus Encounter, with Fantastic Fox - learn the foxy skills of stealth, cunning and surprise, then join him in his wild camouflaged caper, as Fantastic Fox goes on the prowl for tasty picnic treats!
Also on Saturday, 11 June, there will be a zoo activity, 'Meet the Hoof Stock', a chance to meet and learn about the donkeys, llamas and goats, at times between 11.30am and 1.30pm.
Sunday, 12 June will see Wildcats making Forest Crafts between 11am and 3pm, and also a zoo activity, 'Willow Fruit Kebabs' between 11am and 12 noon- make fruit kebabs and feed them to the animals.
Throughout the exhibition, there is a special programme of events for young visitors and their families.
'Under 5s Go Wild' will take place at the venue on Friday mornings until 15 July. This will be a fun programme of activities for under 5s, all about wildlife, animals and the natural world, featuring music, art, drama, historical toys, stories, crafts and zoo experiences.
There is also a bug trail in the house, together with puppets.
For full details of opening hours, events and activities, the Clock Tower Café and the zoo, together with details of Annual Passes, visit www.sewerbyhall.co.uk and follow Sewerby Hall on Facebook.