Waste and recycling team wins national award
Fri 23rd September 2022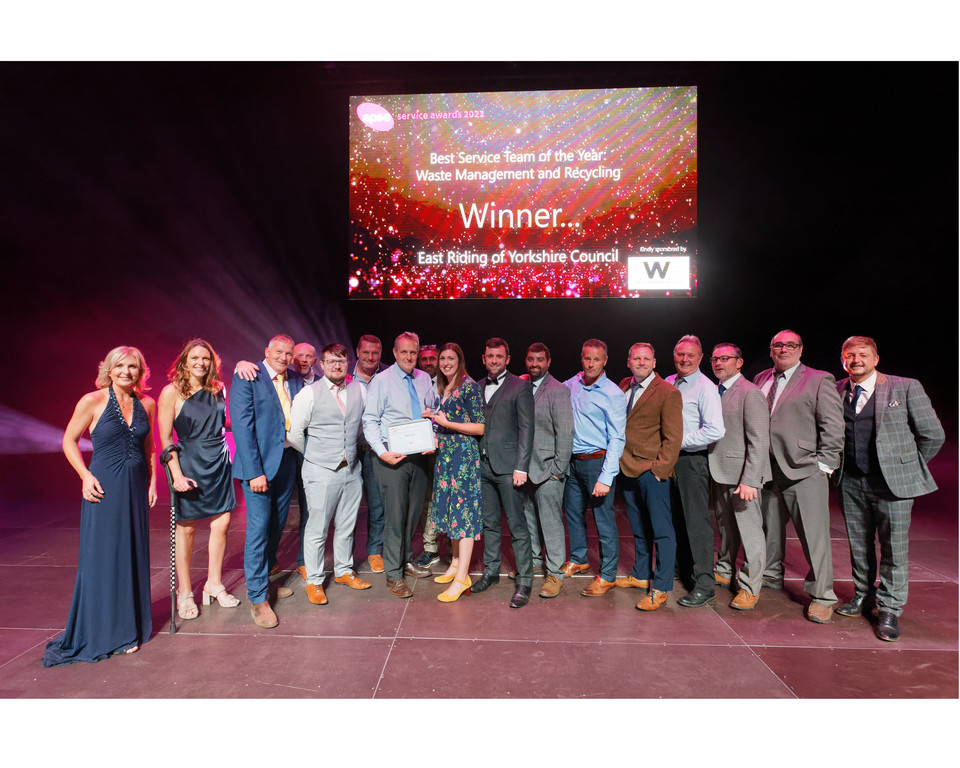 The waste and recycling team at East Riding of Yorkshire Council won a top national trophy at the Association for Public Service Excellence (APSE) Awards.
The team was named Best Service Team for Waste Management and Recycling at the annual ceremony held in Swansea, beating six other councils.
The APSE Service Awards honour the highest standards of frontline services at councils across the UK.
The waste and recycling team is responsible for the collection of waste from 154,000 homes across the East Riding, has 10 household waste recycling sites, is a partner in two charity reuse shops - and has been recognised for a number of years as one of the best recycling authorities in the country.
The council was shortlisted for a total of seven awards at the event, including Overall Council of the Year.
Paul Bellotti, the council's executive director of communities and the environment, was chosen to speak at the accompanying annual APSE seminar.
Paul Tripp, director of streetscene services, said: "Congratulations to our waste and recycling team for a fantastic, well-deserved win at these awards. And to residents and members for their huge support. It shows it's truly leading the way nationally."
Councillor Chris Matthews, the council's portfolio holder for environment and climate change, said: "To be shortlisted for seven awards overall was remarkable and shows the incredibly high standards to which all our council services are run. Congratulations to staff in all services nominated."
The five other nominations were for:
Best Service Team: Transport and Fleet Maintenance Service - Fleet management and vehicle maintenance),
Best Service Team: Highways, Winter Maintenance and Street Lighting Service - Highway maintenance services.
Best Innovation/Demand Management Initiative -The digitisation of health and safety site monitoring within streetscene services (Survey 123 project),
Best Efficiency and Transformation Initiative - Special Initiatives (winter services linked to car park treatments, etc),
Best Commercialisation and Entrepreneurship Initiative - South Cliff Holiday Park Expansion Development.
East Riding of Yorkshire Council was last named Overall Council of the Year at the awards in 2020, and it has won a number of awards in different categories in recent years.
APSE is the largest public sector benchmarking service in the UK and is used by more than 200 local authorities, with benchmarking across 12 service areas.