Volunteer Jimmy receives national Football Association award for 50 years' service
Fri 25th February 2022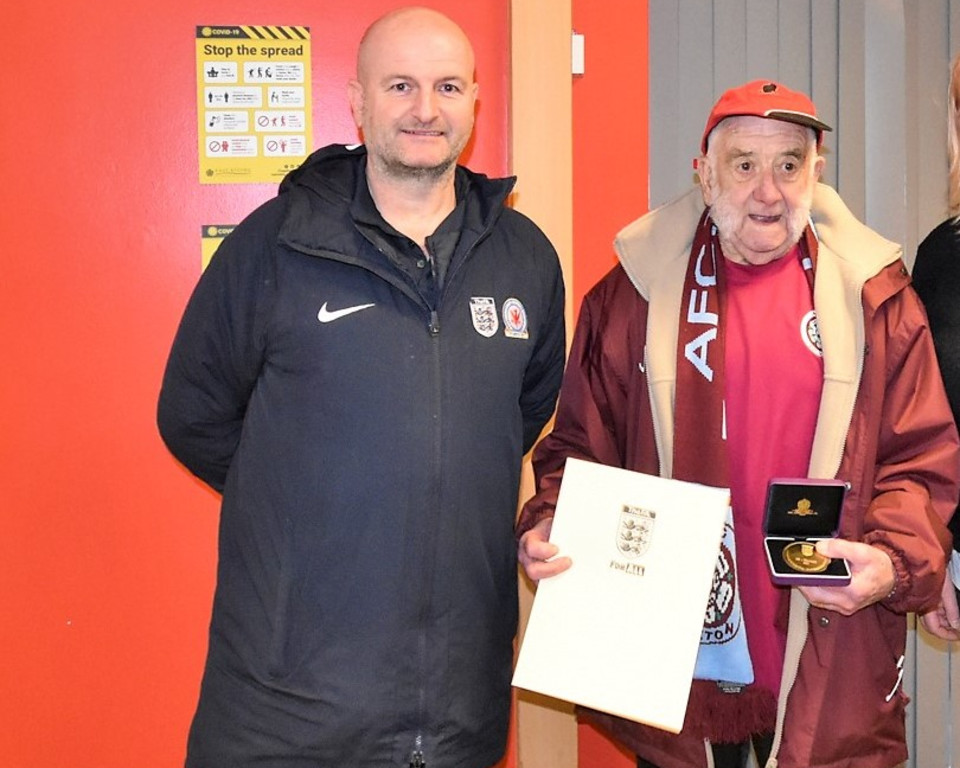 A grassroots stalwart has received a national Football Association award for 50 years of dedication to volunteering in East Yorkshire.
Jimmy Traynor, 83, was recognised for his "relentless" service to football in a surprise ceremony at Beverley Leisure Centre.
He was presented with a letter of thanks, an engraved medal and lapel badge by East Riding FA chief executive Adam Lowthorpe.
Jimmy has been a registered referee since 1965 and is best known for his service to Beverley-based AFC Tickton, where, since 1990, he has held various roles including, coach, secretary, mentor & welfare officer.
He is currently club president and in recent years has been instrumental in establishing AFC Tickton's thriving girls' teams.
Mr Lowthorpe said: "He has been connected to the club for so long, it's relentless. The Long Service To Football Award is given by the FA to say thanks for such dedicated service to grassroots football.
"It was a pleasure to be able to make the presentation in front of some of the coaches and players at AFC Tickton and I think Jimmy was quite emotional that people had gone to all that trouble.
"People who volunteer like that don't do it for any personal credit but I think it meant a lot to him to see how valuable his contribution to the community has been."
AFC Tickton secretary and club welfare officer Kirsty Brumpton said: "Jimmy's contribution to local grassroots football, and in particular AFC Tickton, is amazing. Myself, the committee and everyone in the club were over the moon to hear he had been awarded and recognised for time he has and continues to give everyone.
"His work and dedication has helped hundreds of players and volunteers get involved in the game we all love and the level of respect and appreciation for him could not be higher.
"He should be very proud of his achievements. We are certainly proud to have him involved in our club."
Pictures: Jimmy Traynor is presented with his FA award by East Riding FA chief executive Adam Lowthorpe.