Vine & Grain - Flavour of the month
Wed 13th April 2022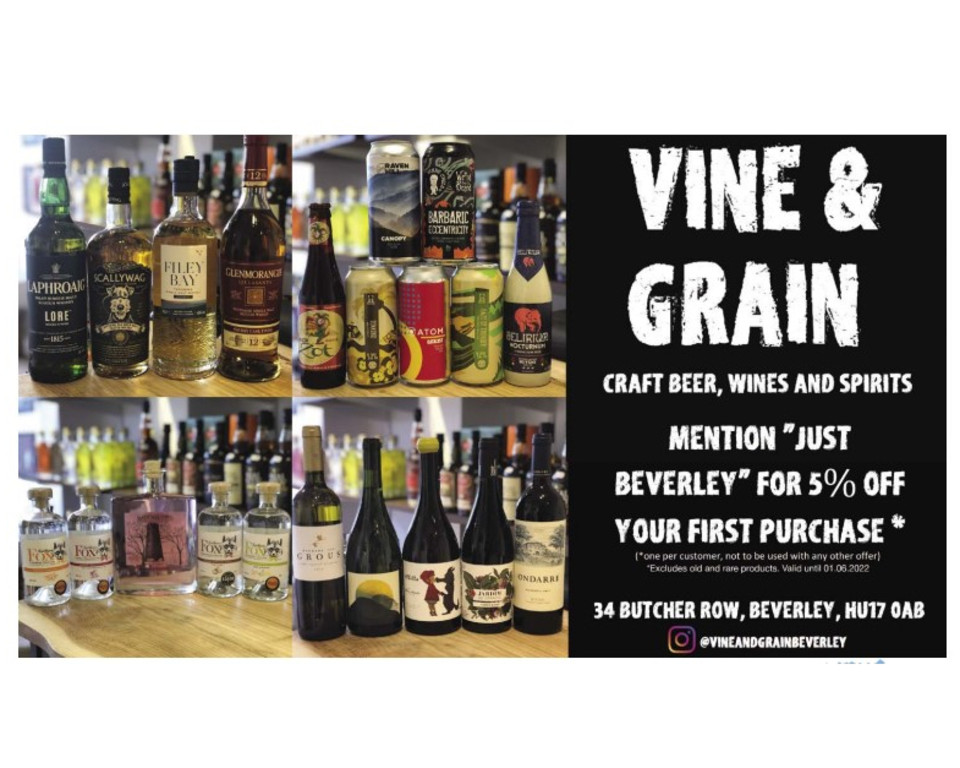 Vine & Grain is a small independent shop in the heart of Beverley where we strive to bring you the very best in Craft Beer, Wines & Spirits. From Whisky distillers in Yorkshire to tiny Vineyards in Greece we hope to find something that will whet your palate. Pop in store, say hi and lets discover your next favourite drink!
Gin of the Month - Northern Fox Rhubarb Cream Tea Gin
Beverley's own gin distillery, Northern Fox, have been going from strength to strength over the last couple of years with their Gins earning much deserved Great taste awards amongst others.
Their gins are dry in nature, but they use exciting and different botanicals to create unique gins from Honeyberry (only one in the UK) to Coffee and most recently they have released their new creation; Rhubarb Cream Tea Gin. The blend of tea and rhubarb is a great homage to our county and tastes fantastic. The rhubarb gives great tartness to the gin while this is balanced by the floral notes of the tea, add a splash of quality tonic and you have a very tasty springtime G&T. Pop instore for a sample and to discover the range.
Wines for Easter - Rola Wines Branco & Tinto
With easter coming up fast it's that time of year to think about what wine to have with your Easter Monday roast dinner. This year I'm delving into the wines of Portugal and in particular the Rola Branco & Tinto wines. Portugal is home to some truly brilliant wine makers and the wine that it produces is top notch but often goes under the radar when compared to its neighbour Spain.
Ana Rola, winemaker, is no exception and is making standout wines that are true to their location in the Douro Valley. The Tinto is a full bodied, elegant wine with dark fruits on the nose and bright red fruits on the palate. The Branco is fresh and crisp with great tropical fruit notes. This is a very smooth wine with great complexity and matches well with its brother the Tinto. The wines are both vegan friendly and low in sulphites as they are both low intervention wines so that the essence of the terroir has been bottled up with little interference. Both wines would make great accompaniments to your Easter Roast or any meal for that matter.
Brewery of the Month - Bricknell Brewery
Tucked away on Bricknell Avenue is the small but impressive brewery that is Bricknell Brewery. Since 2015 they have been brewing up a wide range of quality bottle conditioned beers of differing styles from hearty porters, warming best bitters and zesty pale ales.
Don't just take my word for it as they have featured regularly in CAMRA's Good Beer Guide. Their beers are all vegan friendly and they even grow their own hops that they use on a seasonal basis making these truly local beers. These have always been a firm favourite from the day we opened and no doubt will be for years to come, pop in and try for yourself.