Unique collection of Japanese toys leaving Beverley for a new home in Durham
Thu 24th March 2022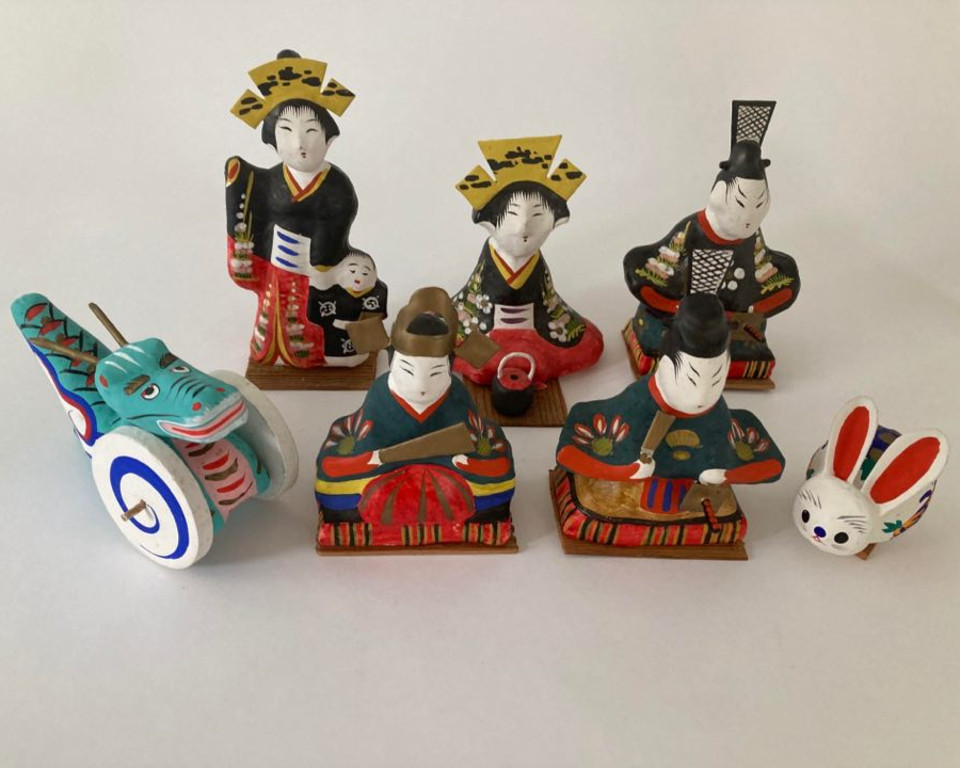 Although the popular exhibition, 'Reflections of Japan in East Yorkshire,' is closing this Saturday (26 March) at Beverley Art Gallery, it's not the end of the line for many of its exhibits.
The stunning collection of Japanese toys contributed to the exhibition by local collector Jane Irisa from the East Riding has found a new home. Her entire collection will be going to the Oriental Museum of Durham University.
Jane Irisa says : "It has been an exciting time over the past few years, working with exhibition curator Helena Cox and the whole team at Beverley Art Gallery, selecting and researching toys from my collection to display as part of the exhibition "Reflections of Japan in East Yorkshire". My heartfelt gratitude and admiration goes to all of them for their vision, skills, dedication and hard work in planning and putting on this unique exhibition.
"As is traditional in Japan, many folk toys are associated with a short season, after which it's time to put the toys away on their boxes until the following year. Others, more ephemeral, are only meant to last for a short time before being replaced by new ones.
"However, it gives me great joy to be able to share with you the news that my toys will be in safe hands for the future. The whole collection of more than 250 items, along with supporting documentation, books and pictures, will soon be going to a new home at the Oriental Museum of Durham University, where the toys can be kept safely, studied, and compared with other items in the museum's extensive ethnographic collections.
"I hope that children (and grown ups) of the future will be able to enjoy the beauty, charm and character of Japanese folk toys for many years to come."
Gillian Ramsay, assistant curator of the Oriental Museum, added : "We're so excited to be able to add Jane Irisa's incredible Japanese folk toys to the collections of the Oriental Museum.
"While our existing Japanese collection is rich in ceramics, woodblock prints, textiles and weaponry, we currently only have a small number of Japanese toys and an even smaller number of items relating to Shinto. Jane's incredibly generous gift will dramatically enhance our collection and we plan to incorporate a number of her pieces into the permanent displays so they can be enjoyed by our visitors for years to come.
"As a University museum we would also encourage researchers from around the world to come and study this fascinating collection!"
Helena Cox, curator of the 'Reflections of Japan in East Yorkshire' exhibition, said : "I am beyond delighted that this exhibition has now led to a lasting legacy, allowing people to see Jane's amazing collection in the perfect environment for study and learning more about it.
"I would like to thank everybody who has been to see the exhibition, and attended the talks we put on about it. I would also like to thank all our contributors who made it all possible, and now my heartfelt thanks to Jane and to the Oriental Museum at Durham University for continuing the work of promoting Japanese culture in this country."
Durham University's Oriental Museum is the only museum in the north of the UK dedicated to the art and archaeology of North Africa and Asia. The collections cover the cultures of China, Japan, Korea, South, Central and West Asia, and North Africa. In 2008, the Chinese and Ancient Egyptian collections were awarded 'Designated Status' in recognition of their national and international importance. The Museum is part of Durham University and is situated on Elvet Hill, Durham.
Opening times are 10am-4pm, Wednesday and Friday, 10-7pm Thursday and 12pm-5pm, Saturday to Sunday. Entry is FREE for all visitors. Closed on Mondays to allow staff to carry out their university teaching commitments.
For details of the museum, visitor information and how to prebook a visit online, please visit: www.durham.ac.uk/oriental.museum