Transport charity Beverley Community Lift (BCL) has welcomed a New Year boost
Mon 1st February 2021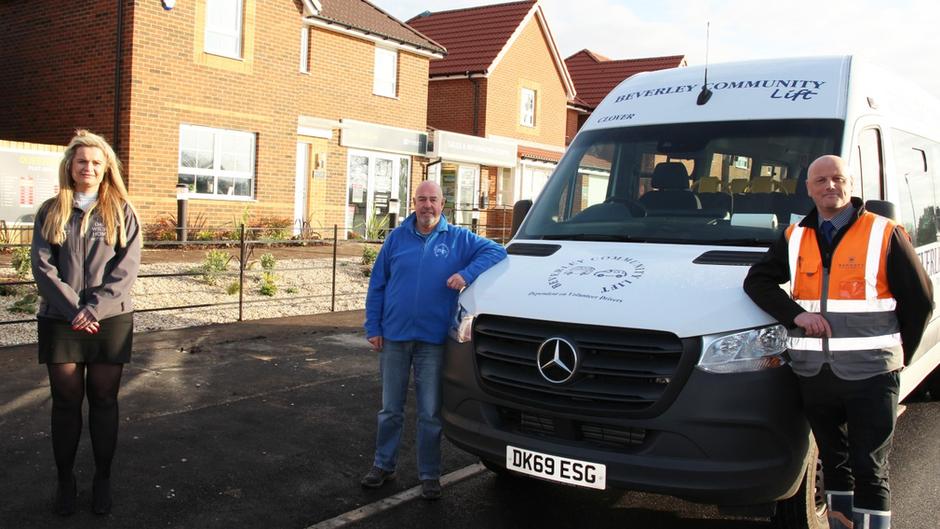 Transport charity Beverley Community Lift (BCL) has welcomed a New Year boost to its latest minibus appeal from housebuilder Barratt Developments Yorkshire East.
The company has donated £1,000 to the charity to help the service offered to residents of Beverley, Cottingham, Pocklington and Market Weighton areas.
The donation came a year after BCL unveiled its 50th birthday present of a new, 16-seater vehicle after three years of fundraising to find £60,000. It keeps the fleet at five.
The donation came from Barratt Developments Yorkshire East's Community Fund - an initiative which aims to support the communities in which the housebuilder operates with a different chosen charity each month.
Founded in 1970, BCL has around 400 people who need its support, with 95% of those aged 65 and over. It caters to any transport need, from door-to-door minibus shopper to a local supermarket and day trips, to car services for medical and social appointments. The charity has the aim of increasing access to activities for anyone in the local community who is unable to use other methods of transport regardless of age, abilities, background or financial means.
BCL marked the donation by taking its newest minibus to Barratt's latest development off Woodmansey Mile in Beverley, to show staff what goes into equipping its vehicles.
Daniel Smith, Managing Director at Barratt Developments Yorkshire East, commented: "Beverley Community Lift does a truly fantastic job in offering its support to those in need in the area. We hope that our Community Fund donation will help to raise awareness of the vital work that the charity does and help them during this difficult and uncertain time."
Denise Sowden, Office Volunteer at BCL, said: "We are truly thankful to Barratt Developments Yorkshire East for choosing us as a Community Fund recipient. It's a very difficult time for smaller charities at the moment, and funding has been crucial for us to ensure the survival of our charity during the pandemic. We are incredibly grateful for this donation which will help us continue to be there for the local communities today and in the future, as the funds are going towards our new and essential minibus!"
Further information about BCL's work can be found at bclift.org.uk or visit its pages on Facebook or Twitter.
Picture, L-R: Sarah Crawford, Field Sales Manager, Barratt; Steve Alston, Site Manager, Barratt; and Bill Watts (trustee, BCL).