Transforming Principal to retire
Tue 24th May 2022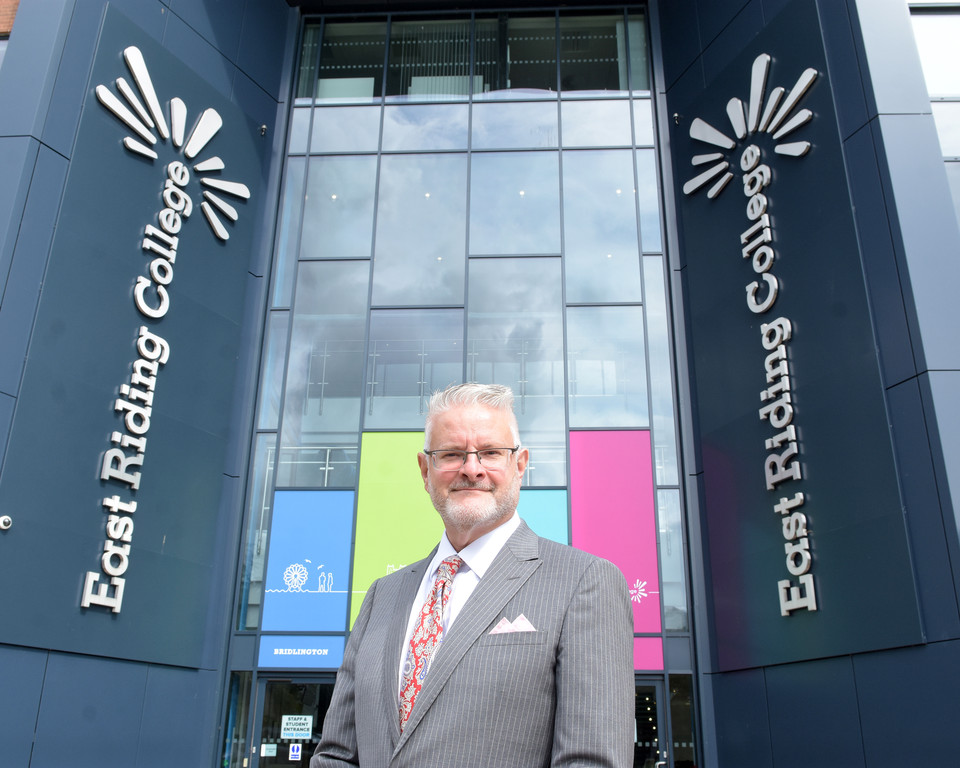 East Riding College Principal Mike Welsh will retire at the end of May. Over four years in charge Mike oversaw a number of major developments. Most significantly, he led the College through what was described as an exemplary merger with TEC Partnership, securing its long term, sustainable future.
Mike's tenure has also seen significant increases in student and apprentice numbers as well as the construction of a brand new Institute of Technology at the College's Flemingate campus. The Institute is part of the Yorkshire and Humber IoT, a collaborative partnership with several other colleges – and one of only 12 established by the Government in 2020.
In the last four years the College has seen growth in its funding income, putting it in a very sound financial position and allowing it to expand its estate at Flemingate, which is now at capacity.
Under his leadership, the College has been recognised as a high performing provider by both the QAA (twice) and OfSTED; continuing to enhance high levels of quality and standards.
One of Mike's passions was to invest in a values-driven community focus. In fact he showed his commitment to the college's communities from the off, whether it was taking part in a cook-off at Beverley Food Festival, welcoming guests at the open air cinema to celebrate the Bridlington campus' ten year anniversary, representing the FE sector on the Humber and East Yorkshire LEP Employment and Skills Board, or founding and chairing the Humber Principals' Group.
Of course, it cannot be forgotten that the last two years have been dominated by the global Coronavirus pandemic, the challenges of which stretched every education provider in the country. East Riding College was in an enviable position to switch immediately to remote learning when lockdowns began, due to the investment made in the IT infrastructure to facilitate blended learning. Alongside leading the College through the pandemic, Mike also found time to volunteer as a vaccination centre meet and greet colleague, working on the community roll out of the vaccine across the region.
Mike said, "Like everyone else, the past couple of years has enabled my family and I to focus on our long-term future. Having given many more years than we intended to the further education sector, my wife and I have decided it's now time to focus on writing our next chapter. We have made Beverley our permanent home and look forward to having more time to enjoy all that our wonderful region has to offer."
Mike became a fellow of the Chartered Institute of Further Education in 2019, championed sustainability across TEC Partnership, both in terms of plans to reduce the Group's carbon footprint, but also in terms of embedding sustainability into the curriculum and making sure that students have skills that relate to sustainability and the workplace of the future, whilst enhancing biodiversity.
Kerri Harold, Chair of Governors at East Riding College said, "We wish Mike very well in his retirement and thank him for his huge contribution to the sector as a whole, as well as for his transformational work at East Riding College. He leaves us in an excellent position to move forward with exciting plans for further growth and to meet the challenge of delivering future skills.
Under Mike's leadership, the College has gained a reputation as a key East Coast and Humber influencer, playing a major role as an anchor institution for stakeholders across the region."
Mike said, "It has been a great privilege to lead ERC on its journey over the past four and a half years. There is never a good time to leave and always so much to stay for, but on reflection, my wife and I decided we should retire together this year. I wish #TeamERC every success in the future. We are a force for good, providing inclusive, high-performing and life-enhancing opportunities for many."
The College welcomes Danny Metters as the new Principal in June. Danny was formerly the Vice Principal at Riseholme College in Lincolnshire, part of Bishop Burton College, which is based in Beverley. He has a background in animal science and conservation which led him into education, through animal management and veterinary nursing specialisms. Danny has been a member of the senior leadership team at Bishop Burton College for the last 5 years.