Tour of Britain is coming to Beverley - Be Prepared for a great day ahead.
Tue 5th September 2023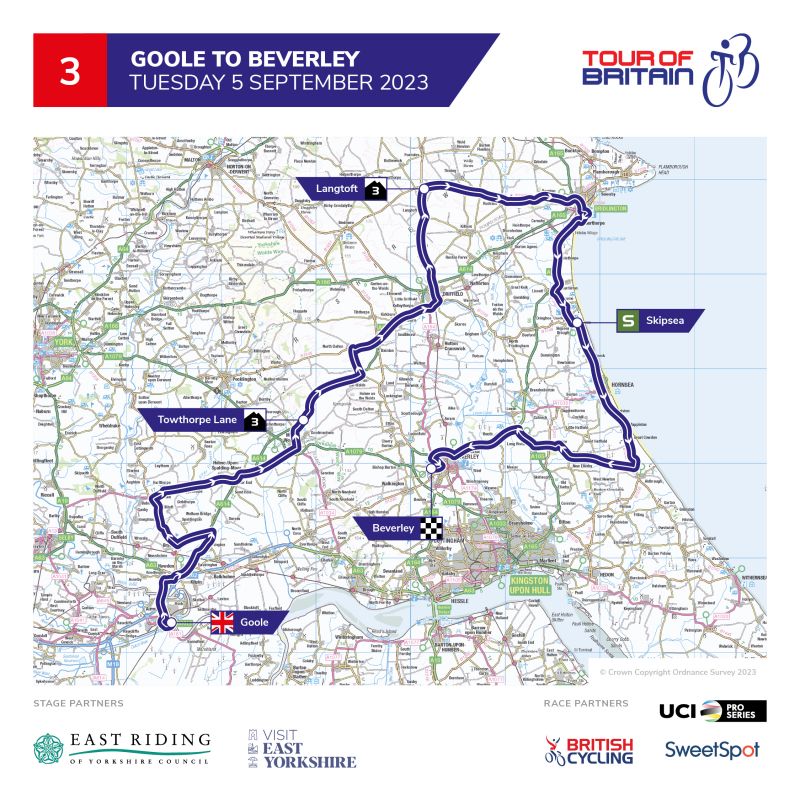 Tour of Britain 2023
The Tour of Britain returns to the East Riding today Tuesday, 5th September 2023
East Riding of Yorkshire will host stage three of the race, which will start in Goole Market Square, before taking in towns and villages across the East Riding of Yorkshire before finishing on Beverley Westwood.
The finishing sprint will see the riders heading West up York Road from North Bar Within to the Finish Line by the Beverley Racecourse.
During the day at the finish line on Beverley Westwood, there will be a race village filled with high-energy, cycling-themed entertainment for all the family.
The fun starts at noon and attractions will include a BMX air stunt show, a pump track, a freestyle airbag, and KMX Karts. Bikes and helmets will be available to borrow for those who do not have their own.
Anyone looking for something a little different can try out the "pedal-powered arcade", featuring a bubble frog, Scalextric track and smoothie maker, all powered by cyclists pedalling on static bikes.
People are advised to travel by public transport or park in Beverley town centre and walk to Beverley Westwood. There will be no general vehicle access or parking at the race village.
Disabled parking will be available via the horsebox entrance (blue marker in the below map) at the racecourse from 12 noon.
People are advised to arrive as early as possible. All disabled vehicle access will be via Killingwoldgraves Roundabout (red marker below).
For all the fixed and rolling road closures on the route, along with changes to bus services, visit the council's Tour of Britain page
For more information about the Tour of Britain, visit:
https://www.tourofbritain.co.uk/
Tour of Britain on Twitter, Facebook and Instagram
Map :- Tour of Britain
Road Bike - Just Beverley.
Freestyle Image - Dirt Factory Freestyle Airbag (Picture: Dirt Factory)