Time is running out! Don't miss your gig fix at ERT
Thu 17th February 2022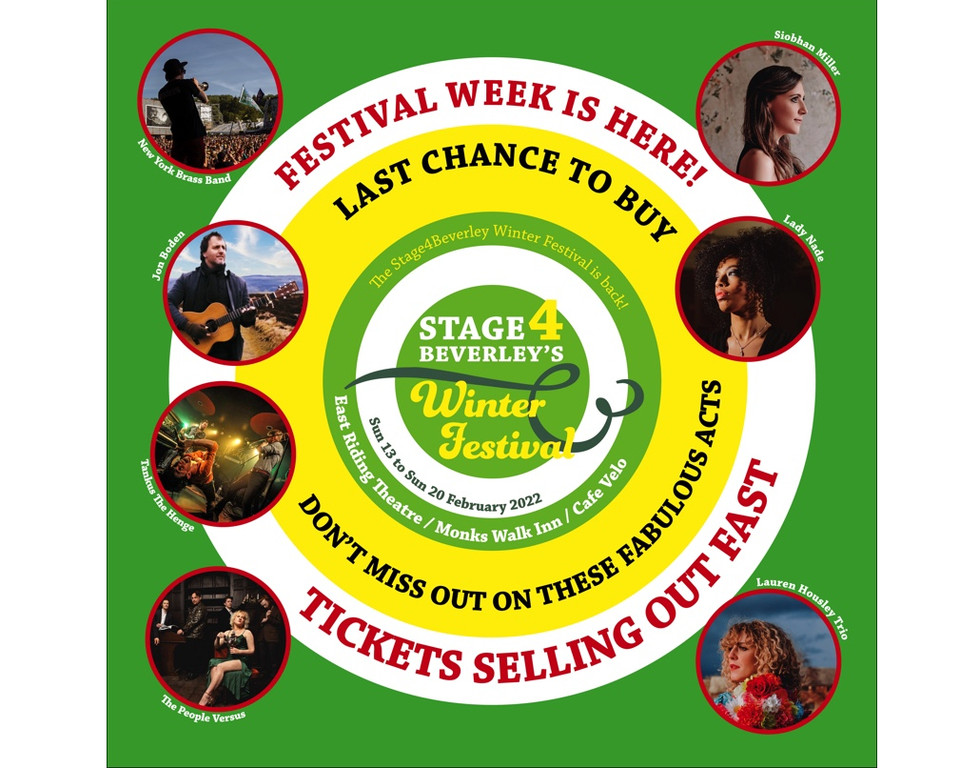 With events already SOLD OUT, tickets for the Stage4Beverley Festival are flying off the shelves.
To ensure you get your gig fix this month and don't miss out on seeing some critically-acclaimed artists play a stage near you, click the link below or scroll down to see what's on offer. Don't delay, see what's on and book today!
Last chance to see New York Brass Band
New York Brass Band are North Yorkshire's only contemporary New Orleans inspired Brass Band and are at the forefront of a funky brass revolution.
Packing a powerful punch of relentless drums, rumbling tuba and wailing horns, nothing kicks a party into gear like the sound of a smokin' New Orleans Mardi Gras Jazz Band – this one is not to be missed. Less than 40 tickets remain for our closing night performance! Book now.
Tickets: £17.50 (Less than 40 remain)
Venue: East Riding Theatre
Date: Sun 20th Feb - 7.30PM
Opening concert with Siobhan Miller
The festival's opening concert takes place on Thursday with the richly celebrated Scottish folk singer-songwriter, Siobhan Miller!
Siobhan's soulful and stirring renewal of traditional song has won her the BBC Radio 2 Folk Award for Best Traditional Track, and the Scots Trad Music Awards Singer of the Year an unprecedented four times! Book now.
Tickets: £17.00
Venue: East Riding Theatre
Date: Thurs 17th Feb - 7.30PM
Not heard of Siobhan? Click here.
Did you know that Jon Boden was in About Time?
That's correct; in fact there he is playing his rendition of Ellie Goulding's 'How Long Will I Love You' in the subway scene (hint: he's the one with the bobbly hat on). Watch the scene here.
If you haven't picked up a ticket to see him already, there are a few remaining and ERT highly recommend giving this one a go – Jon is one of our personal highlights for the festival.
As well as performing works from his solo career, Jon will lead us in a touching tribute to the late folk singer Norma Waterson, whose singing will be heard prior to the concerts throughout the festival. At the end of the concert on Friday, Jon will lead the audience in a favourite song of Norma's: 'Black Muddy River' by Jerry Garcia and Robert Hunter (Grateful Dead). The lyrics will be provided on the night and ERT would love to see you all there to celebrate Norma's life and works.
Tickets: £20.00 (but going fast).
Venue: East Riding Theatre
Date: Fri 18th Feb - 7.30PM
Book here.
Americana comes to Beverley
Yee-haw! Stage4Beverley invites two of the UK's leading Americana artists to town for a special, one-off double bill! Lauren Housley and Lady Nade are two multi award-winning artists whose knack for melody and storytelling creates a stunning atmosphere.
An experience more than anything, this gig is set to be a stunner!
Tickets: £16.50
Venue: East Riding Theatre
Date: Sat 19th Feb - 2 PM
Rising Stars: The People Versus
The fast-rising contemporary folk group, The People Versus and their song 'Witch' has been stuck in our head for the last few months. Combining a catchy take on contemporary folk, the band mixes Greek myths with Shakespearean tales to create a unique and impactful style of song.
ERT highly suggest seeing them perform – even if you haven't heard of them before! See them before they're big, pick up your tickets here.
Tickets: £15.00
Venue: East Riding Theatre
Date: Sun 20th Feb - 2.30PM
Don't forget! ERT have got a whole host of events happening across our three venues: ERT, Café Velo and Monks Walk Inn, this month. Check out what's on here.