The Mayor of Beverley supports Beverley Building Society charity campaign
Mon 30th May 2022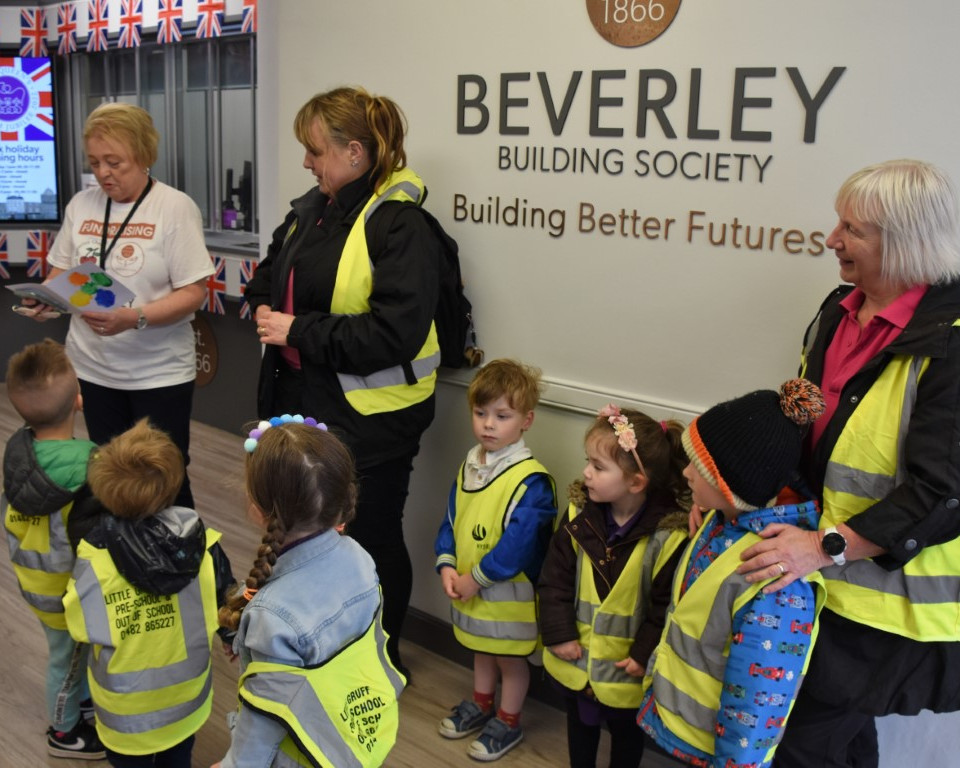 The Mayor of Beverley supports Beverley Building Society charity campaign, which raised £1,014
The Beverley Building Society team have been a little busier than usual during the last two weeks of May, raising much-needed funds for its Charity of the Year for 2022, the Beverley Cherry Tree Community Centre.
From Monday 16 May to Friday 20 May, the Society's team bravely took on a 211-mile 'Beverley to Buckingham Palace' Exercise Bike Challenge (the equivalent distance of the actual route), in advance of the Queen's Platinum Jubilee. However, due to sheer determination to encourage donations, a fierce competitive spirit and outside help from some amazing supporters, such as Julian Minshall, Editor of Just Beverley, Rob Hardwick from the town's Conservative Club and even the local postman, they achieved their target early – and doubled it, completing an incredible round trip of 422 miles in five days!
The Challenge caused quite a stir as bemused customers and members of the public visiting the Society's Saturday Market headquarters were treated to the sight of some hardcore cyclists (and pretty red faces!) going full speed in the branch's window, some recording an impressive 19 miles in around 30 minutes! Clearly made of stern stuff, the Society's Chief Executive, Janet Bedford, covered the final 12.6 miles of the route without seeming to break sweat and, thanks the overwhelming generosity of local people, the final amount raised was no less than £665.95!
On a mission to make a significant charitable impact, the team didn't rest on their laurels and the bike wheels had barely time to cool before the Society's next fundraiser, a Jubilee Tea Party, on Wednesday 25 May, was already taking shape.
The team organised a two-part event, with staff enjoying a buffet and games in the Society's boardroom in return for donations, while customers celebrated the Queen's Platinum Jubilee in the bunting-clad branch downstairs and happily donated to enjoy Jubilee-themed cupcakes and a spectacular cake raffle. Baked goods for the customer party and raffle were kindly supplied by Beverley-based, talented caterer and cafe, Cole's Kitchen and the lucky raffle winner now plans to make the confection the centrepiece of their own Jubilee tea party!
The Cherry Tree Centre's Manager, Jo Ramsay, popped into the branch with her staff and two groups of pre-school children to give them a memorable experience, and was given a warm welcome by Debbie Connolly the Society's Marketing Manager. Everyone was delighted and honoured to then receive a visit from the Mayor of Beverley Town, Councillor Linda Johnson, and Julian Minshall, Editor of Just Beverley, who both generously gave up their time to get involved with the event.
The Mayor commented: "It was a pleasure to visit Beverley Building Society's Jubilee Tea Party and lend my support to the ongoing charity campaign. I'm well aware that the Beverley Cherry Tree Community Centre offers an exceptional range of services, including their Pantry, the Little Gruffalo's Pre-School and even advice on housing, money and employment. For many local people who are struggling to afford basic essentials, and feel they have no one left to talk to, this is a vital lifeline that we must maintain for future generations."
The Centre, which was established in 1993 and now receives over 1,000 calls a month from people who are desperately in need of help, has just been presented with an Aspire Award at the Houses of Parliament for its outstanding work.
The Jubilee Tea Party generated an impressive £348.49, bringing the overall fundraising total from the two events to £1,014.44!
Debbie concluded: "I'm humbled by the amount we've raised from just two events and the sheer generosity of local people, especially in these difficult times. I'd like to personally thank the Mayor of Beverley, Councillor Linda Johnson, for helping to raise awareness for this important cause, together with everyone who has supported us. Having recently volunteered at the centre, I've witnessed first-hand some of the immense struggles that people are having, so it's been a pleasure to play my part – plus we have a lot more planned this year so watch this space!"
These latest fundraising events are part of the Society's Building Better Futures strategy, which is all about helping to contribute to the vibrancy of our East Yorkshire community and the people living there.
The Society, which was named Mortgage Provider of the Year 2022 at the Yorkshire Financial Awards, also aims to improve lives by offering mortgages for people who are under-served by the traditional mortgage market, such as the self-employed, contractors, those looking for a mortgage when they are approaching or in retirement, or people wanting to build their own homes, purchase an unusual property or help a family member get a footing on the housing ladder.
You can support the 2022 charity campaign for the Beverley Cherry Tree Community Centre by visiting www.beverleybs.co.uk and following the updates on Beverley Building Society's social media.