The Beverley Folk Festival once again returns to Beverley from the 16th to 19th of June 2022.
Fri 18th February 2022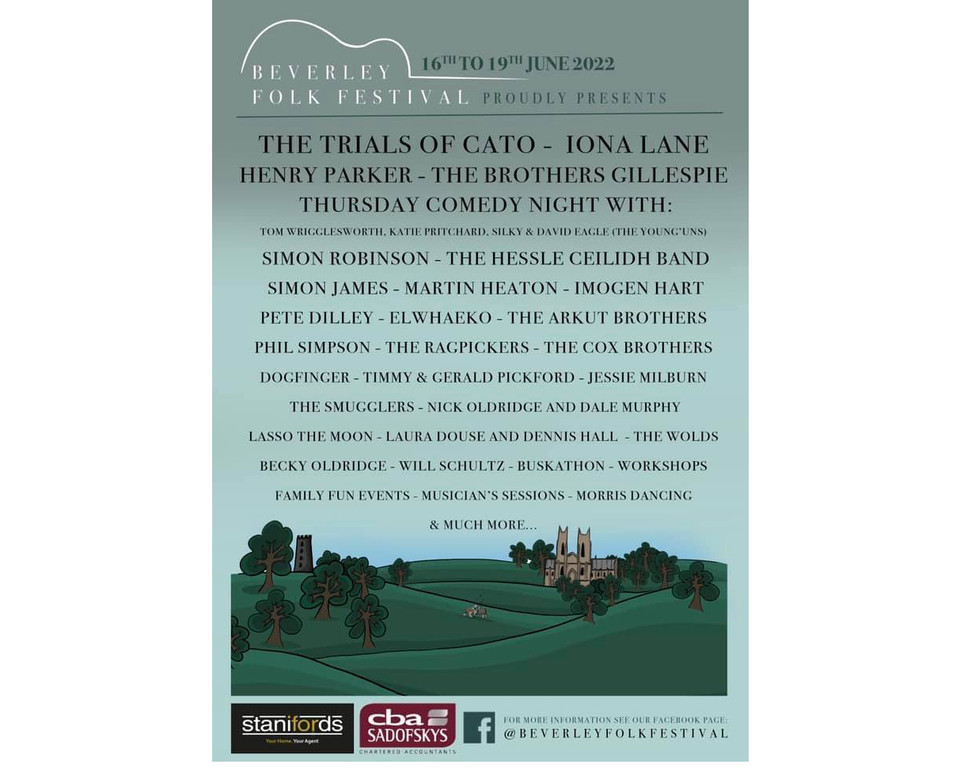 Previously called Beverley Fringe Festival, the event has been recently renamed Beverley Folk Festival in response to a community consultation and attempt to clear up frequent confusion.
Since 2018 (the year the 'old' festival was cancelled), the team behind the popular Fringe event have delivered successful, award-winning events in place of the folk festival-up until 2020 when the event went completely online. In 2021 it was a hybrid of live and online events. Every year a local charity is involved, and at last year's event, nearly £800 was raised for the East Yorkshire Food Bank.
Supported by local business and main sponsor Stanifords - and with help from account Cbasadofskys, 2022 looks to be its strongest year yet. With headline acts including The Trials of Cato, Iona Lane, The Brothers Gillespie and Henry Parker, organisers believe this is the year the festival will be rightly back on the national map.
For the first time ever a special comedy event is planned:
at the popular Waffle21 Lounge and Bistro, top comedians Tom Wrigglesworth, Katie Pritchard, David Eagle (of folk trio The Young'Uns) and Silky take the stage for what will be a brilliant-and hilarious-night out on Thursday 16th June.
Top folk acts The Trials of Cato, The Brothers Gillespie, and Iona Lane take to the stage on Friday 17th June at St Mary's Church, and on Saturday night a special party night is planned at the Masonic Hall with the popular local band The Hessle Ceilidh Band.
A wealth of non-stop performances and family events will be taking place at Waffle 21 on Saturday, Saturday night, and Sunday.
Keeping true to its 'Fringe' roots, lots of events will be free; the town will be filled with music, and pubs such as the Sun Inn and The Monks Walk will host open jamming sessions and performances, while the typically strong contingent of Morris teams will be on display dancing throughout the town.
One of the organisers Phil Simpson says "We are delighted to once again present a grassroots led, yet ambitious festival for our great town. The music scene we have here is fantastic all year round, and one of the aims of the event is to promote and develop that."
A full programme of events will be released next month, but organisers encourage people to visit their Facebook page for tickets to the main events, and for all the latest news.