The Beverley Enterprise Centre officially opens its doors
Tue 12th July 2022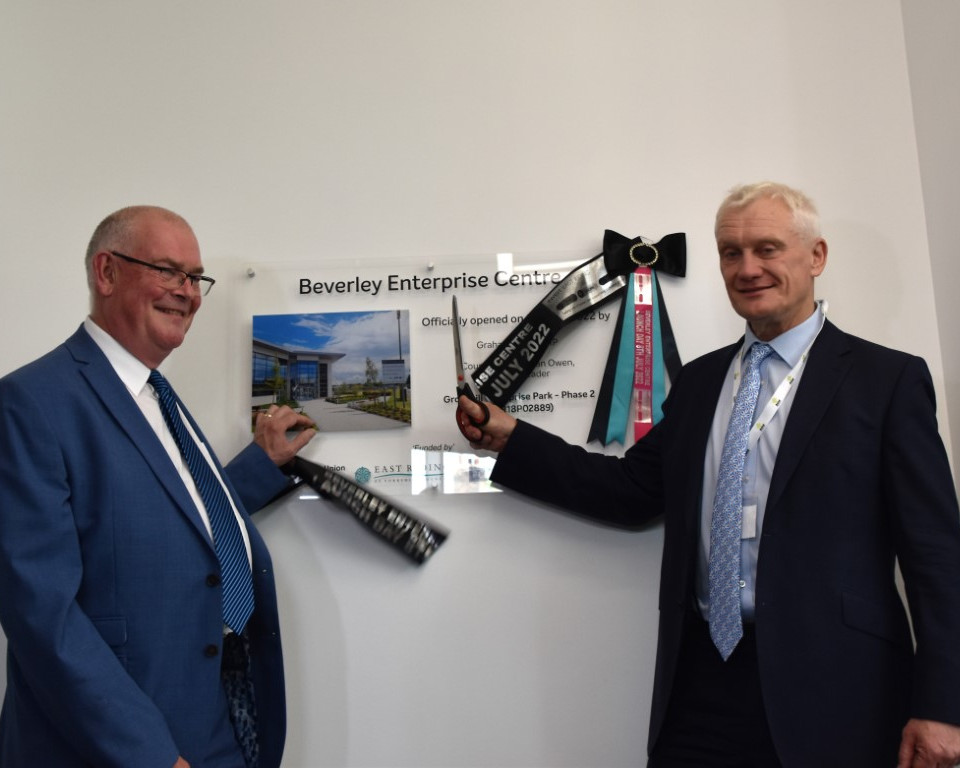 The multi-million-pound Beverley Enterprise Centre is now officially open following a launch event last week.
Numerous guests joined representatives from East Riding of Yorkshire Council and businesses within the centre for an opportunity to learn more about the enterprise centre and the opportunities available within it.
Cllr Jonathan Owen, leader of the council, opened the event before further speeches by Alessandro Caruso of ACA Ltd and Neil Armstrong of Carbon Visibility Ltd. Graham Stuart, MP for Beverley and Holderness, also attended the event and put forward some final words before cutting the ribbon to declare the centre officially open.
The £4.8million development on Grovehill Road has become a landmark building in the market town and now offers superior facilities for new and existing businesses, regenerating a former demolition site and visually enhancing the immediate area. 30 companies are now expected to make the centre their new home.
East Riding of Yorkshire Council has part-funded the project which has secured £1.5m from the European Regional Development Fund (ERDF) and £0.5m from the Getting Building Fund, via the Hull and East Riding Local Enterprise Partnership (HEY LEP), to help finance the project.
It is intended that the site will provide excellent opportunities for significant industrial development, and have the potential to offer employment opportunities, economic sustainability, and a boost for the market town, which currently relies heavily on the service sector, retail and the visitor economy.
The building – with its construction designed and project-managed by the council's Infrastructure & Facilities service – accommodates a combination of office and light industrial workshops ranging from 17 – 79 square meters.
The building also comes with its own green remit, with an array of circa 200 square metre solar panels, EV car chargers, and a low emission and refrigerant design. During construction, sustainable and locally sourced building materials were used.
The building has previously been awarded a British Research Establishment Environmental Assessment Method (BREEAM) Excellent Design certificate – a prestigious standard to achieve for any building and complementing the council's recent climate emergency declaration.
Cllr Jane Evison, portfolio holder for economic investment, growth and tourism at East Riding of Yorkshire Council, said: "We are thrilled with the magnificent Beverley Enterprise Centre and I'm sure it will become a major landmark building both for the businesses and for Beverley as a developing centre for industry.
"The centre will become yet another one-stop shop for both start-up and established businesses in the region and will stand proudly with the other business centres in Bridlington, Driffield, Market Weighton, Hessle, Brough, and of course most recently the RaisE Business Centre in Goole."
Amanda Hoggart, business centre manager at East Riding of Yorkshire Council, added: "With a wide range of services on offer, in addition to the office space, the Beverley Enterprise Centre is proving to be a huge success already with only three offices now left to rent, since handover in April 2022.
"All our business centres have a front-of-house team to support your business along with access to conference facilities, business support and networking opportunities. Every year our business centres help entrepreneurs achieve their dream of running their own business along with supporting existing businesses to expand and grow with the flexible licence terms."
The construction of the centre was undertaken by local contractors Geo Houlton & Sons Ltd.
For more information about Beverley Enterprise Centre and to enquire about office space, please contact bec@eastriding.gov.uk.