The Be Amazing Arts Youth Theatre presents the 'purrrr'fect hit musical CATS!
Thu 10th February 2022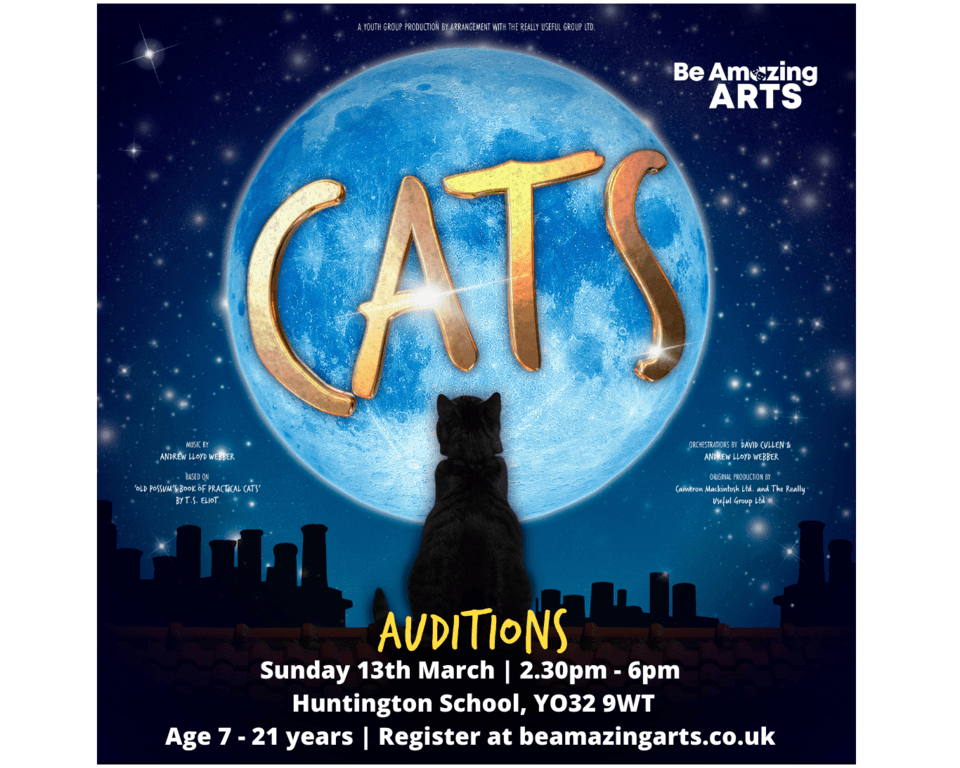 The Be Amazing Arts Youth Theatre presents the 'purrrr'fect hit musical CATS!
The Team at Be Amazing Arts are looking for talented young performers aged 7 to 21 to join the cast of hit musical CATS this June.
The marvellous hit musical is coming to York, and you could be part of the show!

Working with the team that brought you The Wizard of Oz and Bugsy Malone Live at Joseph Rowntree Theatre in 2018 and 2019 and we are very excited to add Cats into our performance mix for this year.
They are looking for a cast made up of dancers, singers and actors based across to Yorkshire to join us on this exciting adventure.
The cast will embark on an intensive rehearsal period which will include a full week's rehearsal plus additional sessions, working with leading Directors, Choreographers and Musical Directors. This process culminates in 4 fully staged performances which includes: professional scenery, professional lighting, sound and production crew.
The project is open to all young people aged from 7 to 21 and is perfect for young people who have an interest in appearing on stage and learning all about the process of bringing a musical to life!
James Aconley, Producer, ''We have assembled a leading creative team to work with the young performers who join this process and after a turbulent 2 years we can't wait to get back on stage!''
Auditions will take place at Huntington School YO32 9WT Sunday 13th March 2022 2.30pm - 6.00pm with registration from 2.15pm
The performances will take place on 25th & 26th June at Joseph Rowntree Theatre, York.
Register to audition at beamazingarts.co.uk/cats-by-be-amazing-youth-theatre