Talented young riders gather for Opening Ceremony of British Eventing International Youth Championships at Bishop Burton College
Fri 5th August 2022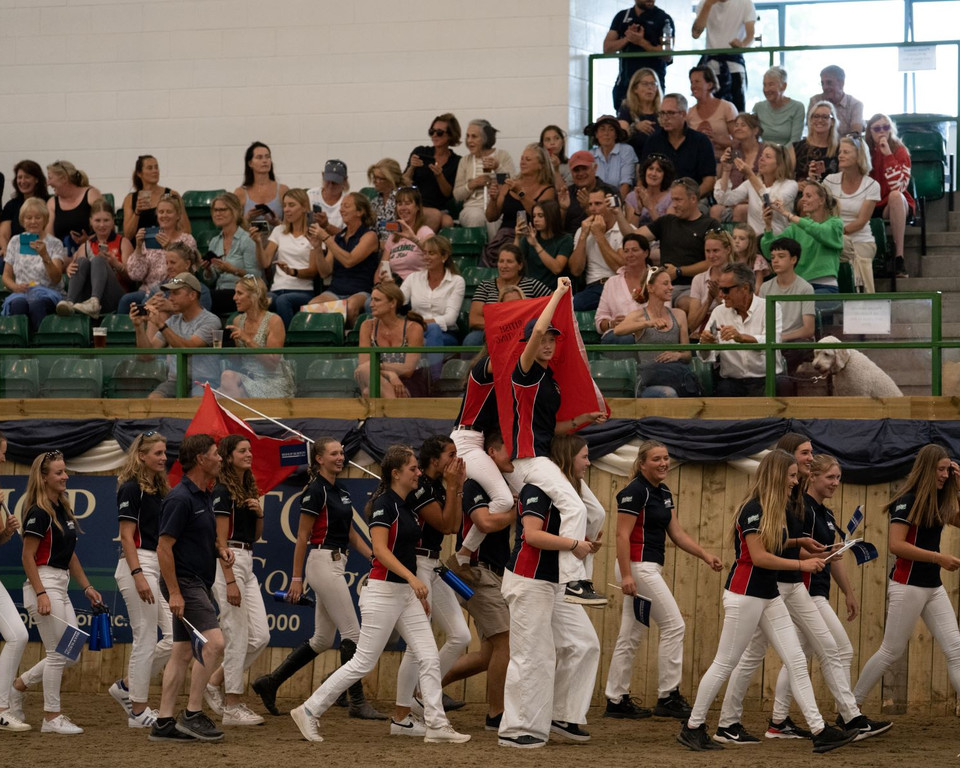 Bishop Burton College has played host to hundreds of young riders and their families for a show-stopping Opening Ceremony, to mark the start of the 2022 British Eventing International Youth Championships.
The Youth Championships, which is being held at the college for the second year in a row, sees riders aged under 18 compete in a range of dressage, showjumping and cross country classes from Thursday 4th August to Sunday 7th August. The exclusive Opening Ceremony is a long-standing tradition and highlight of the event.
Competing riders from 8 regions across the UK including Bishop Burton student Lucy Proctor-Copeland, who is representing the North, paraded in the Bishop Burton Arena. As the first Opening Ceremony without COVID-19 restrictions the atmosphere was celebratory, as riders enjoyed being able to experience the ceremony watched on by family and friends.
All received a warm welcome from Bishop Burton Principal and Chief Executive Bill Meredith, who said "We are delighted to host the Youth Championships for a second year at Bishop Burton. This competition is a highlight of the UK equestrian calendar, and it is a privilege to witness so many talented young riders, including one of our own students, compete at such an exceptional level. I wish all competitors the very best of luck."
All riders were presented with a commemorative stable plaque as a memento of their involvement in the prestigious competition.
The culmination of the evening was an amazing display by stunt rider Katharine Pickering, who has featured in productions such as Gentleman Jack, Victoria and Wonder Woman 1984. The awe-inspiring demonstration included daredevil trick riding, classical dressage, liberty riding where the horse has no tack and fire breathing. Katharine was joined by fellow stunt riders Kayleigh Ashford, Amie Laws and Georgie Springall for the trick riding section and Grand Prix rider Edward Creamer in the classical dressage.
Katharine who has performed at the Bishop Burton many times in the past, was delighted to return to the Bishop Burton Arena, which holds fond memories. Her thoroughbred Morocho, a gift from Sheik Maitha from Team 27, who has a starring role in the display, enjoyed his very first show with her in the Bishop Burton Arena 4 years ago.
Katharine commented "What an honour to be asked to perform for these equestrian stars of the future. The atmosphere in the Bishop Burton Arena was electric and it's been so exciting for me and my colleagues to be part of this amazing event."
Following the Opening Ceremony, the championships kickstart with dressage, followed by cross country and culminating with showjumping across the weekend. Admission is free and spectators will be able to browse a number of trade stands.
The college, which offers a wide range of college and university level courses, will be opening up its first-class equine facilities for competitors and spectators to enjoy an equine science experience in the specialist laboratories and a demonstration of Bishop Burton's equine water treadmill. The college's impressive animal unit will also be open for tours, featuring the new mongoose and porcupine.
The event has been sponsored by Baileys Horse Feeds, NFU Mutual, Visit East Yorkshire, Bedmax Shavings and Lindum and more information on the championships can be found on the Bishop Burton website.
https://www.bishopburton.ac.uk/facilities-and-services/equine-centre/bishop-burton-international-youth-championships'¯'¯