Spring and Summer collection at Brook Taverner
Thu 14th April 2022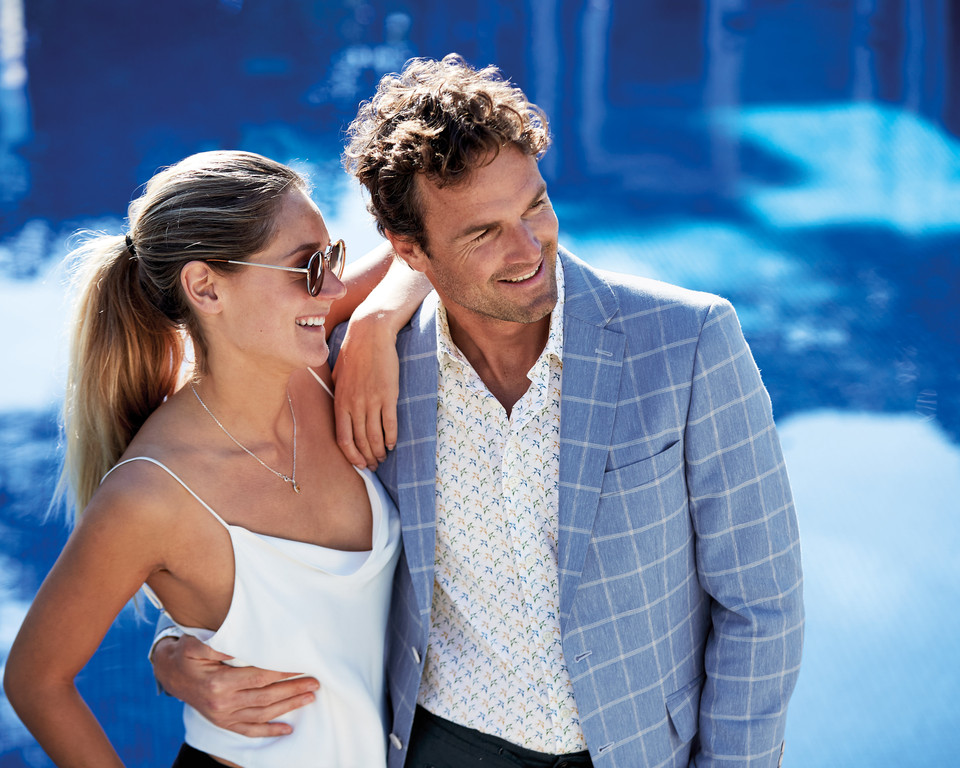 April means many things to many people, but to us at Brook Taverner, it certainly signifies new life and the freshness of spring! Fortunately, our 2022 Spring/Summer Collection holds the exact same values, promising to have every event covered whether dressing to the nines or opting for off-duty looks.
Having just arrived in store, the Felix Ice Blue Overcheck Jacket has become an overnight favourite!
The Felix is woven in the prestigious FITECOM mill, blending linen with smart fibres to achieve a crease-resistant masterclass of tailoring. Coming from Portugal, this formal staple knows a thing or two about keeping its cool when temperatures rise!
Rest assured that you'll maintain an elegant silhouette and a feeling of refined comfort throughout the day, thanks to a jacket that sits at the cutting edge of garment design.
The Felix's delicate blue hue epitomises the beginning of spring, with a versatile overcheck that will complement just about anything in your wardrobe!
If you're still on the lookout for linen, why not sample our brand-new linen popover shirts?
With an over-the-head style, the popover collection represents a contemporary shift in warm-weather casualwear, offering a laid-back alternative to the conventional button-through shirt. Rely on the quick-drying and effortlessly stylish qualities of 100% linen to look and feel your best, when sunning yourself on distant shores to lounging poolside!
Finally, the brand-new Jason trouser could bring something completely different to your wardrobe, acting as a stylish experiment with texture and colour galore
A vibrant colour palette will brighten any ensemble with a considered confidence, ideal for when the sun's shining and style is front of mind. Available in sand, caramel, raspberry, and blue and in a tailored fit for a contemporary appeal, wherever this summer takes you, rest assured that you trousers will move with you, thanks to a hint of elastane, giving this composition the gift of flexibility.
The print exudes an understated quality, noticeable only when up close, showing you care for what you wear without having to shout it from the rooftops.
As always, the devil is in the detail and what better way to appreciate the finish and finer detail of our garments than popping into our Beverley store at 35 Toll Gavel? Lee and the team will be happy to see you!