Sensational Beverley percussionist heads home for star turn
Thu 16th February 2023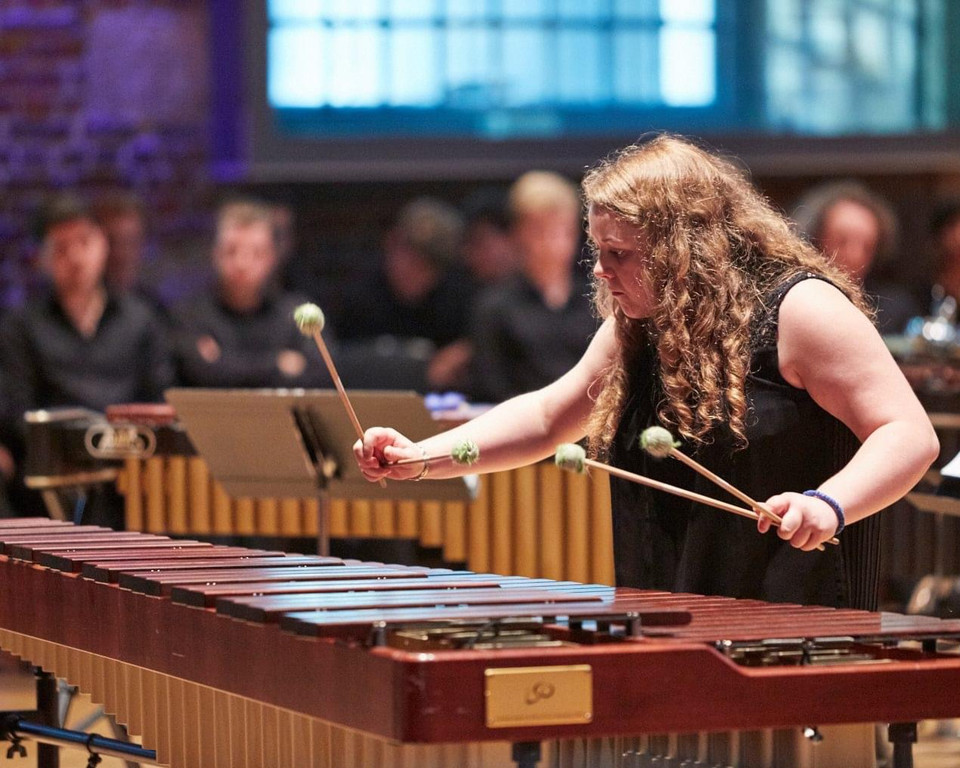 A young, virtuoso percussionist is returning home to perform as a solo artist with the Hull Philharmonic Orchestra.
Beverley-born Laura Bradford, who left the area in 2013 to study at the Royal Academy of Music in London, joined the Hull Philharmonic at the age of 13.
Now aged 28, she is carving her career as a professional musician playing with leading organisations including the London Philharmonic Orchestra and the Royal Opera House.
Laura will take to the Hull City Hall stage on February 25 to play Séjourné's Concerto for Marimba and Orchestra. The nine-foot instrument, which is similar to a xylophone, offers the perfect showcase for her technique and musicality.
The concert, which will conducted by guest artist Simon Chalk, also includes Rachmaninov's Symphony No 2 and Kabalevsky's Overture to Colas Breugnon.
Simon has worked in more than 70 countries and is artistic director and conductor of the Southern Sinfonia, principal guest conductor of the Slovak Sinfonietta and guest conductor of the St Petersburg Symphony Orchestra. In 2022, he won first prize in the Orchestra's Conductor competition in Brasov, Romania. He has also toured the globe as conductor with the internationally renowned classical crossover group ll Divo.
Laura Bradford said that returning to play felt special. "The Hull Phil was a big part of my formative musical education. Many of the pieces I now play as a professional, I performed first with them.
"Concertos for percussionists don't come along very often, so this feels like a once in a lifetime opportunity and big challenge, but I will be amongst old friends. I am also very much looking forward to working with Simon Chalk."
The five-octave marimba is unusual as a concerto instrument and Laura will be front of stage to perform. "It is beautifully mellow and I can make many different sounds by alternating the sticks I use," she said.
Simon, who is passionate about using music to inspire and educate, said: "The chance to perform this wonderful concerto is one that I'm looking forward to immensely.
"It is doubly special as I will be working with Laura whose musical life, I believe, was pretty much born under the wings of the Hull Philharmonic. They will no doubt be proud and hugely supportive as she makes a triumphant return.
"Opportunities for young musicians can seem to be few and far between these days and I am delighted to be able join my new friends and colleagues to provide a platform for such wonderful local talent."
Chair of the Hull Philharmonic Society Margaret Pinder, recognised Laura's early promise by conferring a Young Person's Award on the budding musician during her tenure as Mayor of Beverley.
Kabalevsky's short, upbeat and accessible Overture to Colas Breugnon will provide a contrast to Rachmaninov's hugely popular and brooding second symphony which is widely regarded to contain some of the most beautiful music he ever wrote.
The concert starts at 7.30 and is preceded by a pre-concert talk which is free to ticket holders. Tickets are priced from £10 – £28.50. Concessions are available. Please visit Hull Box Office
https://www.hulltheatres.co.uk/events/hull-philharmonic-orchestra-february-2023