Rugby club ladies' day helps charity kick on towards fundraising target
Tue 12th October 2021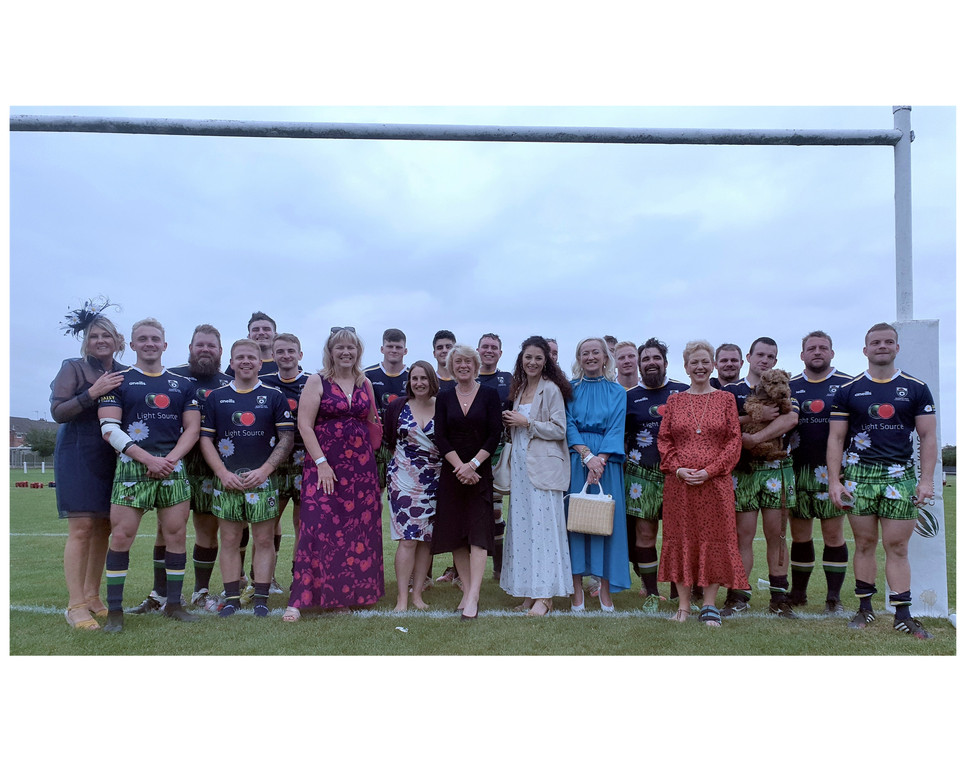 A charity which is working to tackle cancer, heart disease and dementia received a fundraising boost from the annual ladies' day at Beverley Rugby Union Club.
The event raised more than £3,000 for the Daisy Appeal with money coming in from lunch for more than 100 guests and an auction of specially-designed daisy team shirts.
Carol Innes, Vice Chairman of Beverley RUFC, said ladies' day has been taking place since 2012 and is organised by some of the women who support the club in various roles. Over the years it has raised thousands of pounds for charity.
Carol said: "There are women who have family members playing for the teams and who help with the mini and junior sections, and we also have a women's fitness group which has recently resumed and is building its membership.
"We came up with the idea of taking over the rugby club for a day and over the years it's become quite an occasion with heavy demand for tickets. We chose the Daisy Appeal this year because it's a local charity and its work is helping with a lot of serious illnesses. We're delighted to have raised a record amount."
The team shirts were ordered from O'Neills, the club's regular supplier, with help from ladies' day sponsor, telecoms infrastructure specialists Light Source.
Karen Guest, co-owner of Guest & Philips jewellers and a trustee of the Daisy Appeal, said: "It was a terrific event all round. Everybody listened intently when I spoke about the Daisy Appeal, where it has come from and what we are trying to do, and everybody enjoyed the match.
"We all entered into the spirit of the occasion and I bought one of the commemorative shirts, which looked fabulous, decorated with daisies and matching a grass design on the shorts".
Brian Gilbert, Chairman of Beverley RUFC, said the design is based on the Daisy Appeal logo as it appeared before the recent re-brand because ladies' day was originally planned for 18 months ago before being delayed by Covid.
He said: "The design was created by Carol and others at the club and proved very popular. We raised more than £1,500 from the auction alone and we held back one shirt which we will get framed ready to present to the Daisy Appeal along with the final cheque."
Claire Levy, Fundraiser at the Daisy Appeal, said: "It was a fantastic afternoon and we're very grateful to Beverley RUFC and all their guests for generating so much money and for helping us to raise awareness of our work and the benefits we are bringing to the people in our region."
The Daisy Appeal has now raised £7.5m towards its target of £8.5-million to complete a radiochemistry and cyclotron unit which will produce radioactive tracers at Castle Hill Hospital and provide the opportunity for patients to receive more personalised care leading to earlier diagnosis and giving them better treatment and quality of life.
Once the facility is fully functional patients from a wider geographical area will have access to its services, improving accuracy and detection rates for cancer, heart disease and dementia in Hull, East Yorkshire and North Lincolnshire.
The charity aims to play a leading role in clinically relevant PET-CT research over the next two decades and to show that the technology can be brought to the individual patient, quickly and effectively.
To find out more about the Daisy Appeal please visit https://daisyappeal.org/
Picture details
Members of the Beverley RUFC team wearing their Daisy Appeal kit with some of the guests at the club's ladies' day.
Karen Guest, trustee of the Daisy Appeal, with Beverley RUFC player Callum Harvey and one of the commemorative shirts.