Results of the Remarkable East Yorkshire Tourism Awards 2022
Fri 11th November 2022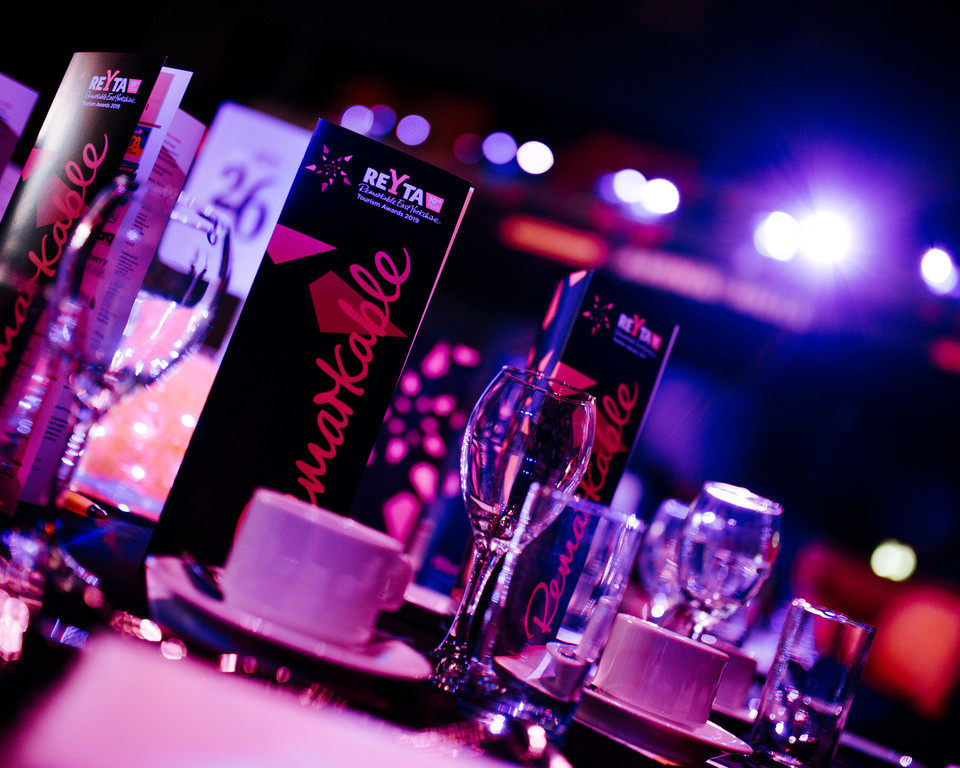 Hull and East Yorkshire's very own tourism "Oscars" culminated in a triumphant and glittering awards ceremony, attended by 500 people at Bridlington Spa last night (Thursday, 10 November 2022).
It was an eagerly anticipated return of the awards which haven't been held in person since 2019 and it saw the sector come together for the Remarkable East Yorkshire Tourism Awards (the REYTAs) organised by Visit Hull and East Yorkshire (VHEY) for the twelfth time.
There were 73 finalists competing in last night's categories, which recognize the best individuals, attractions and hospitality businesses in the area's tourism industry. And in addition to the awards presented, the REYTAs are aligned to the Visit England awards, giving winners the chance of national honors.
The REYTAs are self-funding thanks to ticket sales and the support of sponsors. Sponsors included Wykeland, FRED, Sparq, Studio Eleven, EYMS, Hull and East Yorkshire Hospitality Association, East Yorkshire Local Food Network and host venue Bridlington Spa.
The awards this year were handed out by a selection of the iconic blue coated HEY! Volunteer's, in recognition of the impact the volunteers continue to play in supporting arts, culture and heritage across Hull and East Yorkshire, whilst boosting pride in our region.
Councillor Jane Evison, portfolio holder for economic investment, growth and tourism at East Riding of Yorkshire Council, said: "The Remarkable East Yorkshire Tourism Awards are a celebration of all that is good about the industry locally and recognises the hard work, talent and dedication of those who work in this important industry.
"The awards continue to be a great opportunity to celebrate the vibrant and fantastic tourism offer in the region. Congratulations to all the winners and well done to all the finalists who made the shortlist."
Councillor Rob Pritchard, portfolio holder for communities, crime prevention and culture, said: "Now in its twelfth year, the REYTAs is one of the most eagerly anticipated events on the calendar and is keenly contested each year across 16 categories. I'd like to congratulate all those finalists who have been shortlisted for this year's event on their stunning achievement."
One of the new categories introduced this year was the Remarkable Resilience and Innovation Award which was won by Hull Truck Theatre. Judges praised Hull Truck Theatre with comments including: "They have community at heart and it's clear that their work during the pandemic meant that no group was left behind and everyone had some access to the arts that we all greatly missed during this time."
One of the biggest successes on the night was Highfield of Driffield, who picked up two awards - Remarkable New Tourism Business of the Year and Remarkable Hotel of the Year. The judges' comments in these and all the other remaining categories (including those highly commended) were as follows:
REMARKABLE EAST YORKSHIRE TOURISM AWARDS WINNERS and Highly Commended 2022
Remarkable B&B and Guesthouse of the Year - Wolds Village
Wolds Village is beautiful, unique and quirky, providing superb accommodation that will stay in your memory for a very long time. The bedrooms are stunning with individuality and quality throughout.
The lovingly restored building and grounds has something interesting around every corner including a horse sculpture looking out of its stable on the way to breakfast, a pulpit on the landing and a water well in the bar to name just a few. The attentive service and attention to detail provided by the owners has created a really special place for their guests.
Remarkable Business Events Venue of the Year - DoubleTree by Hilton Hull
DoubleTree's 'wow' factor is it's modern, luxurious building where you feel no expense has been spared. The moment you step inside it feels opulent and special, especially in the rooftop bar and terrace which is a fantastic entertainment space. The highly trained staff are always nearby to cater to your every need and first-class customer service is a top priority.
You know you are going to be treated like royalty whatever the occasion.
Remarkable Camping, Glamping and Holiday Park of the Year - Patrington Haven Leisure Park
In a league of their own, Patrington Haven Leisure Park boasts immaculate, high-quality facilities that can be enjoyed by visitors and the local community alike. The entire site is picture perfect in its clean, manicured appearance and the staff couldn't be more helpful. Patrington Haven prides itself on putting the customer at the heart of everything they do.
Highly Commended - Highfield Farm Guest Accommodation
Fabulous accommodation that looks and feels brand new, with the owners conducting a slick and efficient operation. Alongside it's 5-star facilities, the local produce available and art for sale by local artists create lovely touches that really show off the region.
Remarkable Cuppa Award -Molly & Jean
The care, attention to detail and innovative approach results in a truly superb experience from walking through the door to leaving. Molly and Jean are a very busy and popular cafe, spotlessly clean with an innovative ambience and tasty homemade food from afternoon teas, to light lunches and delicious sweet treats. An absolute gem!
Remarkable Ethical, Responsible & Sustainable Tourism Award - Laurel Vines Vineyard and Winery
Laurel Vines Vineyard and Winery has been created with sustainability entirely at the forefront of its business. The people who work there have a clear passion and drive to make the wine and the vineyard activities as sustainable as possible - even going as far to get an electric tractor! Their links with the community and the relationship they maintain are incredible – and of course so is the wine!
Remarkable Experience of the Year - Puffins Galore!
A fun affordable experience for all ages, that can be completed in stages at your leisure helping to achieve a healthy lifestyle along the way! The installations are not only works of art, but they all tell stories of the East Yorkshire coast and highlight wildlife and global warming issues.
Highly Commended - Hotham's Gin School & Distillery
A unique experience for Gin lovers or those wanting to create their own individual spirit! Hotham's offers an interactive, luxury experience that is both a fascinating and tasty journey as you explore gin, the distilling process and make your blend. New for 2022, Hotham's launched Rum School, bringing a taste of the Caribbean to students whilst they create their own spiced rum.
Remarkable Hotel of the Year – Highfield
Highfield is doing everything right. It offers the most wonderful experience staying here and you can not underestimate the value for what you receive. It is a truly unique experience in one of the most beautifully decorated buildings. The team are personal, friendly and warm, making you feel like part of the family. You will leave this hotel relaxed, as if you had been to a spa. We will be back, many times.
Remarkable Local Producer Award - Staal Smokehouse
Staal Smokehouse is a truly worthy finalist who should be highly commended. They produce a product which truly does enhance the area. Their commitment to quality, promotion of the region, and sustainability is fantastic. Their willingness to develop their products to meet customer needs is commendable. The way in which they take the product and use it to promote the area is truly excellent. Their passion and drive to deliver a unique product through its flavour and the story behind it are to be applauded. They are a credit to the region.
Remarkable New Tourism Business of the Year – Highfield
An unbelievable stunning property, restored to an amazing standard. Each room has been individually designed with such detail. The passion of the owners is so clear to see. They embrace people wanting to come and have a look around and share the history. The bedrooms have been designed with history in mind and all features are designed or made by the owners. The grounds just add to the already stunning house. Carefully restored with nature and sustainability in mind. It is an absolute jewel for our area and a great asset to be enjoyed by both the local community and visitors from far and wide.
Remarkable Pub of the Year - The Minerva
Situated on the marina with great views of the Humber, it's a fantastic asset to Hull and the wider community where they have often stepped up to help others at their own cost. The food is excellent, fairly priced, homemade and the produce is locally sourced. They offer a variety of drinks and the atmosphere is extremely welcoming. Keeping the feel of traditional pub but maintaining to a high standard to ensure it feels clean and fresh.
Remarkable Resilience and Innovation Award - Hull Truck Theatre
Hull Truck Theatre have community at heart and it's clear that their work during the pandemic meant that no group was left behind and everyone had some access to the arts that we all greatly missed during this time. Hull Truck's accessibility and dedication to reaching out to as many as possible is truly amazing and makes them a stand-out theatre venue.
Remarkable Restaurant Award - The Brazilian Churrascaria & Bar
A visit to The Brazilian Churrascaria and Bar is a truly unique experience in which the opulent decor showcases a sense of style, quality and warmth. This underpins the overall atmosphere of welcoming friendly service. The delicious food, the excellent preparation and display is a treat for the senses. The drinks menu, whilst standing strong as a bar experience alone, enhances the wow factor of this excellent restaurant. This restaurant is a great asset to the Marina and Humber Street community and will ensure that visitors will return again and again.
Remarkable Self-Catering Accommodation of the Year - Pasture House Holiday Cottages
Owner, Sarah, is an outstanding ambassador for this commendably eco-friendly new property. The fresh local flowers and her own home baking in addition to a very generous welcome basket were lovely touch. In touch with the demands of the younger sophisticated guest who initially might not choose our magnificent East Yorkshire, Pasture House has the quality and charm to certainly pull them in. Creating a luxurious rural atmosphere, the cottages are the perfect venue for wedding guests, friends or family get togethers, keeping in mind the top quality inclusive accessibility for older guests or those less mobile.
Highly Commended - Heritage Escapes, Sewerby
Heritage escape is so close to our beautiful Yorkshire coast and perfect to enjoy tourist spots like Bridlington and Sewerby, whilst still feeling rural and peaceful in its countryside surroundings. It's perfect for those wanting to explore the East Yorkshire Coast. As you enter Heritage Ecapes it's just lovely to see the hay in the barn, the farm equipment and feel the sense of family and farm in this established family run business. Embracing the wildlife and surroundings, the top-quality, luxury cottages are brought alive by the beautiful countryside views.

Remarkable Tourism Event of the Year – Beverley Puppet Festival
Beverley Puppet Festival creates an unforgettable arts experience that transforms and celebrates the town of Beverley. Held bi-annually, it's the largest festival of British puppetry; widely recognised nationally and internationally as a forerunner within the country's canon of visual theatre festivals, and highly valued locally as a regular, family event that appeals to all ages. The best of UK and European puppet theatre is brought to Beverley's venues and streets for thousands of residents and visitors to be inspired by. 2022 marked the 10th edition of the festival – the largest yet with 41 visiting puppet companies and over 10,000 audience members and participants.
Remarkable Visitor Attraction of the Year - William's Den
A fantastic family day out for all ages, whatever the weather!
Children have so much fun playing in the unique indoor area which they enjoyed immensely – proving it's worth on rainy days! The famous wood-fired pizzas are a big hit with all of the family, as was the ice cream parlour with so many flavours to choose from! Outside there is lots of space and plenty of things for the children to enjoy, with the zip line being a particular hit. Staff are enthusiastic, friendly and helpful, especially in the cafe where it was very busy. An extremely enjoyable visit that we would recommend it to friends and family.
Remarkable East Yorkshire Passion - John & Christine Netherwood
Working closely with business, heritage organisations, volunteers and key local partnerships, John and Christine have been committed to ensuring Hull and East Yorkshire are an integral part of England's largest festival of history and culture, Heritage Open Days.
Their work on Heritage Open Days stretches over a decade and they have developed unique insight into some of the area's historic buildings and gardens, with trails, tales and events to inspire all ages about Hull and Beverley's rich heritage. By doing this, the annual event is now widely recognised as the largest and best Heritage Open Day celebration in the country.