Residents invited to exhibition on £1.3m Willerby roundabout improvement scheme
Mon 16th August 2021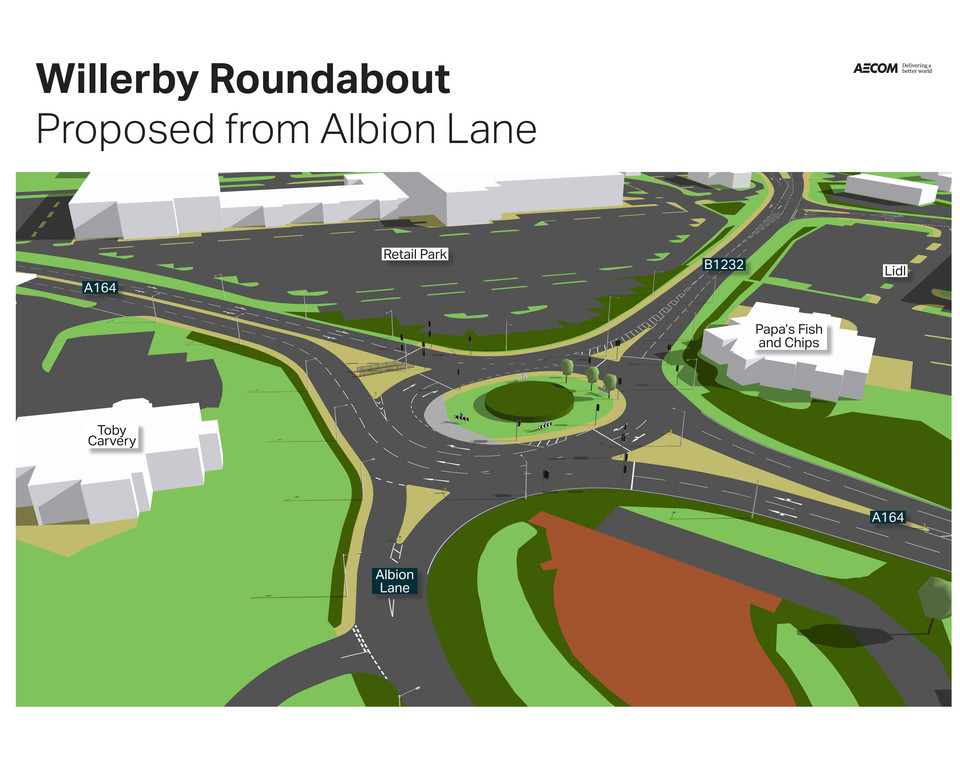 Residents are being invited along to an exhibition being held this month about the planned £1.3m improvements to a roundabout in Willerby, which currently suffers badly from congestion.
East Riding of Yorkshire Council is proposing to transform the junction at the A164 and B1232 at Willerby, by enlarging the existing roundabout and installing new traffic lights at the site.
The new layout is designed keep more vehicles moving, cut down on congestion and substantially reduce queuing and delays for drivers.
The council is hosting a public exhibition of the proposed scheme at Lazaats Hotel, Wood Hill Way, Cottingham, on Wednesday 25 August from 9am to 8pm.
Officers from the council will be on hand to talk about the project, take people's views, and show plans, images and videos. The event will be Covid safe.
Residents can view the scheme online now at https://eryc.link/Willerby-Roundabout-Scheme
In the meantime, comments and queries about the scheme can be emailed to e1228willerbyroundabout@eastriding.gov.uk
The plan includes changes to the lane allocations, which allow traffic on the A164 approach lanes to go straight ahead, and both northbound approach lanes from Willerby – which is currently the worst congested road – to turn right.
An internal turn lane is also due also be included for right turners from the A164 eastbound.
Extensive computer modelling has been carried out to get the right solution, and the chosen scheme is expected to increase traffic capacity by around 30%, with a substantial reduction in delays for vehicles travelling on the Willerby approach road.
The traffic signals with be fitted with queue detection technology and computer controls will ensure traffic on the junction keeps moving as much as possible whenever there is a build-up.
Construction of the scheme is expected to begin in January 2022 and is expected to take eight months to complete.
The overall estimated cost of the scheme is £1.3m, with around half funded by local housing developers and the remainder funded by the council.
Councillor Gary McMaster, the council's portfolio holder for planning, infrastructure and housing, said: "We'd really like people living or working in the area or those affected by the current state of this roundabout to come along to the exhibition and give us their views on the scheme, or send us their comments on email.
"The council's engineers have spent a substantial amount of time studying all the different options to improve this roundabout and have come up with what they believe is the best solution."
Council engineers will continue to look at longer-term solutions as the volume of traffic in the area is likely to increase even more in the future.
Pictures ;-
Four 3D computer model images of the proposed Willerby roundabout scheme.
One 3D computer model image showing the existing roundabout and proposed scheme.
Photo of Cllr Gary McMaster.