Register now for event exploring the future of the Humber economy and the past business year
Mon 9th November 2020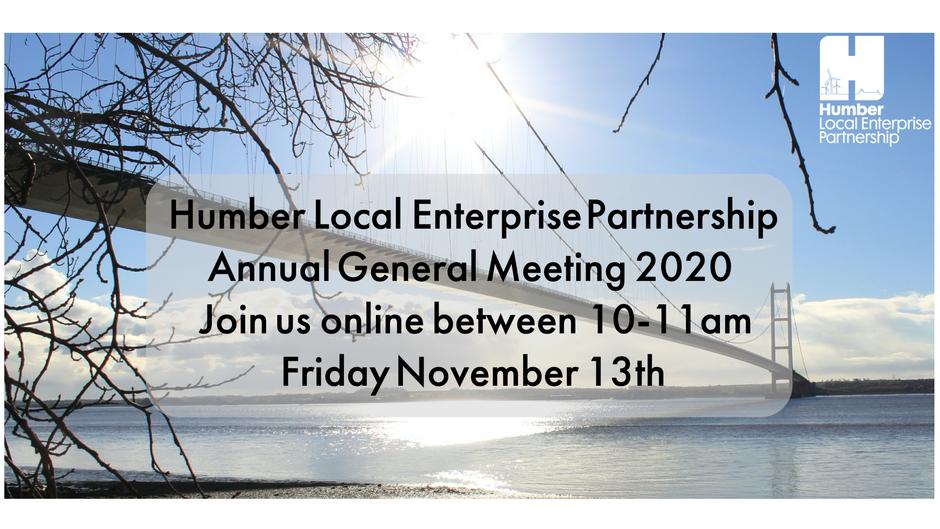 The Humber LEP will be exploring the future of economic development on the Humber Estuary and reflecting on a busy year for the region as it holds its Annual General Meeting on Friday, November 13 at 10am.
This hour-long event will be taking place online in a first for the LEP, with guests appearing remotely, and attendees invited to register for free.
This AGM will explore all the latest developments from the LEP, as well as discussing the outcomes from our Annual Review, which highlights work done by the LEP and its partner organisations across the 2019-2020 period.
The event will feature guest speaker Matthew Fell, Director of UK Policy, CBI, who will discuss current business concerns and the economic landscape.
It will also feature a panel of the region's business leaders, with Stephen Savage, Chair of Employment and Skills Board, Lincolnshire Housing Partnership; Simon Bird, Board Member, Director of ABP Humber; Sallyann Garrard-Hughes, Board Member, Head of Regional Operations – ECITB and Jo Barnes, Investment and Regulation Board Member and Managing Director of Shared Agenda.
With businesses in our region affected by the coronavirus pandemic, we know they will be looking at what future support may look like and where the Humber economy is heading – which will also be explored at this AGM. Changes to LEP arrangements next year and their effect on the region's economic priorities and business support programmes will also be discussed at the event.
There will also be the chance for attendees to ask questions of our Chair, Chief Executive and some of our Board members in our panel discussion and get answers first-hand.
Stephen Parnaby OBE, Chair of the Humber LEP, said: "Our AGM is a chance for businesses across the region to find out more about the work we have been undertaking and the support we have been providing for businesses not just during the pandemic, but across the previous financial year.
"We will also be discussing not just our achievements, but also look to the future, and discuss where both the Humber LEP and the economy of the region might be heading.
"Please sign up for your free tickets, and please use this opportunity to engage with us and our Board and ask us your questions."
Book your tickets online here: https://www.eventbrite.co.uk/e/humber-lep-annualgeneral-meeting-2020-tickets-125621121155
If you wish to submit your question to our panel, please get in touch with our Communications and Engagement Officer, Charis Scott-Holm, at c.scottholm@humberlep.org, or contact us via LinkedIn and Twitter.