Queen's Platinum Jubilee Website Launch
Thu 27th January 2022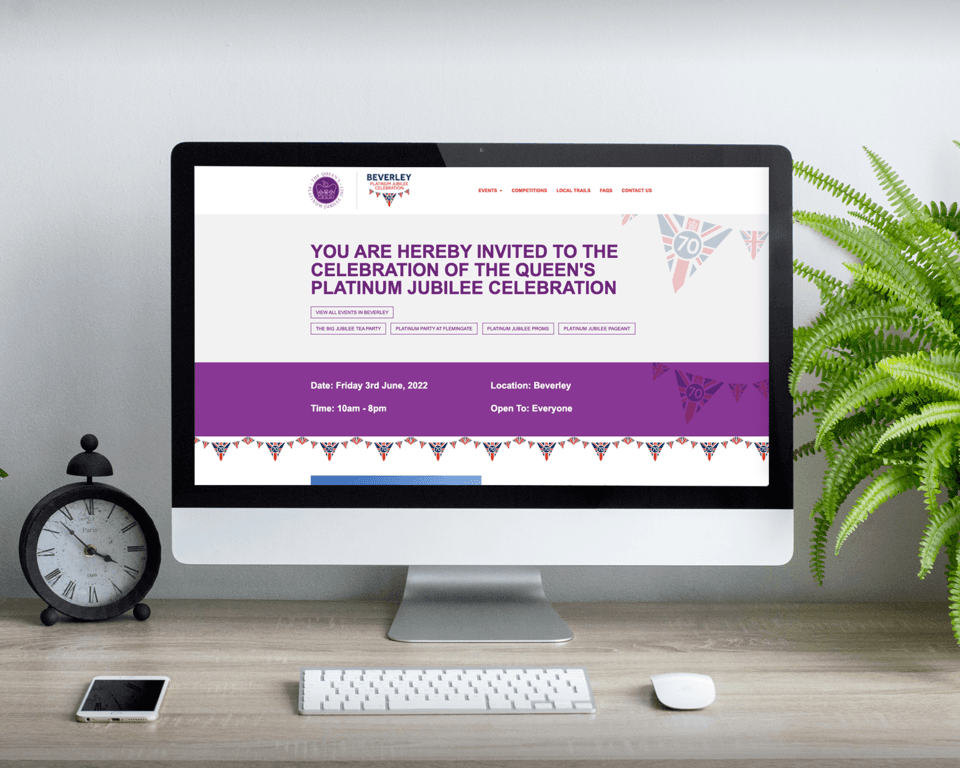 To celebrate Her Majesty The Queen's Platinum Jubilee, Beverley Town Council are bringing the whole town together to celebrate the remarkable achievement of our beloved Queen. Beverley will entertain the masses with a programme of events memorable for the whole family, and now the website detailing all the events is live.
The celebration event is free to attend, but make sure to visit the new website and find out more details at www.beverleyjubilee.co.uk
On 6th February this year, Her Majesty The Queen will become the first British Monarch to celebrate a Platinum Jubilee, marking an incredible 70 years of service to the people of the United Kingdom, the Realms and the Commonwealth. This year in the UK there will be an extra Bank Holiday, and the usual Spring Bank Holiday is being moved from the end of May to the start of June to create a special 4 day Jubilee Bank Holiday weekend from Thursday 2 June to Sunday 5 June.
To commemorate the Platinum Jubilee and the Queen's 70-year reign, on Friday June 3 between 10am and 8pm a number of events have been planned in Beverley and there will be a whole host of entertainment at various locations in the town to enjoy.
The entertainment will consist of two stages with music from throughout the decades she has reigned, entertainment for the children and a delightful selection of food and drink from our local area. There will even be a large screen so everyone can keep an eye on how the Queen is spending her monumental day.
Whether you want to hear the symphonic sounds of the orchestras in Saturday Market, chill out to the acoustic tunes and have your cup of tea in the North Bar or want an upbeat vibe over at Flemingate, Beverley Town Council are making sure the day is fit for a Queen.
Don't miss the Big Jubilee Tea Party, the Platinum Party at Flemingate, the Platinum Jubilee Proms, the Platinum Jubilee Pageant and a Little Jesters event specifically for children.
Make sure to keep an eye out on the new website over the upcoming weeks and months before the event where there will be new information released for scheduled bands and more announcements.
Visit the website at: www.beverleyjubilee.co.uk and follow the new social media channels to get updates on Facebook: Beverley - Platinum Jubilee Celebration, and Instagram: @beverleyplatinumjubilee