North Yorkshire family rapeseed oil business wins regional food and drink award
Wed 24th November 2021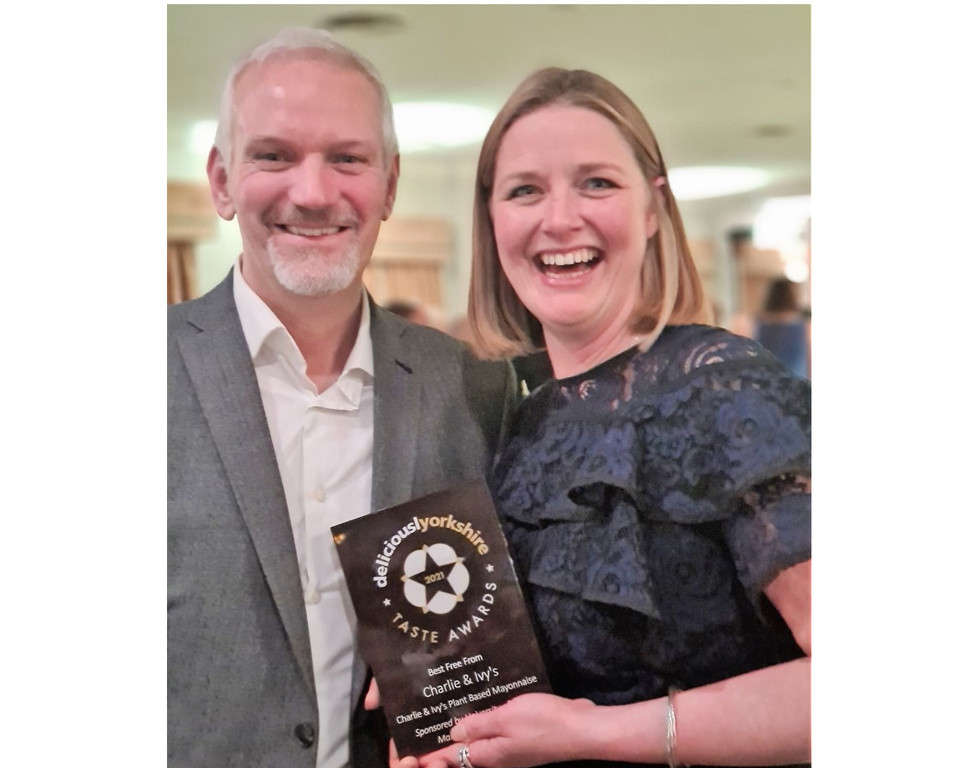 The team at a North Yorkshire rapeseed oil business is celebrating after winning a prestigious food award for its first plant-based product.
Thixendale based Charlie & Ivy's were presented with the Free From award for its Garlic and Thyme Mayonnaise at the deliciouslyorkshire Taste Awards during a glittering ceremony in Harrogate on 10th November.
Charlie & Ivy's faced stiff competition in a diverse category that included beer, sausages, steak pies and curd tarts and were delighted to receive the award.
"Our plant-based mayo range only launched in September, so we're slightly overwhelmed but over the moon to win. It's a range that we have been developing for a long old time as we wanted it to be perfect before it launched, of and course we are delighted the judges loved it so much," said Jason Thompson, who developed the recipes for the range.
"Although the mayonnaise range is plant based, they have been developed to complement our existing products and are delicious whether you're following a plant-based or not."
Feedback from the judging panel, which comprised industry experts including chefs, broadcasters, writers and buyers, included 'In a category that covers a number of areas, this product caused a real stir. If you didn't know this product was plant based you really couldn't tell. A great texture and consistency with really appealing colour, and a pleasant kick at the end, we'd happily smother our chips in it!'
The deliciouslyorkshire Taste Awards celebrate Yorkshire's finest food and drink producers and are the biggest food and drink accolades in the North of England and attracted hundreds of entries from businesses of all sizes from across the county.
The event was hosted by Executive Chef, Stephanie Moon and food and drink broadcaster, Nigel Barden and welcomed over 250 businesses, producers and sponsors, who enjoyed a specially designed menu featuring many of the shortlisted and winning products.
Charlie & Ivy's Garlic and Thyme Mayonnaise costs £3.75 for 190g and is available online at charlieandivys.co.uk and from selected independent retailers nationwide.
The Charlie & Ivy's range also includes bread dippers, dressings and marinades. that are made using award-winning cold-pressed, rapeseed oil by parent company, Breckenholme on the farm in Yorkshire.
Photo: Richard Sharp and Jennie Palmer