Local home care company is top 2% in the region
Thu 7th September 2023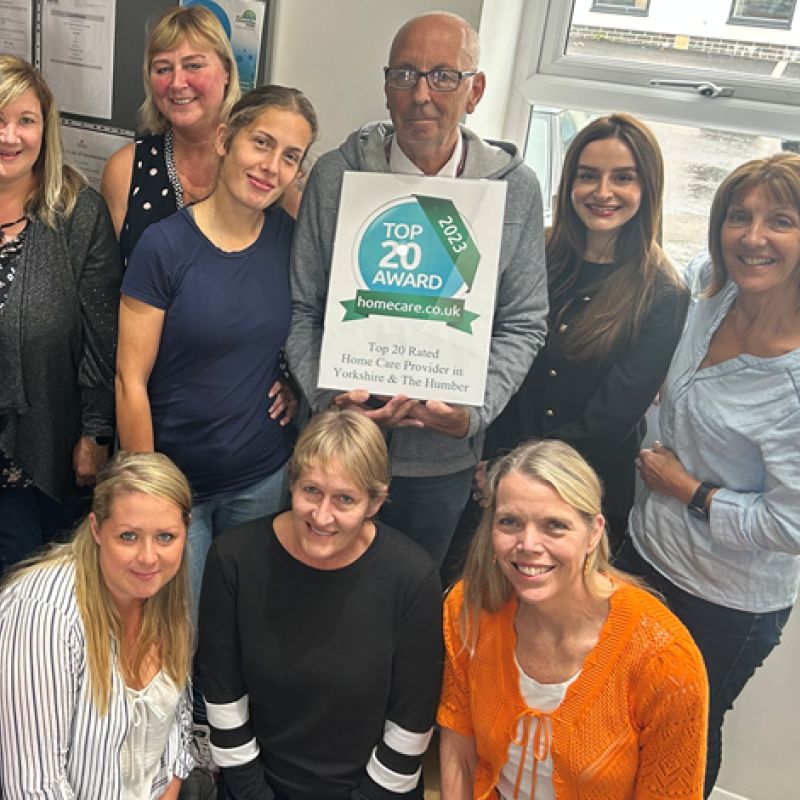 Home Instead Beverley & Hull is delighted to receive a prestigious award by a national reviews website, having been named one of the top 20 home care companies in Yorkshire & The Humber and becoming part of the top 2% of home care companies in the region.
They have made it onto the impressive list out of 950 home care companies and this is the 3rd time they have won this award.
The award is based on the home care company's reviews on homecare.co.uk, the UK's top home care reviews site dubbed by many as the 'TripAdvisor for home care'.
The reviews are given by people that Home Instead cares for, plus their loved ones. Home Instead Beverley & Hull made it to the exclusive list thanks to its impressively high review score of 9.9.
One heart-warming homecare.co.uk review from a family member of a client of Home Instead Beverley & Hull, is as follows:
"I have been extremely impressed with Home Instead and their Beverley team. From the moment I fist picked up the phone to enquire about the services offered - everyone we have dealt with has been professional, helpful, supportive and kind.
"I don't think it was easy for my mum and dad to accept they needed some help – but Home Instead made them feel comfortable from the start and it is now difficult to imagine their lives without a daily visit." Mandy Aitken, owner of Home Instead Beverley & Hull, said: "It's fantastic to be named as one of the top 20 home care companies in Yorkshire & The Humber. Myself and the team at Home Instead Beverley & Hull are delighted.
"A huge thank you to everyone who has taken the time to recommend us!"
Amanda Hopkins, reviews manager of homecare.co.uk said: "Top quality home care is vital as it enables people to continue living in their own homes and to keep their independence.
"People who are less mobile due to illness, a disability or age can become hidden from society so their home care worker can play a crucial role in keeping them both mentally and physically well.
"Our reviews are by those who receive home care as well as their family and friends. This helps others to search for the right care provider, where compassion, trust and empathy are at the heart of their care.
"Home Instead Beverley & Hull has shown it provides care of the highest quality and we would like to congratulate it on being one of the top home care providers in Yorkshire & The Humber!"
Home Instead Beverley & Hull provides a wide range of care services, including personal care, help with dressing and bathing, companionship care and live-in care.
The company is looking for caring people to join its team and become a care professional.
New recruits don't necessarily need previous sector experience; the most important attributes are a kind heart and the desire to make a difference.
For more information on Home Instead's care or career opportunities, please call 01482 736019 or visit:
www.homeinstead.co.uk/beverley-hull