Leading East Yorkshire property firms join forces
Tue 28th February 2023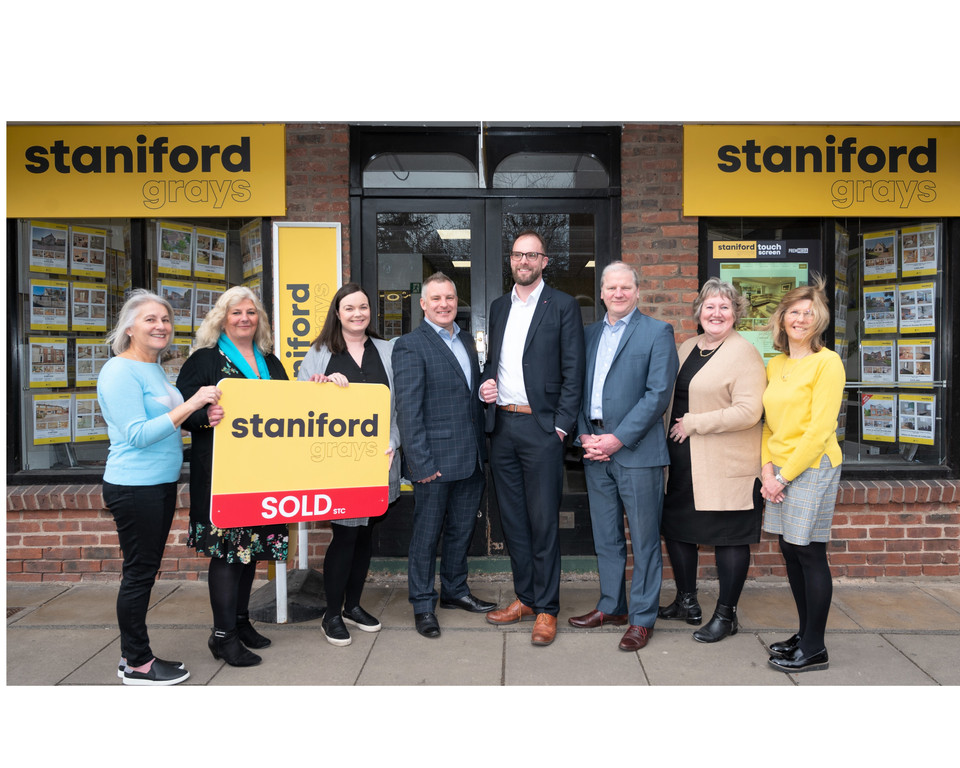 Two well known, East Yorkshire estate agents have joined forces to merge their businesses with a new name and branding.
Stanifords Estate Agents and Grays Estate Agents – both with offices in Beverley - have come together to create a new company called Staniford Grays. The move brings together decades of experience and knowledge of the property market with a formidable new local company.
New branding and signage have been unveiled which reflects a shared commitment to delivering transparent and high-quality services to homeowners.
The new company will operate from existing premises on Sow Hill Road in Beverley and West End in Swanland where the experienced team aim to become the leading estate agency in the East Riding – excelling in transparency, integrity, and exceptional customer service.
The new business will bring together the strengths of two well-known and trusted local businesses – enabling Staniford Grays to expand and offer a professional property service to even more customers across East Yorkshire.
The new business will continue to build on relationships spanning more than 30 years with some of the leading regional housing developers – specialising in both strategic land acquisition as well as the sales and marketing of new build projects in the region.
The striking yellow and grey brand displaying the Staniford Grays name will be seen on signage and sale boards, with the two brands set to consolidate their long-standing reputation further investing in leading property based technology and plan to expand on their current Gold 2022 British Property Award success for the HU14 and HU15 area.
In the meantime, the company will operate from the Staniford website. Existing offices at Beverley and Swanland have rebranded under the Staniford Grays name.
The move will see the merger of two teams into a new 10-plus workforce covering East Yorkshire. The new company aims to make it as simple as possible for home buyers and sellers to achieve their home, property, or investment goals with a friendly and approachable ethos.
Staniford Grays Director Jamie Cammish, who with more than 15 years of experience in the local property market, said: "Our two companies have shared values as well as a passion for delivering excellent customer service and a real understanding of the market.
"We are confident that bringing together our combined knowledge and understanding of the local market under the new Staniford Grays brand will be a real benefit to our clients. We are looking forward to building on our combined experience in the industry including the knowledge and expertise we have built up in working with local residential developers."
"We are really excited to see our new sale boards up across the county and looking forward to helping our first customers on their new home journey during 2023 and beyond."
Fellow Director Ben Wright, who has worked for Stanifords for 17 years, added: "This is an exciting development for our companies. Both Stanifords and Grays have an excellent reputation in Beverley, Swanland and across East Yorkshire and we want to really increase our impact in the region under our new brand."
"Stanifords has been a leading independent agent in our region for almost 35 years and we're looking forward to building on that reputation - focussed on our shared values and delivering a trustworthy and professional service."