Keep your dog safe with Jerry Green's Halloween tips
Fri 2nd October 2020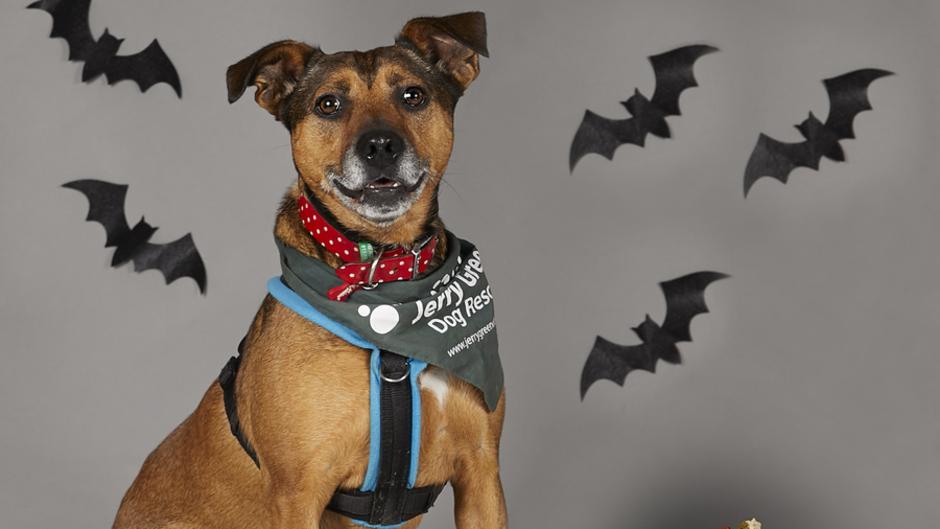 It may be the most frightening time of year, but Jerry Green Dog Rescue say it doesn't have to be for our dogs!
Halloween is full of fun, food and noise and while most of us enjoy the spooky things going on, it can be an overwhelming and frightening time for our furry friends.
Shelley Wilks, Deputy Chief Executive for the rescue, says: "There are so many things going on during Halloween. All of the noises, new faces at the door and the smell of sweeties and chocolate can all get too much for us, never mind our dogs! Not only is there the stimulation side of things to think about, but you may also find your dog is more at risk of getting hurt or being in danger.
"As with all celebrations we need to consider the extra risks our dogs are faced with, whether that be with food, decorations or with news guests in the home."
Keeping your dog safe from things that go bump in the night may be easier than you think with Jerry Green's top 9 Halloween tips:
Keep the chocolate and sweeties out of reach – they can cause very upset tummies and be dangerous to dogs
Keep your dogs inside – for dogs that are worried and not confident in the dark or worried by things that go bump in the night, keep them indoors whilst you go out and about. Leave a radio on so any spooky noises are muffed
Throw your old pumpkin away – mouldy pumpkins can cause neurological and tummy problems
Save the glow sticks for the kids – the liquid in a glow stick will leave a nasty taste in your dog's mouth along with a lot of mess!
Give them a safe place away from the door and ghoulish knockers – scary costumes and lots of noise can scare our dogs too
Keep lit decorations out of reach – reduce the risk of your dog burning themselves or knocking them over
Don't dress them in a costume if they don't like it – Think about whether your dog is the sort of pooch who likes to get involved in dressing up, and if they don't mind why don't you let them try it on a few times before the big night so they can practice their ghoulish moves? Even if they like wearing a costume, introducing one slowly and in advance of the big night is less stressful for them
Keep battery and electrically powered decorations out of reach – reduce the risk of your pooch being hurt by chewing on something they shouldn't
Make sure they're microchipped and your details are up to date – if they do happen to escape or get lost their chip will increase their chances of being returned. We know if you follow all our tips this shouldn't happen but this is just in case advice
If you have any concerns about how your dog will cope during the spooky season, the charity's Enterprise Trainer, Rachel, is there to help. To get in touch with Rachel please call 07464 490201 or email rachel.bagley@jerrygreendogs.org.uk.
We hope you have a super fun time celebrating Halloween this year but please keep in mind our pooches might not be so keen of the spooky shenanigans!
Check out some more of their holiday tips on their website's Tips and Advice page.