KCOM connects North Newbald after calls from villagers and local MP
Tue 25th August 2020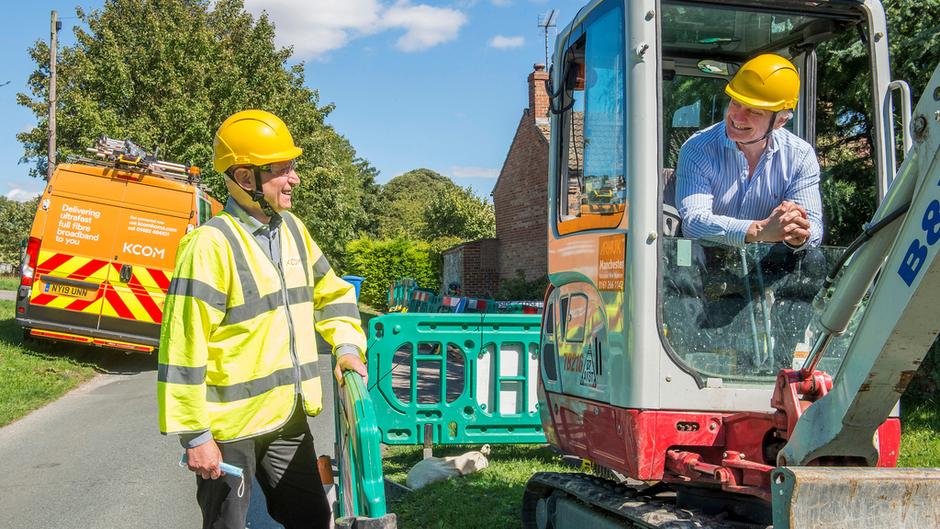 Graham Stuart, MP for Beverley and Holderness, welcomes the news that KCOM is working in North Newbald to connect more homes to their full fibre network. He visited the village on Monday 24 August to join Gavin Steward the Chairman of the Parish Council in celebrating this vital work which will transform how people work and relax online.
Graham said: "I'm delighted to visit North Newbald to see KCOM's work underway to connect most of the remaining properties in the village. The Parish Clerk, Suzanne Smith, has been tireless in her efforts to press KCOM on this important addition to their network and it's great news that the company has listened and is now here doing the work.
"As a KCOM Lightstream customer myself I know what a difference it's going to make to people's lives having the ability to connect to the internet with lightning speed. I was determined to support the Parish Council's efforts to see these roads upgraded to fibre and I'm really pleased for the village that those efforts have paid off. Unfortunately, there are still a few outlying properties with slow broadband in the area that I will be happy to work with KCOM to connect to full fibre."
Suzanne Smith, Newbald Parish Clerk, said: "The Parish Council would like to thank Graham for his unstinting efforts to help us get to this point. Back in 2017 we contacted Graham with our concerns that there were roads in the village struggling with slow broadband and he was quick to meet with us, help us with our village survey to demonstrate that demand was here, and to take up the issue robustly for us with KCOM. The Parish Council would also like to thank KCOM for listening to our
concerns and for bringing forward the installation work.
"The upgraded fibre means that many people who were missing out on the broadband speeds we need to get on with ordinary life will be able to work productively from home, children can carry out research for homework projects, and can enjoy streaming TV or watching Netflix. The Parish Council is delighted to have been able to deliver this improvement to villagers' lives."
Paul Duxbury of Townside Road said: "It's been incredibly frustrating to have been left out of previous fibre installations in the village, and I and my neighbours are really looking forward to all the benefits that fibre broadband will bring us. I have to say that our MP, Graham Stuart, and the Parish Council have done everything in their power in conjunction with KCOM to get us to where we can now look forward to enjoying a broadband service fit for the twenty first century, and we are very grateful for their efforts."

Picture: Sean Spencer/Hull News & Pictures Ltd