Hypnotherapist donates weight loss funds to brighten up Christmas for city kids
Fri 18th December 2020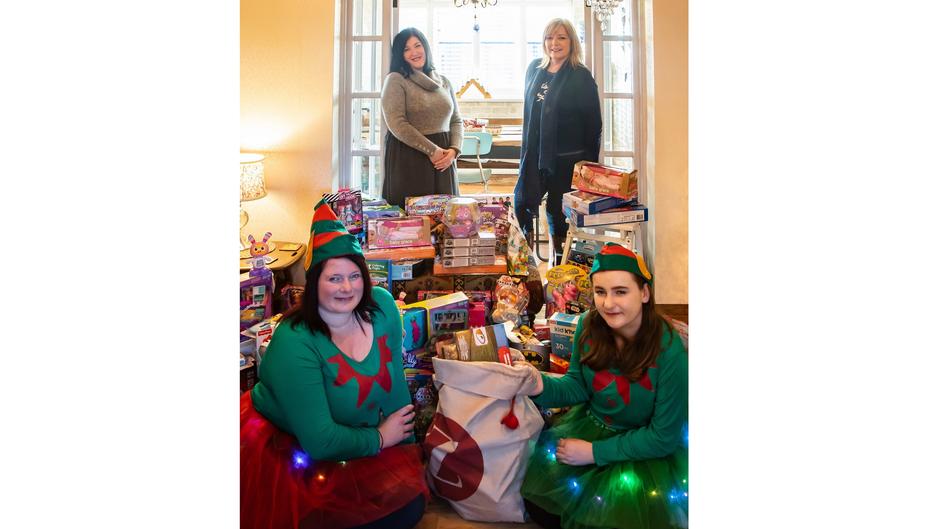 In what has undoubtedly been a tough year for many people, a kind-hearted Yorkshire hypnotherapist has brought a bit of extra Christmas cheer to children living on a Hull estate.
Internationally renowned hypnotherapist and author Sheila Granger, from Anlaby, who pioneered her 'Virtual Gastric Band' therapy to help thousands of people around the world lose weight, has run a virtual 'Drop a Dress Size' programme throughout December.
She pledged that for every pound of weight lost by her participants, she would donate £1 to a fund to buy festive presents for local children in need – and now, thanks to the amazing success of the 67 men and women who have taken part, Sheila has donated toys worth a whopping £850 to the HU4 Community Network Group.
Led by Dawn and Terry Sullivan, HU4 was launched in 2019 and supports families living in the Boothferry Estate by providing food, essential goods, and activities for children and adults.
Dawn said: "We are absolutely overwhelmed by Sheila's generosity, it's such an incredibly kind thing to do."
On Christmas Eve, Dawn, Terry and the HU4 volunteers will dress up in Christmassy costumes and bring some seasonal joy direct to the doors of families on the Boothferry Estate, hand-delivering the presents at a socially safe distance. All the gifts have been split into age groups to ensure each youngster will receive a toy that's suitable for their age.
Dawn added: "I just know that the kids are going to be so thrilled by this, it will be such an exciting treat on what is one of the most magical days of the year for children."
This year, the HU4 team have worked tirelessly to support the estate's residents, and as well as delivering Sheila's gifts, they will also be handing out much-needed food parcels in conjunction with Waitrose supermarket as part of a wider drive to help reduce food poverty in the UK.
This year has been especially challenging for Sheila. Instead of travelling around the world attending conferences and delivering training to other hypnotherapists as usual, she has had to spend most of her time shielding due to a chronic auto-immune illness, and therefore hasn't been able to see her own grandchildren.
"Having to socially distance from my family has been tough," Sheila said, "but on the other hand, I'm lucky that I've still been able to keep running my business on a virtual basis. I realise that not everyone is as fortunate, and the pandemic has had a serious impact on many people's finances.
"I thought that making this donation would not only support families in need, it would also incentivise all my Drop a Dress Size participants!"
Sheila is used to doing one-to-one consultations, and often conducts these online with clients around the world, as her techniques are just as effective over the internet as they are face-to-face. She said: "I know many people have struggled to manage their weight during this year's coronavirus lockdowns, and this, coupled with the knowledge of how successful my therapy is via video communication, inspired me to try the Drop a Dress Size group sessions on Zoom.
"The additional incentive of raising funds for children's Christmas gifts seems to have had a positive effect on all the participants too as everyone involved in the sessions has done amazingly well, with some shedding more pounds than they thought possible."
Colleen Andruszkiewicz, from Ontario in Canada, said: "This year, things have just been plain ugly with the pandemic, there's been so much loss, so much sadness, but Sheila has taken the opportunity to use her clients' weight loss for a great cause.
"Not only have her clients had the benefit of weight loss and the healthy results of that, but we know that those lost pounds will be putting more than one smile on a child's face."
Julie Walsh, from Sheffield, said: "I joined the group as I was struggling once again with my weight. I had emergency abdominal surgery at the beginning of March which left me quite immobile and then was hit by the lockdown. I had five months off work and found myself suffering in lots of ways mentally and physically. The group Drop a Dress Size sessions have helped me get back on track.
"The fact that children are benefiting from this at the same time makes me feel really thankful. I have five grandchildren and know what this means to children at this special time."
Image courtesy of Kevin Greene Photography
Back from left, Dawn Sullivan and Sheila Granger; front from left HU4 volunteer Kirsty Bayles and her daughter Lillie-Mae Bayles