Humber Forest relaunched with ceremonial tree planting in Beverley
Mon 4th April 2022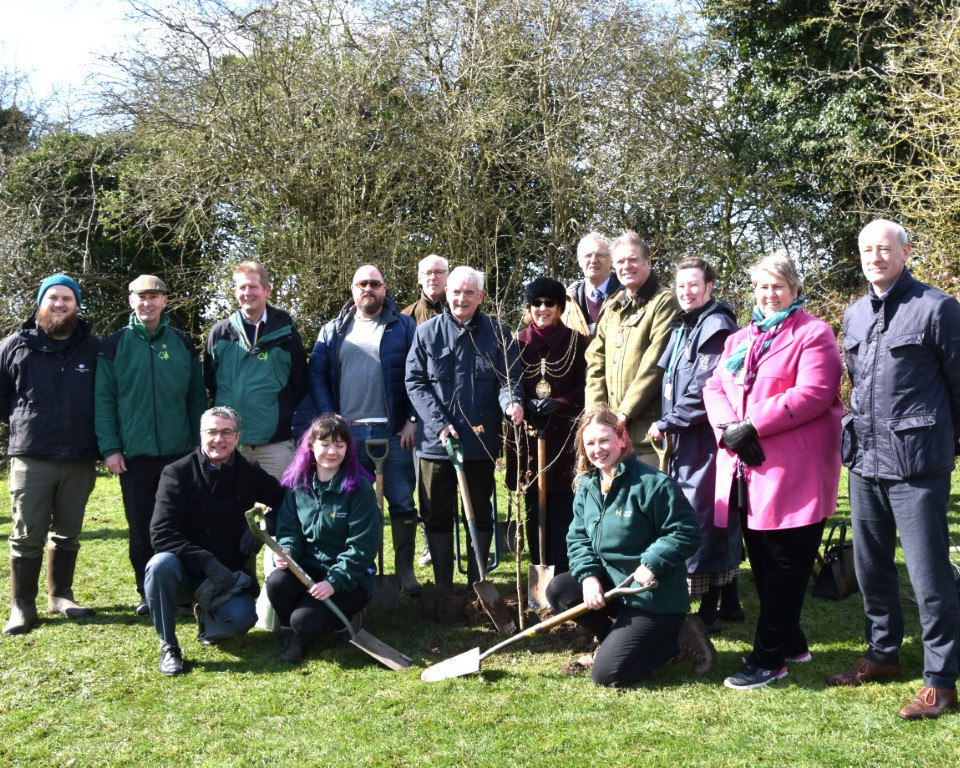 Humber Forest (previously known as HEYwoods) have celebrated their relaunch this week at one of their many tree planting projects in the East Riding area.
The project, which was brought forward by the Beverley Civic society and led by local charity The Conservation Volunteers, saw the planting of 1050 trees at the Archery Fields, Beverley. Planting was assisted by volunteers from the local community and children from Beverley Minster Primary School.
Also in attendance to celebrate the relaunch and helping with the planting was Cllr Nigel Wilkinson, chairman of East Riding of Yorkshire Council, Beverley Town Mayor Linda Johnson, Crispin Thorn, Forestry Commission Area Director for Yorkshire and North East, representatives from Defra (Department for Environment Food & Rural Affairs), along with portfolio holder for environment and climate change at East Riding of Yorkshire Council, Cllr Chris Matthews, and a representative from Hull City Council.
HM Lord-Lieutenant of East Riding of Yorkshire, Jim Dick OBE was present as the Queen's personal representative, as the site will be used to contribute to The Queens Green Canopy. The QGC is a UK-wide tree planting initiative which encourages people to plant a tree to commemorate the Queen's Platinum Jubilee this year.
Humber Forest partners The Forestry Commission, The Woodland Trust and many more attended the planting and the public "drop in" session that allowed anyone to come and ask any questions they have about community forestry, woodland creation and tree planting.
The Humber Forest is not a single 'forest' covering an area, but the collection of many trees, woodlands and hedgerows across the East Riding of Yorkshire and Hull.
Previously known as HEYwoods, Humber Forest works together with communities, businesses, and landowners to increase tree cover and maintain existing woodland. It connects people and woodlands for happier and healthier communities, helping tackle climate change, and improving the local environment for all. It provides advice and guidance, access to funding, and project support for landowners, businesses and communities wanting to plant trees, woodlands, and hedgerows in the area.
Humber Forest partners with both East Riding of Yorkshire and Hull City Councils, Defra, The Forestry Commission, The Woodland Trust, The Community Forest Trust and others to create a 'one team approach' to tree-planting projects.
Cllr Wilkinson, chairman of East Riding of Yorkshire Council, said: "Tackling the climate emergency remains a great challenge, so we are incredibly excited to relaunch Humber Forest which will play an enormous part in creating more sustainable communities for us to live in for generations to come.
"The pandemic has shown us just how important our parks, gardens and green spaces are and, when planted in the right place, the new woodlands and hedgerows will bring huge benefits, from boosting biodiversity, creating homes for wildlife, improving air quality, reducing the risk of flooding, and making a positive impact on people's health and wellbeing.
"East Riding of Yorkshire Council is committed to achieving net zero through reducing its own carbon emissions across council operations, and by working with communities and organisations to influence behaviours and ambitions on climate change across the county. Now part of the Humber Community Forest, we can continue in our efforts to provide a greener and cleaner future for everyone."
Cllr Matthews, portfolio holder for climate change at East Riding of Yorkshire Council, added: "We're delighted to support this initiative as we know planting trees goes a long way towards tackling the effects of climate change and biodiversity loss, while creating more green spaces for everyone to enjoy.
"The fact is there are simply not enough trees to tackle the climate emergency, so we need plant more in the right places as quickly as possible and protect those we already have.
"The Humber Forest is a great example of how we can help turn around the effects of climate change and make a big difference, while also making the region a happier, healthier and more beautiful place to live for future generations."
Crispin Thorn, Area Director for Yorkshire and the North East at Forestry Commission said: "Forestry Commission are a long-term supporter and partner in the community forest and we are delighted to support this relaunch.
"The Forest of Humber will bring huge local benefits as well as play a key role in supporting the delivery of the national ambition for woodland creation. We're proud to support the initiative and look forward to working with partners to deliver on the ground."
This planting season, Humber Forest will have funded the planting of 72,320 trees within woodlands and hedgerows on 48 sites (18.81 hectares of woodland, 3527metres of hedgerow, 125 standards, total area planted this year 21.4ha).
Next year, the scheme aims to plant 90 hectares of hedgerow and woodland across Hull and the East Riding. This will equal around 270,000 trees.
Leah Hallas, the Humber Forest manager, said: "The new rebrand brings the community forest in line with our ambitions and targets for the future years. HEYwoods was our roots, but with a brand-new team, we have grown into something new and exciting."
For anyone who would be interested in planting on their land, or who would like to find out more information, please visit www.humberforest.org or contact humber.forest@eastriding.gov.uk