Hull Communications business donates to Driffield Poultry Business' Staff Memorial Fund
Mon 15th February 2021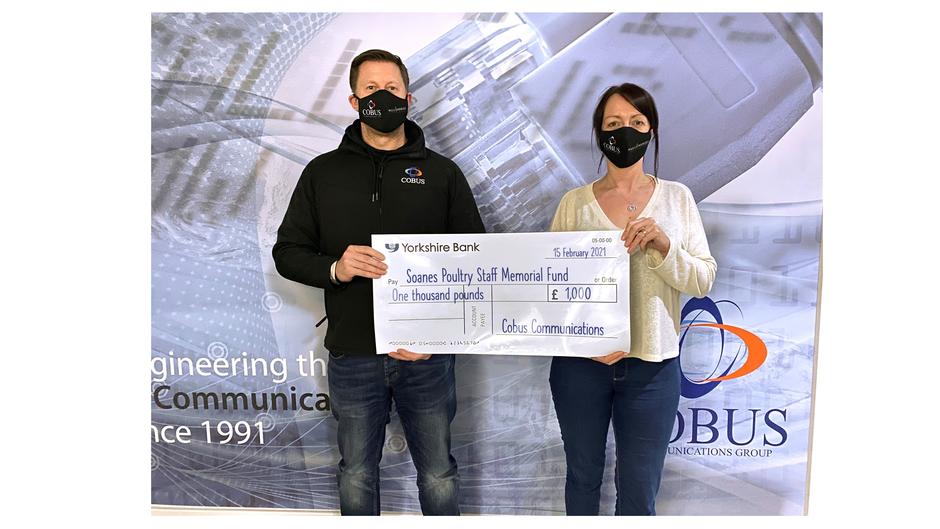 The team at a Yorkshire Wolds poultry business have received a generous donation from its communications provider.

Hull based Cobus Communications has donated £1,000 to the staff memorial fund at Middleton on the Wolds business, Soanes Poultry.
Trustee of the Soanes Poultry Staff Memorial Fund (formerly the Helen Bettley Memorial Fund), Claire Wright is delighted with the donation: "We're very grateful to Michael Smith, Emma Waudby and the Cobus Communications team for their generosity and for providing such a great start to our 2021 fundraising for the fund.

"The fund is in memory of staff members who are sadly no longer with us and we use it to support charities and initiatives that were close to their hearts. In the case of former Technical Manager, Helen Bettley, we made a donation from the fund to the North Yorkshire Music Therapy Centre because of her love of music.
"We have built up a good relationship with Cobus' Sales and Marketing Manager, Emma and the team since they took over the maintenance of our telephone system in 2017 and look forward to many more years' working together."
Of the donation, Cobus Communications' MD, Michael Smith said: "We supply many communication services to Soanes Poultry and over the years have built up a great working relationship with the team. Most recently we worked with them to recommend the most suitable telephone solution which was both cost effective and allowed them to work more efficiently.
"We are both incredibly proud of the support we give to our nominated charities (Hull 4 Heroes and Soanes Poultry Staff Memorial) and believe it is an integral part of our business. It was our pleasure to donate to the Soanes Poultry Staff Memorial Fund in remembrance of their colleagues."
Established in 1991, Cobus Communications supplies communications solutions to businesses throughout the UK. They provide the latest in telephony and mobile device technology, communication services, CCTV camera security, access control, cable infrastructure and IT support services for businesses including The Humber Bridge Board, Beal Developments, AAK, Victoria Plum, Shields of Driffield and Hanson Electrical in the Humber region.
Soanes Poultry is a family owned business which has been rearing and preparing chicken for over 70 years. It employs 120 people and sells its chicken to butchers and independent retailers in Yorkshire and to wholesalers nationwide.
Photo: Michael Smith and Emma Waudby from Cobus Communications with the memorial fund cheque