Househunters reserve their dream homes at Beal's new Beverley development
Thu 30th September 2021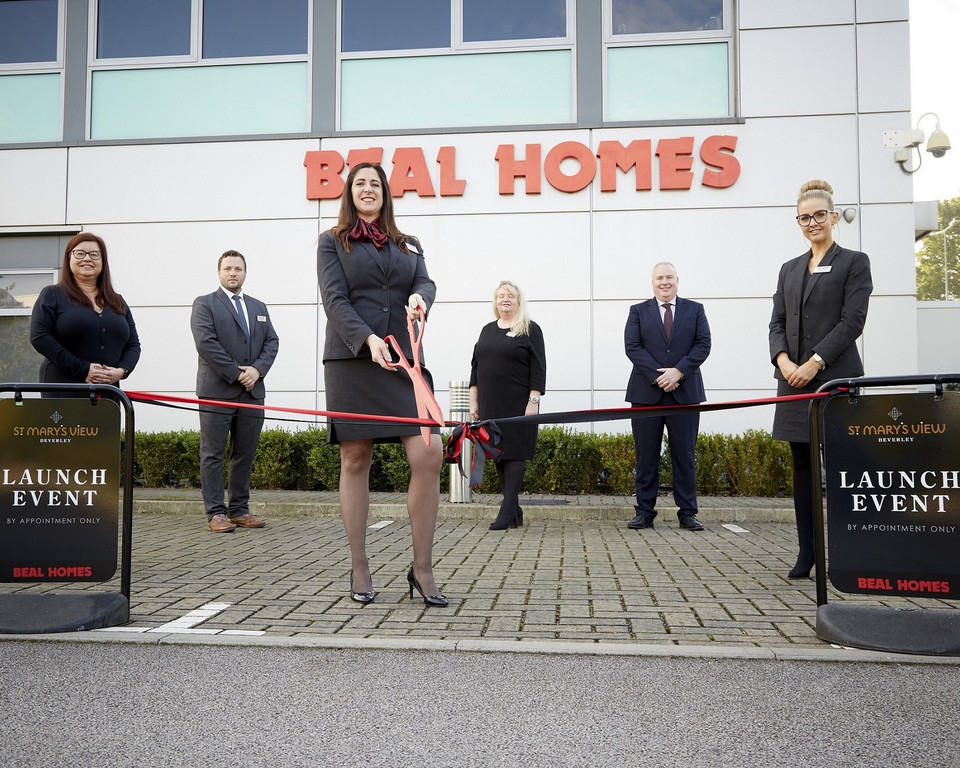 Eager househunters have become the first to reserve their dream homes in Beverley following the launch of Beal Homes' latest development.
St Mary's View will feature two, three and four bedroom homes, as well as three bedroom bungalows, in a prime position in the sought-after market town.
Homes with a total value of almost £3m were snapped up at the launch of the development, with the first buyers expected to move in at St Mary's View in spring next year.
The £23m development is located about a mile from Beverley's charming town centre and a stone's throw from the town's picturesque Westwood pastureland.
The first homes released at the 7.3-acre site, off Poplars Way, included:
Two-bedroom Gramercy and Tribeca house types, priced from £218,000.
Three-bedroom Dalby, Hackness, Malham and Roxby homes, with prices from £275,000.
Three-bedroom Ripon bungalows, from £390,000.
And executive four-bedroom Haxby, Swainby and Thornton homes, priced from £415,000.
Retired Pauline and Martin Cox, both 65, from Kingswood, Hull, reserved a three-bedroom Hackness home.
Pauline said: "We're ecstatic to reserve our new home. We've been looking at St Mary's View for a year now and it has definitely been worth the wait.
"The plot really appealed to us because of its position, the privacy we'll have, the woodlands around us and the Westwood being close by. It will be really nice and quiet and we're so excited.
"Beverley was top of our list for where we wanted to live because we like the town centre and there is so much happening there."
Electronic Engineer Nigel Tutty, 55, currently lives at Beal's West Hill development in Kirk Ella, East Yorkshire, and is keen to secure a new three-bedroom Levisham home at St Mary's View when further house types are released in the coming months.
Nigel said: "There is no expense spared in a Beal home and everything is of excellent quality. I can't fault the customer service at all and I trust Beal.
"I'm looking forward to the Levisham being released at St Mary's View because I absolutely love Beverley."
Beverley is among Yorkshire's most in-demand locations, having been named by The Sunday Times as one of Britain's Best Places to Live. The town's high-quality shops, restaurants and pubs, attractive green spaces and fascinating history all combine to offer an outstanding lifestyle.
St Mary's View follows the success of Beal's fastest-selling development ever, St John's Fold, close to Beverley Minster, which saw all 55 homes snapped up within 12 months and the final buyers move in last autumn.
Sue Waudby, Beal Sales and Marketing Director, said: "The very high level of interest we've experienced in St Mary's View and the strong early sales are testament to this incredibly popular location.
"St Mary's View has a fantastic mix of two, three and four bedroom properties and we offer every buyer the opportunity to customise the layout and features of their new home, working with our design experts to ensure it perfectly suits their lifestyle and tastes.
"Congratulations to our first St Mary's View buyers. We're looking forward to helping more househunters secure their dream home at this great location."
Family-run and award-winning Beal Homes was founded nearly 55 years ago and has become established as the leading independent housebuilder operating in Hull, East Yorkshire and Lincolnshire, having delivered more than 75 high-quality developments across the region.
Find out more and register your interest in St Mary's View here.