HEY Credit Union claims national award for putting fairness to customers first
Mon 11th October 2021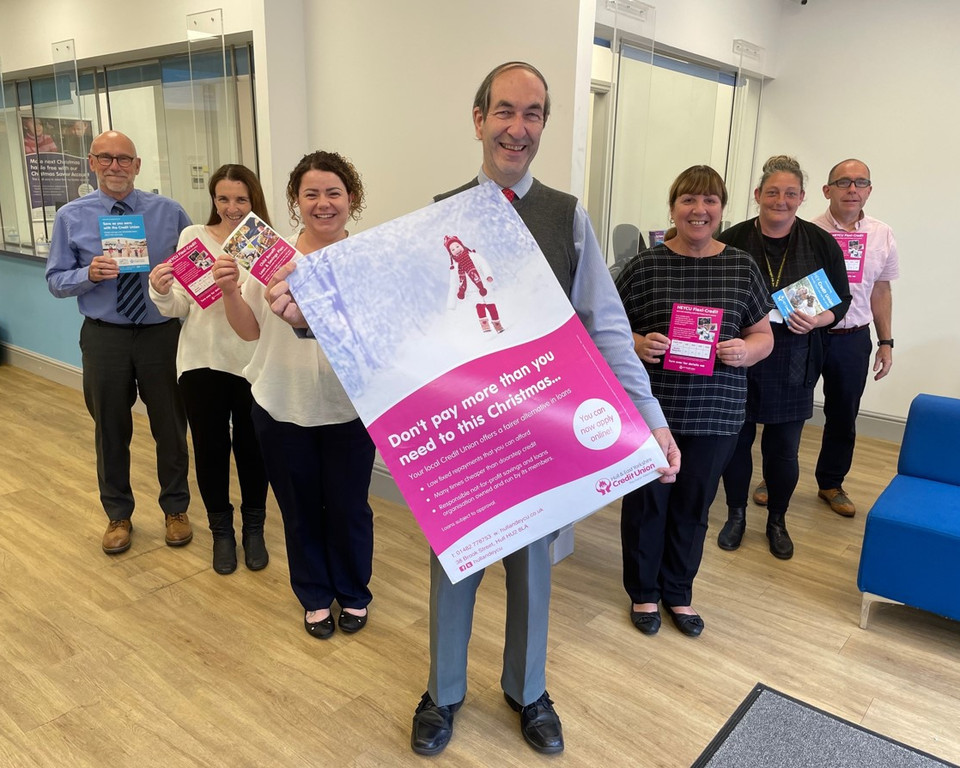 An organisation which has been providing a loans and savings lifeline for families for more than 20 years has been rewarded with a top accolade in a nationwide awards scheme.
HEY Credit Union, which has branches across East Yorkshire and Northern Lincolnshire, shared top spot in the Treating Customers Fairly category in the Consumer Credit Awards 2021 (CCA).
The Credit Union, which has just over 20 staff and serves 15,000 members from its headquarters in Brook Street, Hull, won the category jointly with Bamboo Loans, a much bigger business with 80 staff and more than 150,000 customers stretching across the south of England and into Wales.
John Smith, Chief Executive of HEY Credit Union, said: "This is a fantastic achievement because it puts us right up there with some of the biggest players in the financial services sector.
"It also reinforces our efforts to challenge any perception that we are not a proper bank. You can save safely with us, you can take loans out with us, we are ethical, we can beat what the banks do and this proves it. None of the traditional banks featured in these awards!"
The Beverley Branch of the Credit Union operates from the Cherry Tree Centre and has received glowing reviews from members who have received vital support in times of crisis, from a washing machine breaking, moving into a property and requiring carpets, a deposit for a new rented property, to a car or garage bill.
As a not-for-profit mutual business, HEY Credit Union has assets of £15 million and is working to build membership and expand a network of branches which currently includes Beverley, Bridlington, Driffield, Goole, Scunthorpe and Withernsea.
Since its launch as the City of Hull Credit Union in 1999 the organisation has issued more than 65,000 loans to a total value of £46 million and looks after members' savings of £14 million.
As well as providing sources of credit at fair and reasonable rates of interest, HEY Credit Union helps members of the community to save and educates them in the wise use of money, the management of financial affairs and the successful operation of a co-operative business.
Options to encourage regular saving and sensible borrowing include enabling Child Benefit to go straight into a member's account, and partnering with more than 20 employers to allow staff to save and repay effortlessly direct from their wages. More firms are being encouraged to offer this popular benefit.
Since 2015 the Credit Union has worked with the Stop Loan Sharks project and with local authorities to offer incentive bonuses to people who open and use a Christmas Saver account for the first time.
The members were the key to the latest success, with every customer who was contacted by awards sponsors Smart Money People reporting 100 per cent satisfaction with HEY Credit Union's services.
John said: "The awards are entirely voted for by the customers of firms in the consumer credit industry so we have our members to thank for getting us on to the winners list. It's wonderful that they think so much of us and that we've been able to bring this award back to the Humber region.
"But we know these things don't happen by chance. It is the team effort, day in and day out, to go the extra mile, generate trust and loyalty, produce great solutions and treat our member-customers fairly and with kindness that has led to this amazing outcome for HEY Credit Union. The directors and I am so proud of our team!
"Credit unions are all about treating people fairly. As a co-operative, we were founded with the ethics of 'people helping people' and everything we do is about producing fair outcomes for our members, supporting their financial well-being, not making profits out of them. It is part of our DNA.
"Some years ago we coined the strapline 'The Fairer Alternative' for HEY Credit Union's brand. Feedback from our annual member surveys, 137 reviews on Trustpilot and now this Treating Customers Fairly award, suggests that we have been successful in turning this aspiration into real experience for our 15,000 members. I hope it also sends a powerful message out to the community that we are one of the most trusted brands in the UK for fair, affordable and responsible credit."
The CCAs are in their sixth year and are open to all firms carrying out consumer lending in the UK. Firms taking part awards include banks, credit unions, "fintech" firms, specialist lenders, credit brokers and the suppliers that they do business with.
HEY Credit Union was also nominated in the categories of Best Credit Union (North) and Customer Service Champion.
Jacqueline Dewey, Chief Executive of Smart Money People, said: "Congratulations to all the winners in our Consumer Credit Awards 2021. The standard of voting this year has been incredibly high, and all the finalists should be proud of their achievements. After another challenging year, it has been great to see the nominated credit firms continue to offer such high levels of satisfaction in the eyes of those who matter most, their customers."
Picture details
Attached pic of John Smith, Chief Executive of HEY Credit Union, and some of his colleagues at the head office in Brook Street, Hull.