Graham Stuart MP to host Swinemoor Anti-Social Behaviour Meeting on 19th May
Fri 12th May 2023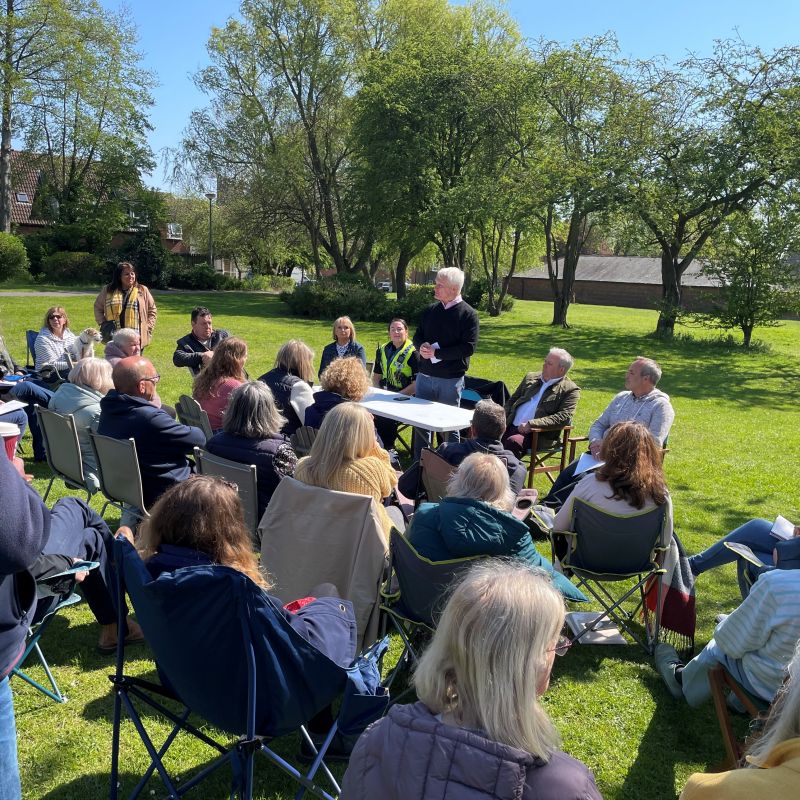 Graham Stuart, Member of Parliament for Beverley and Holderness, is hosting a community meeting on St Nicholas Green in Beverley to discuss rising incidents of anti-social behaviour on Swinemoor.
The meeting will take place at St Nicholas Green at noon on 19th May, and residents can confirm their attendance at www.grahamstuart.com/ASBMeeting23
Following great success last year in reducing incidents of anti-social behaviour in this part of Beverley after two community meetings in the summer, Graham is eager to continue the partnership between the community and police.
In recent weeks, incidents of anti-social behaviour have increased, and Graham has received emails letting him know that the situation is deteriorating.
Graham will welcome Inspector Robin Danby and Sergeant Sophie Kemp to represent the Police, and to hear the concerns of residents.
In February, figures were released which showed that following last year's intervention, there had been a 65% reduction in incidents of anti-social behaviour on Swinemoor.
The Government has made tackling anti-social behaviour one of its priorities, with a radical new approach announced in March. This new approach includes:
• Stronger punishment for perpetrators, cracking down on illegal drugs, evicting anti-social tenants and making perpetrators of anti-social behaviour repair the damage they inflicted on victims and communities;
• Making communities safer by increasing police presence, deploying tougher financial penalties for wrong doers, and keeping our streets orderly;
• Enhancing local pride by taking actions to revive high streets and revitalise parks and green spaces;
• Prevention and intervention through funding one million more hours of provision for young people, expanding the eligibility criteria for the Turnaround Programme,
focusing on targeted support for children most at risk and working with delivery partners on National Youth Guarantee; and
• Improving data, reporting and accountability by simplifying and improving existing reporting structures and increased accountability through
Beverley and Holderness MP Graham Stuart said: "We need to stop Anti-Social Behaviour in Swinemoor. It's not acceptable that it's skyrocketed over the last few weeks.
"That's why I'm calling a meeting with Police and the community to make sure everyone has their say, and that we can work together to cut this scourge.
"In the meantime, I urge everyone to report incidents to the Police – they can't help if they don't know it's going on.
"This approach worked following last year's meetings and I know that, working together, we can make the community a better, safer place for everyone who lives on Swinemoor."