Graham Stuart MP presents Beverley and Holderness' Favourite Curry House, Maa, with certificate
Wed 15th February 2023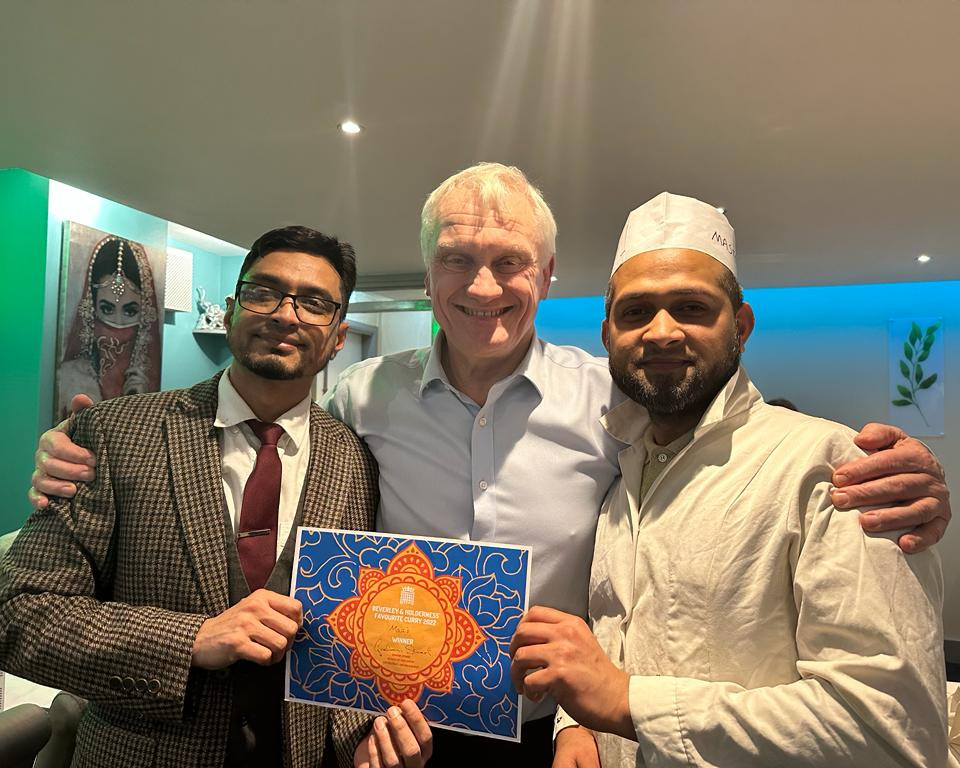 Graham Stuart, Member of Parliament for Beverley and Holderness, visited Maa Indian Restaurant to congratulate them on winning his Beverley and Holderness Favourite Curry Awards 2022.
In December Graham asked people across Beverley and Holderness to tell him what is the best Curry House in the area. After the vote, it was evident that Maa in Beverley is the clear favourite of curry-lovers, receiving over half the votes cast.
Maa is run by its manager, Mohammed Saif, and has gone from strength to strength, serving customers in Beverley since 2015. Graham congratulated Mohammed and his Head Chef, Aktar Hossain, at his restaurant and presented them with a certificate to mark their great achievement.
Following their victory, Graham entered Maa into the Tiffin Cup, a national competition which includes a cook-off in the House of Commons later this year judged by a panel led by Ainsley Harriott MBE.
At a time when hospitality businesses across the country need our support, Graham hopes this competition will highlight the £3.6 billion contribution that Britain's 9000 Indian restaurants contribute to the UK economy.
Following his visit, Graham said: "It was great to visit Maa and try their superb curry for myself. The Chicken Madras and Bombay Aloo was probably the best I have ever tasted and it is clear to me why their food is loved by everyone across
Beverley and Holderness. I'm sure they are the best Curry House in the whole of the UK."
After receiving the certificate, Mohammed Saif, manager of Maa Indian Restaurant, commented: "On behalf of everyone here at Maa we are honoured and delighted to have been voted the best curry house in the area. We would like to thank everyone
who voted for us and we really appreciate Graham taking the time to organise this competition to give all Curry Houses in the area a boost."
Attached is a photo of Graham Stuart MP congratulating Mohammed Saif on winning his Curry Award.