Graham Stuart MP congratulates East Riding College on remote learning success story
Thu 11th March 2021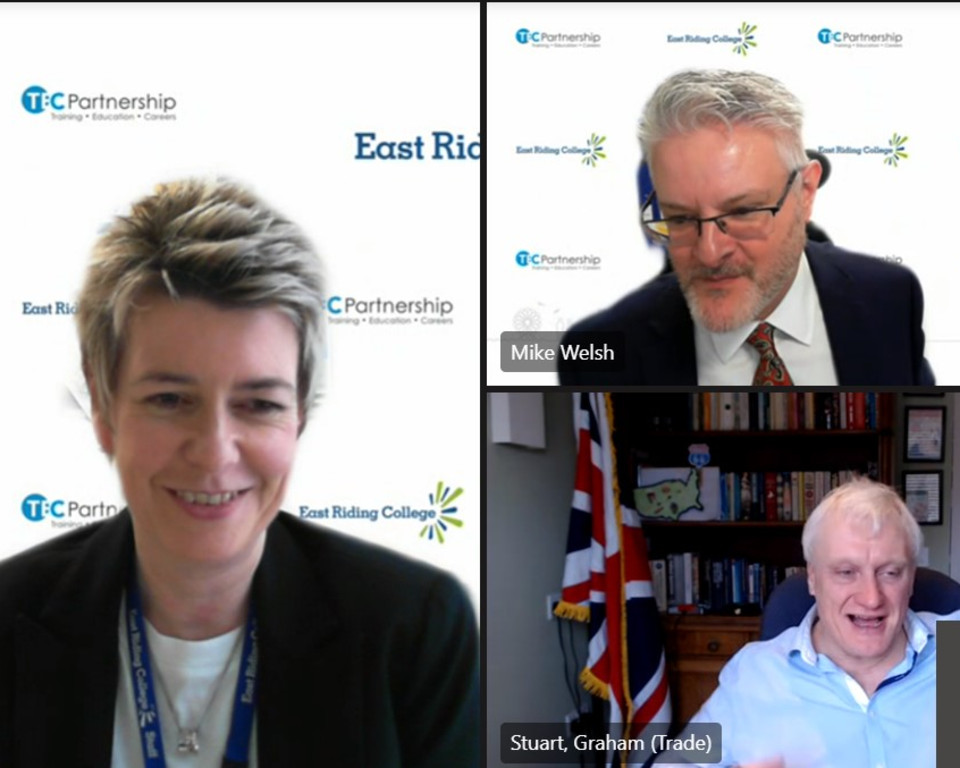 Graham Stuart, MP for Beverley and Holderness, virtually met the Principal, Mike Welsh, and Vice Principal, Helen Wooldridge, of East Riding College to hear about their remote learning success story.
Since the first lockdown, staff have been teaching their full timetables and delivering live lessons to their students. They have been able to ensure connectivity, through broadband packages they have been gifted, and supply devices to all students who need them, emphasising that demand for devices has increased throughout the three lockdowns. They have an impressive 90%+ engagement and attendance of their students.
Staff have levelled up their skill set to use the technology appropriately and adapt their teaching and learning strategies - 92% of staff rated their use of Microsoft Teams as excellent and 97% of students agreed the teaching on their course was good.
Mike and Helen pride themselves on the high level and well-rounded support they continue to offer their students. Staff have kept in regular contact with all students, particularly those on their radar for safeguarding reasons. Staff have also received specialist training to support the prevalent mental health issues they are more commonly seeing.
They have spent their catch-up funding from the Government on delivering one-to-one learning, which has primarily been focused on students who did not reach the grades needed in GCSE English and Maths. This targeted intervention has led to their best November resit results.
Graham also heard about their dedicated testing centres on their Beverley and Bridlington campuses, run by volunteers from their existing staff cohort, and their new online booking system for learners who have been welcomed back this week.
Graham said, "It was great to have a catch up with Mike and Helen to hear about their impressive remote learning provision. I want to congratulate them for their fantastic performance during the pandemic, which they were able to deliver to their students instantly from day one. I look forward to visiting East Riding College next month to visit the building site of their new Institute of Technology."
Mike said, "It was excellent to have the opportunity to share our very positive narrative with Graham and we look forward to welcoming him in April to show him the construction work that is underway for our new Yorkshire and Humber Institute of Technology."
Photos : Graham virtually meeting Mike Welsh, Principal, and Helen Wooldridge, Vice Principal, of East Riding College