Film & TV actor headlines Beverley Building Society's first Charity Golf Day, which raised over £3,000 for an important local cause!
Tue 6th September 2022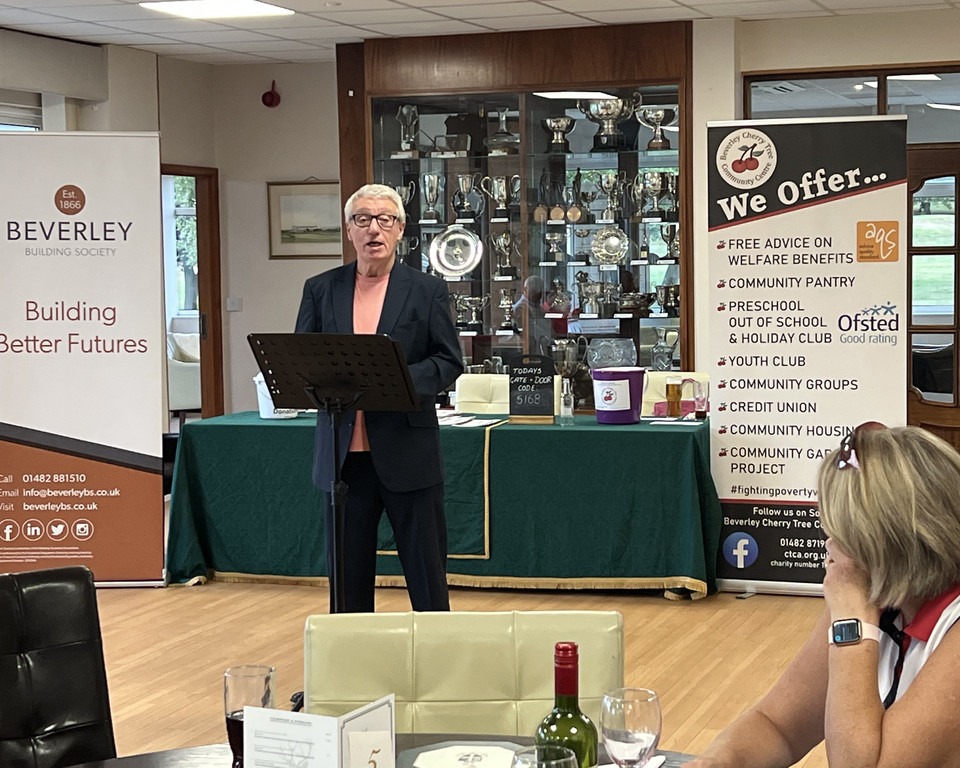 The staff of Beverley Building Society were honoured that former Old Shakespeare Company and West End actor, Richard Avery generously gave up his time to act as Master of Ceremonies at its first Charity Golf Day, in aid of the Beverley Cherry Tree Community Centre, on 26 August 2022.
Richard the co-founder of East Riding Theatre, which is a long-standing community partner of the Society has appeared in Coronation Street, Emmerdale, the Bill, Touch of Frost and films, including the Return of the Native and, in his usual charismatic style and commanding voice, entertained the audience and announced the prizes for the Golf Day's top winning teams and charity raffle in the evening at the end of the match.
The Golf Day raised an incredible £3,069.80, which will provide vital funding to help the Charity continue its important work!
The latest in a programme of events for the Society's Charity of the Year, the Beverley Cherry Tree Community Centre, the occasion was held at arguably the region' stunning premier course, Hessle Golf Club, at Raywell near Cottingham. The initiative was aimed at giving individuals and businesses alike, regardless of ability and ages, the chance to play together at the 18-hole course, whilst at the same time raising vital funds to support a very important local cause.
Since 1993, the Cherry Tree Community Centre has been a vital lifeline for vulnerable people of all ages across the East Riding region. The Charity offers a wide range of services, from free advice on issues including money, housing and employment, food bank services, community shop, youth club and even a Little Gruffalos pre-school nursery for children to learn in a fun environment.
Richard Avery commented: "I thought the Golf Day sounded like a fantastic idea, so I was delighted to be asked to be the Master of Ceremonies, particularly after learning about the Charity it was supporting. There was a great atmosphere on the day and it just shows what a positive difference you can make when you all work together."
Golf enthusiasts joined forces for a day of competitive fun and fundraising, with 22 teams of four people generously donating their time and money to help make the event a success. The entry fee, which included a one course meal once play had finished, consisted of only £20 per person for Hessle club members and £35 per person for non-Hessle members.
Proceedings commenced at 10.30am with teams teeing off every 10 minutes until 2pm and enjoying pretty much perfect weather for the sport, which was a huge relief to everyone after the recent thunderstorms!
However, businesses didn't have to play to support the event, tee box sponsorships were available (from just £50 for par 4 and 5 and £100 for a par 3) and everyone was invited to buy tickets to the Raffle, where cash literally flowed non-stop into the Cherry Tree donation buckets, until tickets sold out!
The Porsche Centre Hull and Riverside Motor Group were two such companies who generously committed to all three activities and, in addition, displayed some stunning vehicles at their sponsored tee boxes, with the former bringing a Porsche 911 and the latter providing two Volvos and a SEAT, all of which naturally drew a lot of attention from players.
"It was so important for us to make this event a success for the Beverley Cherry Tree Community Centre because they so urgently need funding to continue the vital work they do" said Debbie Connolly, Marketing Manager for Beverley Building Society "I'm overwhelmed by the wonderful generosity of everyone involved and I'd like to say a huge thank you to Richard Avery, Hessle Golf Club, who's staff really worked hard to look after us, and everyone who participated in the event because we couldn't have done it without you. We've established a really solid foundation to enable us turn the Golf Day into an annual charity event that keeps building year on year, so people should watch out for us in 2023!"
Jo Ramsay, Manager of the Beverley Cherry Tree Community Centre, who's website perfectly captures their motto as: 'When you don't know where to turn we can help you, or find someone who can', added:
"I'm beyond touched to see the fantastic response to the Golf Day and, on behalf of all of us at the Centre I'd like to say a huge thank you to both the Society and everyone who supported the event. The current cost of living crisis means it's now more of a challenge than ever to continue the important work we do, so this funding will help us to keep making a real difference to people in need of urgent help."