EAST RIDING ALL FEMALE THEATRE GROUP ANNOUNCES WORLD PREMIERE OF INNOVATIVE WEB SERIES FOR CHILDREN
Thu 18th March 2021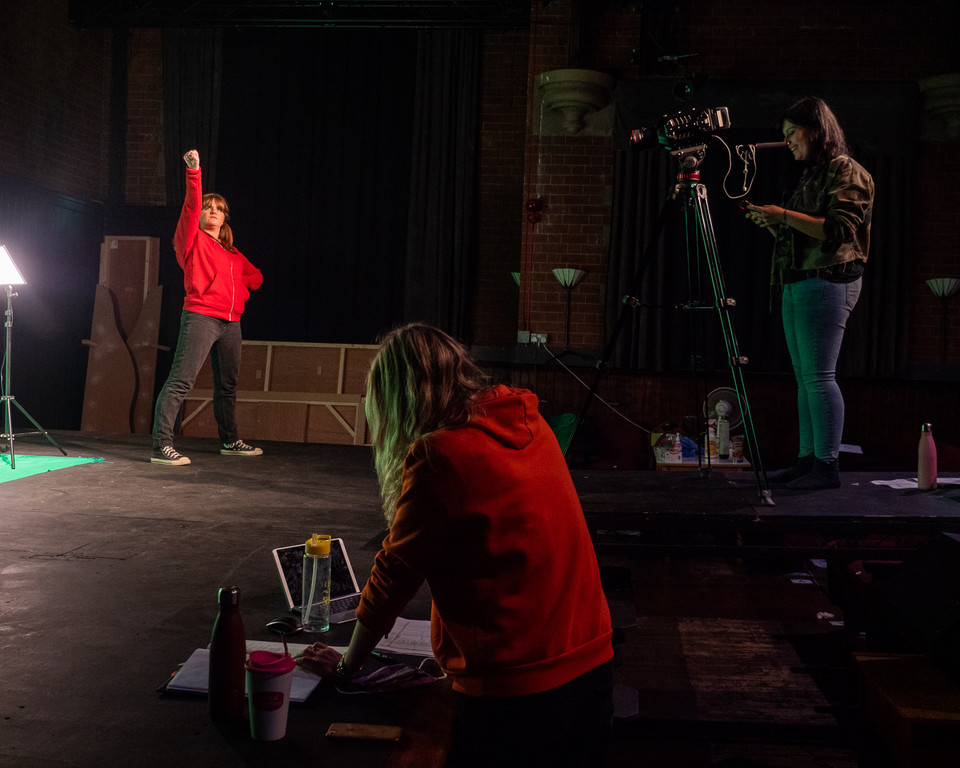 Free front row seats released for glittering launch of fantasy family musical from Monday 22 March 2021.
International online fan-base created during lockdown to tune in from New York to South Africa as well as across the UK.
An East Riding all female theatre company which has attracted an international following during its online lockdown performances has announced a world premiere for its latest innovative production, a digital fusion of animation and live actors, inspired by the scenes pioneered in Disney's Mary Poppins over 50 years ago.
She Productions has adapted their hit family musical StorytEllas into a four-part web series alongside Hull-based Animator Alex Twiston Davies. The 'magical musical adventure' will be launched online in a glittering first night on Monday 22 March.
"We're encouraging families to dress up and grab a front row seat for our virtual world premiere. We've not only attracted new fans from across the UK to over 24 digital online events during the pandemic lockdown but have also attracted international viewers from as far afield as South Africa and New York," said co-writer and director Jessica Duffield.
"It's been incredible to be able to make this work throughout such difficult times and it has been both a beacon of hope and an outlet for creativity. It's been a huge learning curve working in a new medium and under tight restrictions. It's now really exciting to be able to share what we've been beavering away at behind the scenes, with an audience, and we really hope people enjoy it!"
The process itself has been completely new for the company, who predominantly write and produce live shows designed to introduce children to the magic of theatre in an informal setting. The creative team have worked hard to emulate this by fusing vibrant interactive live film with animation, original songs and charming characters.
Episode 1 of The StorytEllas musical web series will be released on Monday 22nd March 2021 and you can sign up to watch for free here: www.sheproductions.co.uk/the-storytellas-sign-up
Although the logistics of filming with social distancing in place seemed problematic at first, under the expertise of local videographer Fly Girl Films, and the use of a green screen, each actor could be filmed separately and then 'brought together' during the edit. Actor Raquel Jones, who had only recently joined the cast of Tina in London's West End before Lockdown 1, said: "I loved filming and being a part of the StorytEllas series as Cindy! I'm so grateful to have been doing what I love during this pandemic in a completely new way."
Rachel Barnes' catchy score has been produced remotely by Sound Designer James Frewer and the She Productions team have enjoyed exercising their various accents and voices to bring the animated characters to life.
Co-writer and Producer Annie Kirkman said "The last 12 months has been really tough on the theatre sector and it has been truly devastating to watch so many artists and venues struggle to survive. There really is nothing like an audience sharing a live event with you and we are counting down the days until we can make that happen again. However, this year has also challenged the company to take a risk by creating this digital series, and for that we are grateful."
The StorytEllas is part of Helmsley Arts Centre's 'A Connected and Creative Community', and has been further supported by Arts Council England, Beverley Town Council, HEY Smile Foundation's I Am Fund and Hesslewood Children's Trust.