Early Christmas present for shoppers as Dunelm opens Flemingate superstore
Thu 23rd December 2021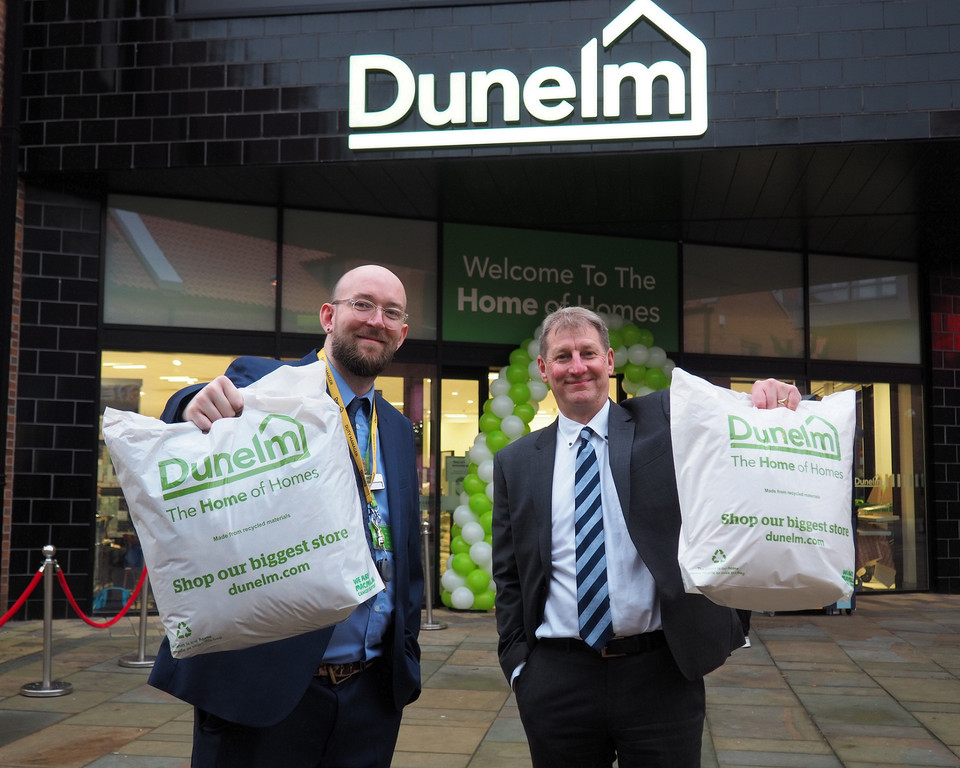 Shoppers have given a resounding thumbs-up to a new Dunelm superstore at Beverley's Flemingate centre after it opened just in time for Christmas.
The homewares retailer has become Flemingate's new anchor operator after taking over the 41,000 sq ft, two-storey former Debenhams department store.
Dunelm has taken a 10-year lease on the unit to bring its new multi-department superstore format to the centre. It opened with festive music, food and drinks to mark the occasion.
Shoppers received free goody bags and Dunelm gift cards, and complimentary hot drinks and cupcakes were available and Beverley Brass Band provided seasonal music for customers to shop.
Father Christmas also made a guest appearance and there was a raffle and numerous other fundraising activities in aid of mental health charity Hull and East Yorkshire Mind.
Customers were certainly impressed by their first visit to the store, which has created 40 jobs.
Retired teacher Brenda Cartwright was given the honour of cutting the ribbon to officially open the store after she was nominated by her friend Debra Brett. Brenda is one of the lead guides at a local cycle group and supports others who enjoy cycling.
She said: "I'm so overwhelmed and excited. I used to live in York, where there was a Dunelm, and moved to Beverley six years ago.
"Beverley needs a store like this because it's such good value and has such a huge range."
Mother and daughter Sally Velia and Amber Schidt queued from 7.10am to be among the first inside when the store opened to its Facebook followers at 8am, before opening to all shoppers at 9am.
Amber said: "It's exciting to see the new store because it's something new and very different for Beverley."
Sally added: "Dunelm sells great, quality products and this is in a really good central location. It has been brilliant to be among the first shoppers to have a look around."
Elaine and Michael Coan were even earlier, arriving at 6.45am, and were the first in the queue.
Elaine said: "It looks brilliant and we're so excited to have Dunelm on our doorstep. It will bring even more people to Flemingate and is a very good addition to the area."
Store Manager Stuart Welburn said: "We're really excited to open our new superstore and welcome so many happy shoppers.
"The store offers all the latest Dunelm concepts and new products and is a fantastic addition to the retail offer at Flemingate.
"We're absolutely delighted to be here, providing customers will an exceptional shopping experience in this thriving location."
Dunelm's opening is a further major boost to Flemingate, which is owned and operated by Hull-based property developer Wykeland Group, following recent openings by other market leaders.
David Donkin, Wykeland Property Director, said: "The opening of the new Dunelm superstore at Flemingate is the perfect early Christmas present for shoppers.
"Dunelm taking over this unit, and in doing so becoming the new anchor tenant, is testament to the strength of the centre and the vitality of Beverley as a retail marketplace.
"Flemingate is now almost fully let, despite the challenges posed by the pandemic, meaning it offers greater choice, variety and an even better experience for customers than ever before."
The new store features well-known departments including curtains to cookshop, Made to Measure and a Decorate & Co-ordinate department, including Dunelm's new range of own brand paints and a Take Home Today furniture department.
It also includes a Dunelm's own Pausa coffee shop, serving freshly-ground Arabica coffee and a range of sandwiches, cakes and treats for shoppers to enjoy.
The store will be open from 9am-4pm on Christmas Eve and 9.30am-4pm on Boxing Day, with the first 30 minutes for browsing only. It will then be open 9am-6pm next Monday to Thursday, 9am-4pm on New Year's Eve, and 9am-6pm on New Year's Day.
It is the latest addition to Dunelm's network of more than 170 outlets across the country.
Hayley Meunzberg, Trade Team Leader at the new store, said: "We've been working flat out to be ready for Christmas, so it was great to be able to open up to our first customers.
"The store is in a really prominent position and has a lovely look and feel to it. It was so nice to see such a positive reaction from everyone when they walked through the doors and all the entertainment and activities made it even more special."
Dunelm is regarded as the UK's leading homewares retailer, with an unrivalled range, including exclusive brands and own-label products, and a growing presence in the furniture market. It has 50,000 product lines and is renowned for helping customers create homes they love by offering choice, value, quality and style.
The Dunelm superstore launch at Flemingate follows the opening of a store bringing together Sports Direct, the UK's leading sportswear and sports equipment retailer, and streetwear and fashion brand USC. Other arrivals at Flemingate in recent months have included a Vintage & Co hair and beauty salon and a One Stop convenience store.
Opened in 2015 as Beverley's largest ever regeneration scheme, Flemingate features a mix of leading national retail and leisure brands and local independents. It is also home to East Riding College's Beverley campus, an 80-bed Premier Inn hotel, six-screen Parkway digital cinema and 130 homes.
The Debenhams store at Flemingate shut in May this year as part of a national closure programme after the department store group went into administration.
No. 1
Store Manager Stuart Welburn, left, and David Donkin, Wykeland Group Property Director, at the opening of the new Dunelm superstore at the Flemingate centre. Flemingate is owned and operated by leading developer Wykeland.
No. 2
Father Christmas hands out Dunelm gifts to Store Manager Stuart Welburn, far right, and Wykeland Group Property Director David Donkin outside the new Flemingate superstore.
No. 3
Brenda Cartwright was given the honour of cutting the ribbon to officially open the new Dunelm superstore at Beverley's Flemingate centre.
No. 4
Mother and daughter Sally Velia and Amber Schidt were among the first shoppers inside the new Dunelm superstore at Flemingate when it opened just before Christmas.
No. 5
Elaine and Michael Coan were the first in the queue for the opening of homewares store Dunelm at Flemingate in Beverley.
Photo Credit -: Richard Addison Photography.