Council Celebrates 25 Years Serving Residents, Businesses and Communities across the East Riding
Thu 1st April 2021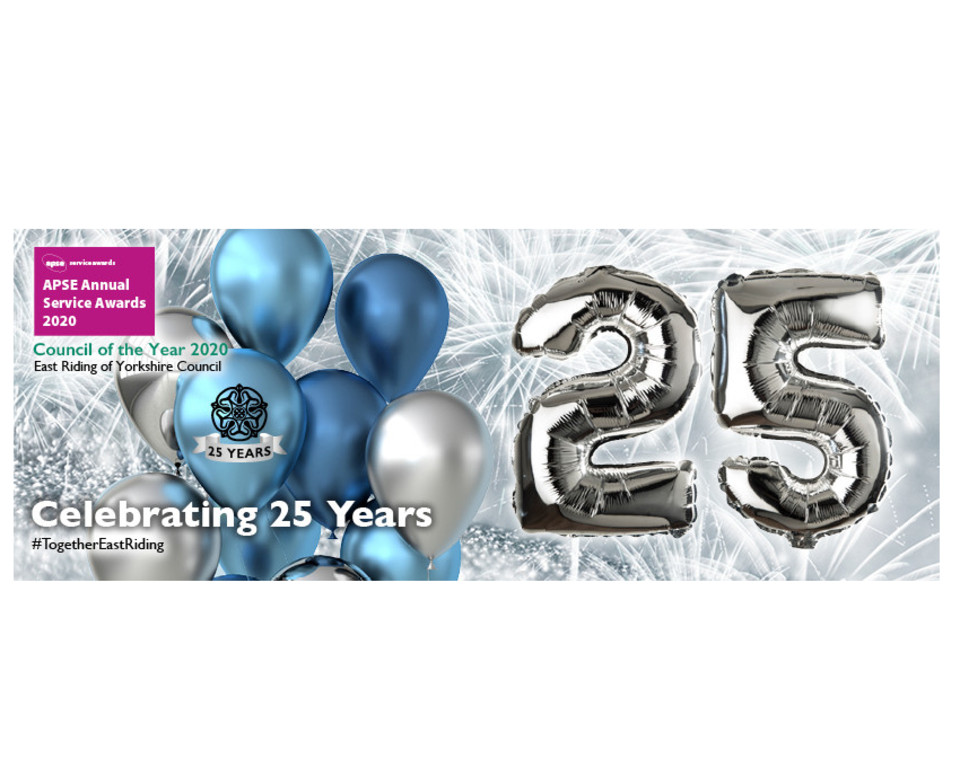 East Riding of Yorkshire Council celebrates its 25th birthday today (Thursday, 1 April), having been born out of Local Government Reorganisation on 1 April, 1996. That date saw the end of Humberside County Council and the creation of four unitary authorities in its place: North Lincolnshire Council, North East Lincolnshire Council, Hull City Council and East Riding of Yorkshire Council.
While some things have remained the same, such as the council's headquarters located at the Grade II Listed County Hall, in Beverley, a great deal else has changed over the past quarter of a century.
The council has grown from humble beginnings back in the mid-90s to one of the busiest unitary authorities in the country, delivering over 600 services to nearly 159,000 households as well as being one of region's key economic drivers, attracting hundreds of millions of pounds in inward investment and providing vital support for 13,360 businesses across a diverse range of sectors including manufacturing, distribution, transport, leisure and tourism, agriculture and food services.
Major achievements over the years include becoming the leading authority in England for recycling – a title held by the council for three years running - and, more recently, being crowned Council of the Year at the 2020 Association for Public Service Excellence Awards.
Along the way, the council has also helped shape a number of huge changes across its vast area, including the refurbishment of Bridlington Spa and Sewerby Hall and Gardens and the building of East Riding Leisure Bridlington, together with huge investment in the infrastructure of the resort; the introduction of the Integrated Transport Plan in Beverley and the launch of the cultural hub in the Treasure House, as well as major developments like Tesco and Flemingate; the refurbished boat compound at Hornsea, and the brand new Hornsea Hub; the impressive – and vitally important – flood protection schemes at Pocklington and a range of other locations; East Riding Leisure Haltemprice; new initiatives like Active Towns and Active Withernsea; and helping attract major new private investment in the Goole area – including from Siemens and Croda.
Underpinning all of this is the council's track record of sound financial management, which has led to significant investment in many areas like leisure and culture.
The last 25 years have also seen the East Riding host huge international events, such as the Milk Race and the Tour de Yorkshire as well as the Olympic Torch Relay and an event for the Paralympic Lantern in 2012. The East Riding also played a massive role with Hull in City of Culture in 2017.
Councillor Richard Burton, leader of the council, said: "It is a privilege to be the leader of this authority as we mark 25 years of serving the East Riding.
"I would like to pay tribute to our amazing workforce, who have come through an incredibly tough year and continue to work hard day-in and day-out to provide the best possible services for our local communities and businesses.
"Equally important is my thanks to our residents for all their great efforts over the past year and for their continued support over the past two-and-a-half decades.
"The next 25 years will bring a range of new challenges and opportunities, but I believe we are well paced to meet and embrace them and to support local priorities to protect the vulnerable, grow the economy and deliver ambition at pace."
Caroline Lacey, chief executive, added: "A number of our staff have been with us since the very first day back in 1996 and it's great that they have been on every step of this journey.
"Going forward, we are committed to having a modern workforce in a modern workplace and to continue providing the very best services for our residents, businesses and communities. So whether our staff have been here since day one or their first day was today, we will continue to deliver on our vision of an East Riding…where everyone matters.
"I am very proud to be the chief executive of a council with such a great reputation and at the head of an amazing workforce and, despite everything the pandemic has thrown at us, we can look forward to the future with confidence".