BROOK TAVERNER - An Autumn Winter 2020 Preview
Wed 23rd September 2020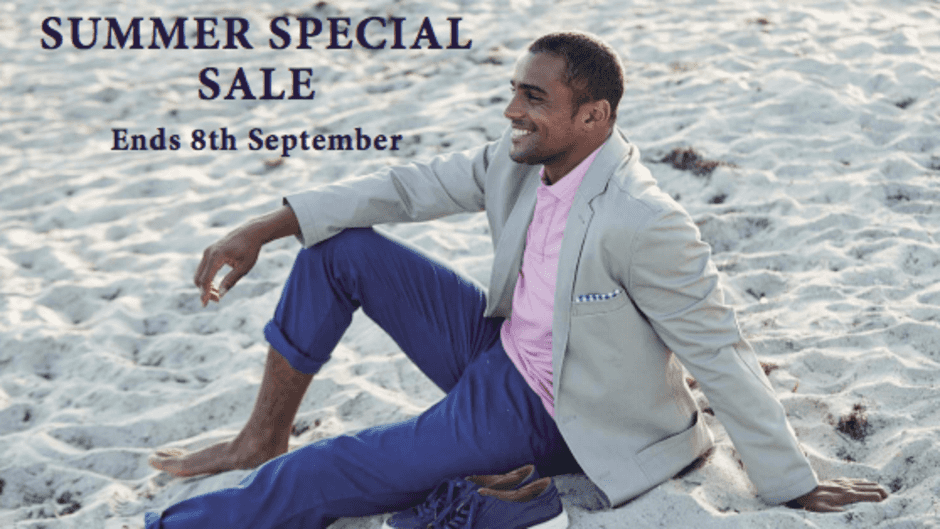 The Brook Taverner Summer Special Sale is approaching its end…
As we welcome September and the eagerly anticipated release of our Autumn Winter collection here at 35 Toll Gavel, Beverley, there are now mere days remaining of the 25% off summer sale. Whether you're one of the lucky few set to squeeze in a last-minute trip away to a warmer climate, you're set to venture on a British staycation or you're simply the kind to prepare next year's wardrobe in anticipation for what is hopefully a far more stress-free summer, the value on offer truly is tough to turn down.
With sale shirts available at three for £55, jackets from £70, polo shirts from £24.50, and trousers from £31.50, we certainly recommend popping to the high street sooner rather than later while stocks last.
The good news doesn't end there. Wednesday 9th September sees the launch of our much awaited Autumn Winter 2020 collection.
After two years of designing, creating, styling and photographing the collection, the range can be found in store with the latest Autumnal themes that will continue to set the trends for the forthcoming season.
With the success of the transportation shirt collection from Spring Summer (think cars, motorbikes and aeroplanes), the latest range sees a Winter expansion of the printed shirt theme… expect more colourways and the perfect gift for the man impossible to buy for. Look forward to an expansion of Gingham, Bengal and Tattersall shirts across the collection, as well as more expansive colours used in checks to bring out base layer colouring. Whilst continuing to adhere the everyday shirt that we have become well-known for, ensure you keep an eye out for our 'Going Out' shirts, designed specifically with the weekend in mind!
Our Harris Tweed designs are exclusive to Brook Taverner and are unable to be found anywhere else. Our team have taken direct inspiration from the stunning countryside throughout the Isle of Harris - from the colours of the grass to the shades of the flowers that litter the countryside throughout late September. The traditional olive Harris Tweed shade can of course be expected as a feature of our range however this year it is complimented exceptionally by a one-of-a-kind collection including waistcoat, jacket and overcoat. All of which exhumes the class and style one comes to expect from Harris Tweed.
Other jackets in the range build on base layer colours being brought out by expansive yet subtle checks. Our feature linings provide an internal style that not only feels great when worn but always draws compliments when spotted. With the likes of renowned manufacturer Abraham Moon & Sons of Guiseley and Marton Mills of Wharfedale heavily contributing to the range across both our jacket and suit collections, we like to think that together, we have managed to catch the Autumnal colours of the great Yorkshire countryside and portrayed them in a way that looks stylish in a whole host of occasions.
Of course, some old classics will be back throughout the season. Think of our exclusive Haincliffe Tweed suit with matching accessories, our everlasting checked Magnum jacket as well as the return of the previously sold out Gatley Roll Neck Jumper that serves as a go-to Winter staple piece. Unfortunately, until the 9th the collection is sworn to a certain kind of secrecy - so in order to find out more we heartily recommend heading into your local Beverley store and speaking to Lee and the team. Remember to make use of our fantastic Summer Special Sale that runs until Tuesday 8th September - always remembering that if your required size isn't on the shop floor that you should always check with a member of staff that we haven't got any hidden in the store room or at our head office nearby!