Bishop Burton student triumphs in BTEC Land-Based Learner of the Year Awards
Fri 23rd December 2022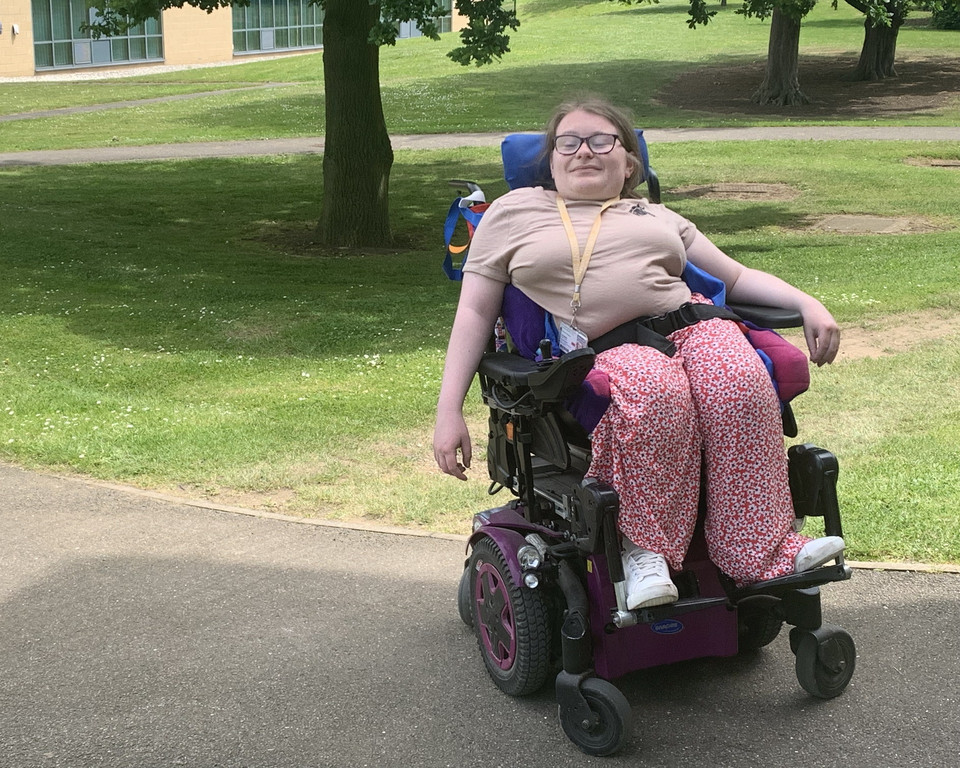 Animal Management student Emma Hodson is celebrating following the announcement that she has been awarded Bronze in the BTEC Land-Based Learner of the Year Awards.
The BTEC Learner of the Year Awards are nominated by teachers and peers in recognition of students' positivity and success despite personal difficulties. Award winners were recognised by awarding body Pearson in over twenty categories, including Health and Social Care, Engineering, Music, Esports and Creative Media, with each winner selected from thousands – and often tens of thousands – of eligible students.
Emma from Market Weighton, who completed her BTEC Level 3 Diploma in Animal Management in the summer received this award in recognition of her proactiveness, passion and tenacity in the face of significant challenges. Her time at Bishop Burton coincided with the Covid 19 pandemic and Emma had to shield for health reasons, meaning she had to complete the majority of her studies online and remotely.
Emma said "I couldn't believe it when I was told I'd been put forward for it. It didn't really sink in until I heard that I was a winner – I was so excited. It's so lovely to have my hard work recognised as studying during Covid was really hard – especially as Animal Management is such as hands-on subject. I shielded for 18 months and found it really tough, especially when other students were able to come back onto campus and I couldn't. I'm really proud of what I've achieved when I think back to where I started and where I am now."
Not to rest on her laurels, Emma is now continuing her studies at University Centre Bishop Burton with a Foundation Degree in Animal Sciences and Behaviour, with long-term ambitions to pursue a career as a dog trainer, with a specific focus on dog agility. She also wants to compete at Crufts. Emma said "Last year when I visited Crufts I saw a fellow wheelchair user competing and this inspired me to follow my dream."
Emma was nominated for the award by Head of Department for Animal Science, Clare Chaffe, who said "This is an absolutely fantastic achievement and Emma should be incredibly proud of all she has achieved. Throughout her time with us she has been enthusiastic and passionate about her subject and I can see a very bright future ahead of her. The entire team here at Bishop Burton are delighted that Emma has received this accolade as a very well-deserved recognition of all her hard work. I can't wait to see what she does next."
Freya Thomas Monk, Senior Vice President for Vocational Qualifications and Training, said: "After two long years spent giving or receiving lessons behind a computer screen, through face masks, or socially distanced, 2022 has been a whirlwind for everyone involved in education. Considering this, it makes the inspiring achievements documented in Emma's submission all the more impressive. The hard work and commitment she – and all our award winners – demonstrated is extraordinary."
Alongside Emma and other Bishop Burton students, hundreds of thousands of learners across the globe have completed BTEC courses over the past year. These career-focused'¯qualifications are a vital route for those pursuing careers in'¯sectors such as animal management, agriculture, equine, the creative industries, healthcare, engineering, construction and future industries. Many of these industries, such as health and social care, construction and engineering, are suffering from chronic staff shortages and skills gaps, which Bishop Burton is helping to alleviate, empowering the next generation of the workforce.
Bishop Burton is currently accepting applications to commence study in 2023. To find out more about our BTEC courses and wider provision please visit https://www.bishopburton.ac.uk/