Bishop Burton College students shine in Stock Skills competition
Tue 23rd May 2023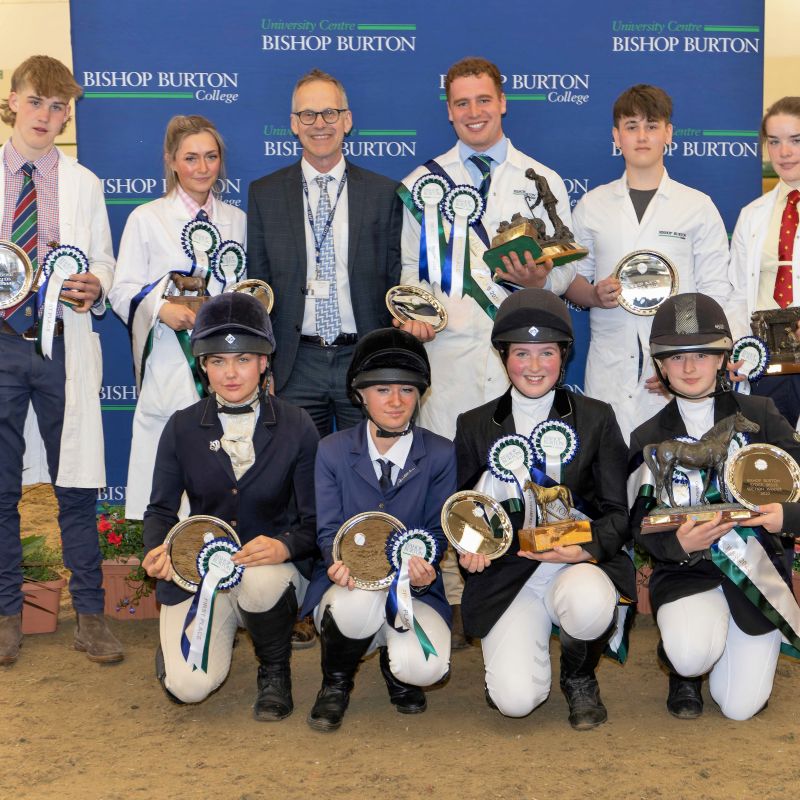 Agriculture, animal management and equine students put on an impressive show at Bishop Burton College's annual 62nd Stock Skills competition.
The Stock Skills competition, which is the oldest competition of its kind in England, is designed to enable students to experience what it is like to prepare for a large show; with students competing in Beef , Dairy, Sheep, Goat and Equine classes. Participants practice grooming and clipping skills and ensure their animal's diet means it is in optimum condition. They prepare for months, developing the skills and knowledge needed not only to compete, but also to take into the workplace when they complete their studies at the college.
The event, held at the Bishop Burton campus, near Beverley was attended by students' friends and families, along with dignitaries and industry representatives. Sheep class competitor James Garbutt's parents commented "Its lovely to be here and see the students competing. They've all done very well."
The judging panel comprised of a number of leading livestock and equine experts including Master judge Bob Richardson, who is a renowned Oxford Downs Sheep breeder, horse breeder Norma Grubb and dairy specialist agricultural consultant Paul Robinson. The judges considered the entrants based on the presentation, handling and knowledge of their animal. Students were also judged on their own personal presentation.
Under the guidance of master judge, Bob Richardson, officials named Darcy Sheriff Overall Champion for Agriculture and Krystal Stokes Equine Overall Champion.
Reserve Champion for Agriculture was Rebecca Gray and Pippa Gill was named Reserve Champion for Equine, also receiving the Grooms Award. Bethany Barnes won the Farm Team Award.
Special guest Charles Mills, Show Director of the Great Yorkshire Show, who presented some of the prizes said "It's great to see these young people competing in this fantastic event. Young people are so important to the future of agriculture and Bishop Burton is a great place to study."
Principal and Chief Executive Bill Meredith said "I'd like to thank everyone who has joined us today – families, friends, employers and supporters. Stock Skills is a much-anticipated event at the college and thanks to your support and the hard work of the college team it continues to go from strength to strength. The students involved have done a fantastic job and the standard this year is incredibly high. Huge congratulations to them all - they should be incredibly proud."
Bishop Burton College is one of the leading land-based colleges in the country, dedicated to supporting the future of agriculture. Working in partnership with the Yorkshire and Humber Institute of Technology, the college pioneers the development of higher level, technical skills and in precision agriculture and agri-food technologies.
To find out more about the college and the course it runs, visit www.bishopburton.ac.uk.
Stock Skills Winners 2023
Overall Stock Skills Champions
Equine – Krystal Stokes
Agriculture – Darcy Sheriff
Reserve Champions
Equine – Pippa Gill
Agriculture – Rebecca Gray
Grooms Award – Pippa Gill
Farm Team Award – Bethany Barnes
Equine Section winners
Section 1 – Krystal Stokes
Section 2 – Lucy Watson
Section 3 – Sophie Lyle
Section 4 – Pippa Gill
Livestock Section winners
Sheep – Rebecca Gray
Dairy – Archie Allen
Beef – Darcy Sheriff
Goat – Liam Waggott