Bishop Burton College celebrates top grades from Ofsted
Mon 3rd July 2023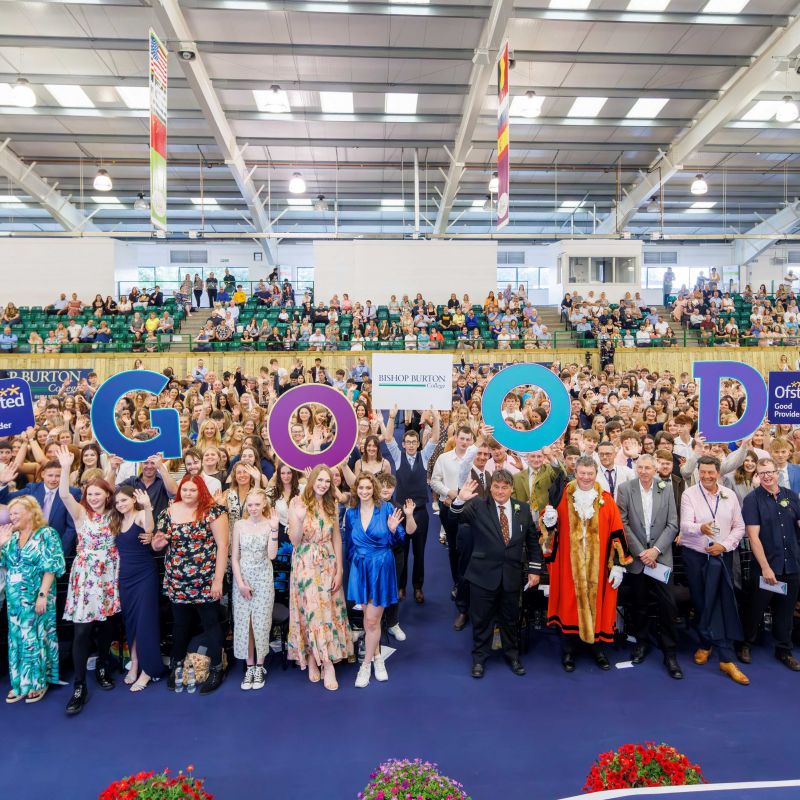 Bishop Burton College is celebrating successfully retaining a rating of Good from Ofsted following a four-day 'Enhanced'* inspection in May. The college was once more rated Good overall with two Outstanding judgements – for Personal Development and Adult Learning Programmes. The college also gained the highest possible rating of Strong for its contribution to meeting skills needs with inspectors stating that "Leaders and managers work very effectively with other colleges, employers and agencies to design the curriculum based on current and future skills needs and industry standards." The college, based just outside Beverley in East Yorkshire and with two further campuses at Riseholme near Lincoln, was previously inspected and graded good in 2017 and for this visit hosted a team of 10 inspectors.
Bill Meredith, Chief Executive Officer and Principal said: "This is such a positive outcome for our whole college community. I am so proud of the fantastic achievement of our young people, our staff team and our wider stakeholders and especially our employer supporters.
"I am hugely grateful for all the hard work the college team puts in to support our students to become the best they can be. This achievement is a true reflection of our college value of striving for excellence, which underpins all that we do. The Ofsted judgement will support our aim to grow the college further to continue to benefit even more students, from our regions and beyond, in the future."
The whole college team was praised, with the inspection team commenting that: "all curriculum areas set high expectations for behaviour and conduct for students and apprentices. There is a clear focus on developing a positive learning culture, which raises students' aspirations and prepares them well for their next steps. Students and apprentices understand the importance of these expectations, and this is reflected in their positive behaviour and attitudes to learning.
The inspectors added that: "Teaching and support staff develop students' and apprentices' confidence well and strengthen their resilience"
"They support students and apprentices to overcome personal barriers and achieve their goals and aspirations." with the strong conclusion that: "Students and apprentices become responsible and respectful citizens with the skills they need to succeed in life after college."
Alan Menzies, Executive Director of Planning and Economic Regeneration and Deputy Chief Executive of East Riding of Yorkshire Council and the College's Chair of Governors, added his praise. Speaking at celebration events at both campuses he said: "I am so pleased to join you to celebrate your hard-earned success this year – and it has been hard earned. The college is very proud of our students' successes and recognises the efforts the staff team make to help students fulfil their ambitions. So, I am delighted with the news that the college has been rated good overall by Ofsted with two outstanding judgments."