Beverley Town FC Under 7's Announce New Team Sponsors
Mon 12th October 2020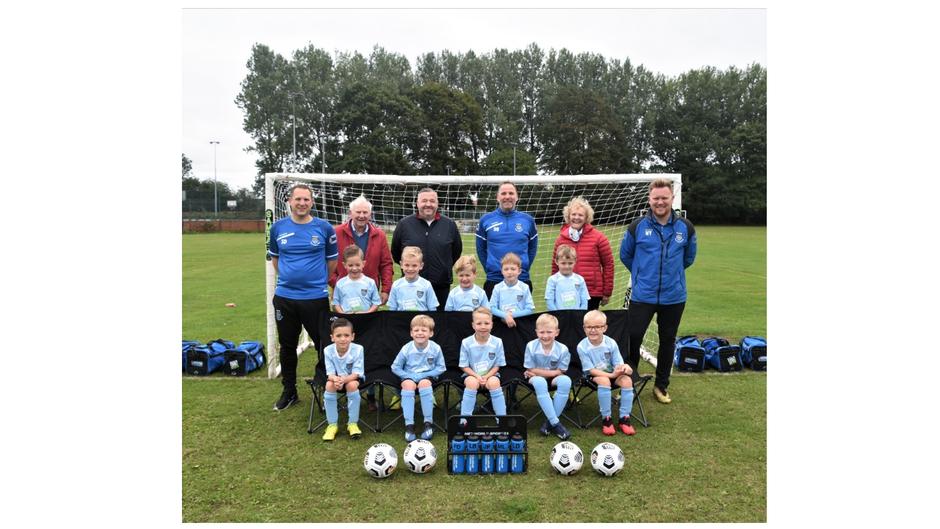 Local Beverley football team Beverley Town FC Under 7s have revealed new sponsorship deals and kit suppliers for the 2020/21 season.
The new team clothing and bags have been supplied by TMX Clothing Supplies and the team is sponsored by 3 local Beverley businesses; Beverley 24 Hour Self Storage, Beverley Motor Works and Greenthumb Beverley.
The team is both managed and coached by Simon Duncan and Mike Yardley, and is the latest team to form out of the Academy in October 2019. The Academy provides an introduction to football for boys and girls in school years from Foundation to Year 2.
When Simon's son turned 5 in September 2018, he took him to the Beverley Town Academy, and after a few weeks Simon began volunteering to help as they had too many children for one coach to manage. It was that Christmas he decided he wanted to get more involved and become a qualified coach. He started his FA level 1 course in March 2019 and was qualified by Easter.
Mike first qualified as an FA coach in 2009, and has been involved with Beverley Town for the past two and a half years, while also coaching his older son's team at Under 10, Beverley Town United. His younger son started attending the Beverley Town academy in autumn 2018.
By the spring of 2019, a natural group was developing in the Academy that began showing promise of forming a team, which was when Mike and Simon volunteered to take the group forward.
Beverley Town FC Under 7s are in the highest group, Group 1, of the Hull and District Youth Football League, and have high aspirations for the fixtures ahead.
Simon said "We restarted training back in June, but we were not allowed to contact train at first so we focused on agility, individual ball work, passing and shooting drills. As a team, we want to be the best we can but fundamentally ensure the kids enjoy it and have fun."
When it came to finding new sponsors, the idea was to appeal to Beverley based businesses whose sponsorship would boost morale and put back into the community and be something parents could relate to.
Speaking of the benefits local sponsorships have on clubs, Simon said: "Sponsorships help give local teams an individual identity under the wider club umbrella. It shows the parents and players that businesses care about grassroots football and are willing to invest in local sport to support the community they operate in.
"I think it's very important for local businesses to support local sport as it engages the wider local community, and kids then have a understanding of sponsorship from a young age and understand that a lot of work and money goes in behind the scenes enabling them to play football.
"Our new sponsors have been extremely generous and we personally can't thank them enough. We have all the equipment, training kits and playing kits we need to look and feel the part of playing under the bigger umbrella of Beverley Town FC."
Mike said: "Without sponsors, grassroots teams would really struggle to exist. Football at this level receives very little funding and relies heavily on support from the community and volunteers to provide an opportunity for children to play in an organised structure.
"Without the generosity of local businesses and parents, we simply couldn't fund the kits and equipment required to run a team. We can't thank them enough."