Beverley had a Right Royal Day Out
Mon 6th June 2022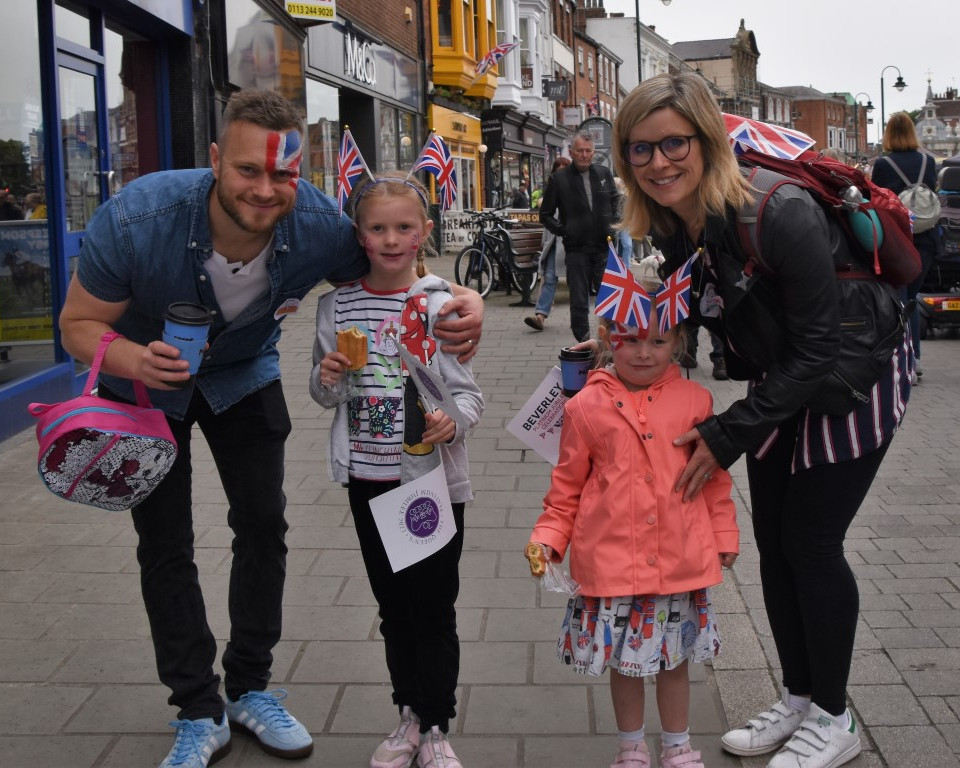 On Friday 3rd June Beverley had a "Right Royal Day Out",
The Platinum Jubilee Event brought everyone together, designed to ensure that from North Bar to Flemingate there was entertainment for everyone to enjoy.
On Thursday night a beautiful service was held at St Mary's Church followed by the lighting of the Beacon in Coronation Gardens, it was appropriate that the service and lighting of the Beacon to Celebrate the Queens Platinum Jubilee was held in the Coronation Gardens. The gardens were filled with people of all ages to witness the historic lighting of the Beacon.
Early Friday morning across Beverley final preparations and inspections were carried out to ensure the day would run as smooth as possible. "Lights, Camera, Action" as they use to say. The Humberside Police Band opened up on the stage to signal the start of a full day of entertainment in Saturday Market, while in Flemingate Bootleg Buddy got everyone in the dancing mood.
Wednesday Market, Toll Gavel, Coronation Gardens along with entertainers in between ensured everyone of any ages would be engaged. Perhaps a trip down memory lane viewing the Classic Cars or playing with the Vintage Toys. you could hear the comments "I had one of these when I was a child", "My uncle had one of these cars, he use to take us to Scarborough, although Staxton Hill was always a challenge"!!
The Humberside Police Band, All for One Choir, SLO, Catterick Army Band and Culture Orchestra kept everyone in the mood throughout the Day in Saturday Market.
Stilt Walkers, Jugglers, Face Painters and many more were ever present and more than happy to engage with young and old, offering some tips for those who asked. "How do you get those stilts on"? "How do you juggle 5 balls"? "Why don't you fall off the unicycle"? "How did you learn to do that?
At Flemingate the entertainment varied from "Back in the Day" ! Bootleg Buddy to Lady Gaga with The Larks, Cavenites, Kiss the Teacher, Tina and the Rockettes and Ultra Jam.
Cllr Denis Healy said " The Jubilee celebration in Beverley last Friday was one of the most successful events ever staged by Beverley Town Council".

"It was so uplifting to see everyone enjoying themselves in each other's company at the Beverley Jubilee celebrations after the terrible social restrictions of the last two years. The two stages at either end of town catered for a wide variety of musical tastes, and the live performances have been so well received. It was probably the most joyful occasion I have ever witnessed in Beverley, with families and friends simply celebrating being together again against the backdrop of some excellent live music, and, of course, Her Majesty's Platinum Jubilee".

"There has been an overwhelmingly positive response from literally hundreds of people commenting on social media, many of them asking if a Beverley celebration like this could become a permanent annual fixture in the life of our town. That's something that I would like Beverley Town Council to explore, but for now I would like to say a massive Thank You to Beverley Town Council staff, councillors and UK Event Associates for a truly wonderful day, and thanks to the great Beverley public for giving it your support."