Beverley Civic Society's History Boards: The Friary & Eastgate board.
Mon 5th October 2020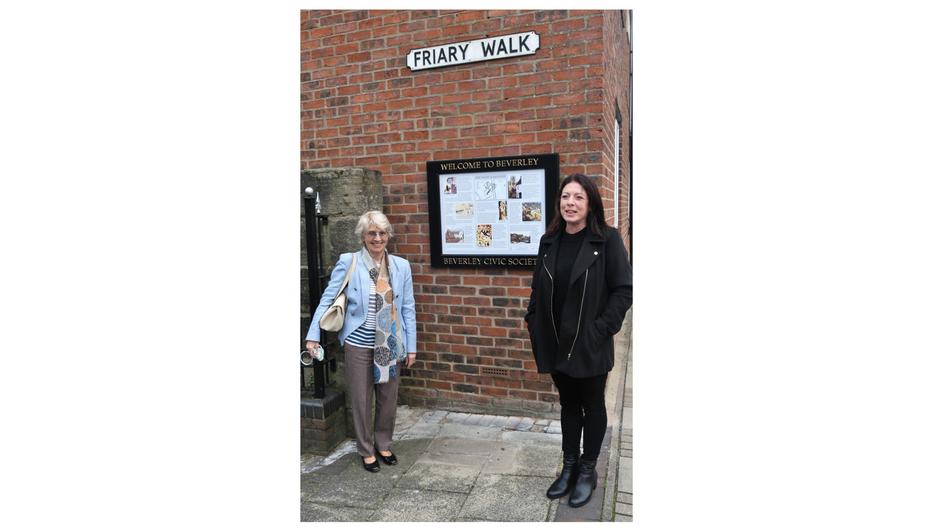 On 1 October 2020 the tenth history board was put in place in Eastgate, to replace a damaged board there, close to the footage entry to the Friary and Eastgate site. It is the last in the present phase of these boards, which have been warmly welcomed by visitors and residents. The planning of these boards began in 2017, under the leadership of John Bird. Different members of the Society have contributed over the four years, Barbara English, Mike Hildyard, Pam Hopkins, Dick Lidwell, and of course John Bird until his untimely death. The designs of the later boards have been executed by Kloskk Tyrer, who combines design skills with a wide knowledge of pictorial sources, based on the superb collections of East Riding of Yorkshire Council in the Guildhall, where she works, and in the Treasure House. Without her help the boards would not have been so successful, and we are grateful to her and to the Museum Service for her time and patience, as the authors changed their minds for the umpteenth time.
For successful they have been. There are boards for North Bar Within, Saturday Market, Wednesday Market, the Minster area, Flemingate, Hall Garth, three identical boards for Westwood, and now the new Friary & Eastgate addition. As you walk around town, you can see people reading them: this is particularly true of Westwood, where during the hot and Covid dominated summer of 2020, far more people walked there.
The funding of the boards came partly from the Society's funds, and also from Flemingate for that board, and East Riding of Yorkshire Council for the Hall Garth and the present boards.
All the boards are online at the Beverley Civic Society website, and you can if you wish print them off. www.beverleycivicsociety.co.uk where you will find the pictures under Projects.
We realise that there are very interesting parts of the town we have not yet covered, and in future there may be more boards: the Society would be very happy to have suggestions where these might be placed.
The Friary & Eastgate board concentrates chiefly on the Friary, as Eastgate was partially covered by the Minster. The Friary is one of Beverley's hidden treasures. Now you can see the huge area it once covered running out to Flemingate: part of the plan of an excavation showing the skeletons of people who were buried there in the middle ages: something of the post Reformation owners who were secret Catholics and commissioned intriguing wall paintings: and the story of the long and ultimately successful campaign to save the amazing building from demolition.
Barbara English.
Photos
Carol Bird, Kloskk Tyrer. Designer.
Dr Michael Farrimond, Kloskk Tyrer designer, Dick Lidwell chairman, Carol Bird, Chris Burrows CS secretary and a member of the Society, Barbara English.