Beverley Art Gallery reopens on 17 May with a brand new exhibition : 'To the Water'
Wed 12th May 2021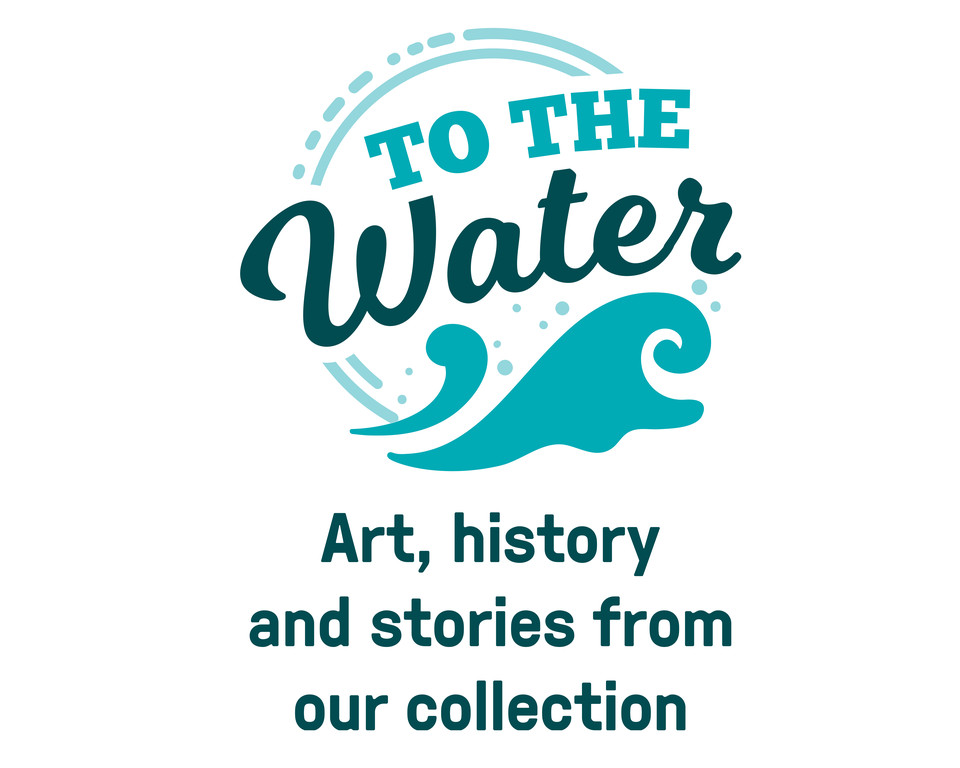 Beverley Art Gallery in the Treasure House will reopen on Monday, 17 May with a brand new exhibition.
'To the Water' has been created by curators Helena Cox and Sally Hayes, and is a unique mix of art and social history, looking at the different ways in which waterways have inspired artists over the centuries.
From the seas and sailing, through to rivers and shipbuilding, the artworks on display show the variety of approaches used to capture views of water. In addition, photographs from the collections of East Riding Museums and East Riding Archives show the pleasure of days at the beach and walks by the river – a reminder of the importance of water to our leisure and wellbeing.
The exhibition is divided into art and history, with four themes in each. In art, 'Favourite Places' shows work by artists who have been attracted by watery locations. 'A Splash of Colour' looks at painters who found inspiration in Mediterranean and Cornish waters. 'Painting for a Living' focusses on Reuben Chappell of Goole who literally went to the water to secure commissions from ships' masters and is central to the Pierhead Painters group of artists. 'Alive by the Water' explores how artists capture moments in time, with the huge 'Picnic on the Sands' acting as a stunning centrepiece.
The history sections feature large reproduced photographs from Archives and Museums collections. 'Setting Sail' includes images of pleasure boat rides and children sailing model boats. 'A Change of Scene' looks at the simple pleasures to be found near lakes, rivers and the sea, in the days when trips out were a rare treat. 'Walking by Water' looks at some of the favourite spots for waterside strolls in the East Riding, with Hessle, Welton and the cliffs at Bridlington all featuring. 'Having a Paddle' shows children rolling up their shorts on the beach, having fun at Beverley's Brickie Bridge and splashing in floodwater.
Helena Cox said: "The artworks in this exhibition feature the highlights of our hugely significant Champney bequest, and are from local Yorkshire artists and also from artists from across Europe. They come together to make an uplifting exhibition!"
Sally Hayes added: "This exhibition also features social history, with photos and objects from our collection, and all the elements go together really well. We also included a small selection of museum documents and archive material, such as the still-shiny brass bell from the steamboat 'Frenchmen' which paddled in and out of Bridlington for years."
'To the Water' can also be viewed online at : https://www.eastridingmuseums.co.uk/museums-online/to-the-water/
During the closure period, the displays have been refreshed with new objects, including a 1930s railway poster and a painting of Beverley's Queensgate chalk quarry, and display cases have been given a fresh coat of paint.
Beverley Art Gallery is located in the Treasure House in Champney Road. Admission is free. Opening hours from 17 May will be:
Monday 9:30am - 4:45pm
Tuesday 9:30am - 7:45pm
Wednesday 9:30am - 4:45pm
Thursday 9:30am - 7:45pm
Friday 9:30am - 4:45pm
Saturday 9:00am - 3:45pm
The café will also reopen on 17 May with a reduced menu of hot and cold drinks, cakes, biscuits and cold sandwiches, to allow for additional cleaning and reduce waiting times.
Opening hours will be : 9.30am-4pm Monday to Friday and 9.30am-3pm on Saturday.
Full details can be found at : https://www.eastridingmuseums.co.uk/find-a-museum/?entry=treasure_museum_gallery