'Beverlac' comes to the Treasure House in Beverley
Fri 23rd October 2020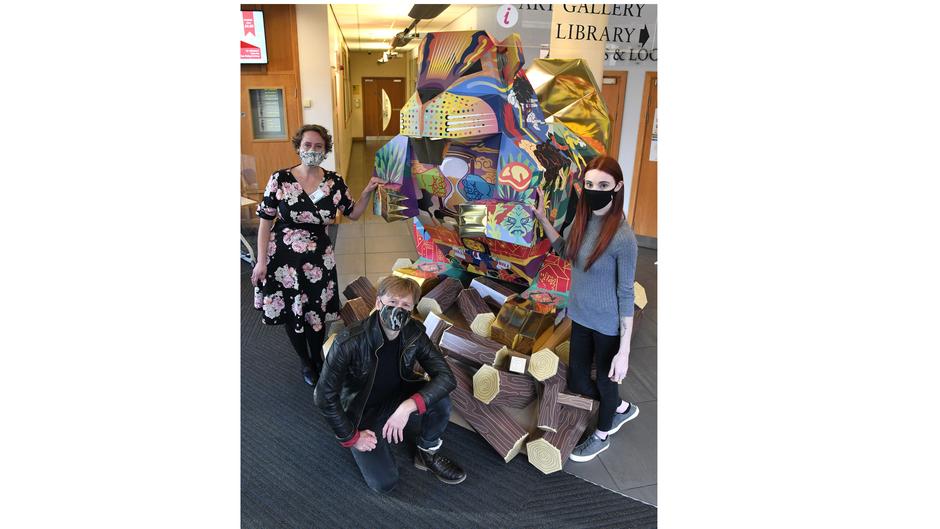 The Treasure House, Beverley is proud to launch its newest contemporary art installation by Canadian artist, Ian Kirkpatrick. This commission is part of the East Riding Visual Art Uplift, a commitment to showcasing and integrating contemporary art into the region.
Following an extremely well received open call for submissions, Ian was selected, thanks to his unique and vibrant style, to bring a contemporary twist to the region in the form of 'Beverlac'.
When entering the Treasure House, visitors can expect to be greeted with a monumental beaver-shaped sculpture standing atop a dam - all tastefully designed to reflect the heritage of Beverley and, more specifically, taking inspiration from the origin of Beverley's name (Beaver + Lake).
'Beverlac' is a digitally designed modular cardboard sculpture that's bold and striking, full of colour and expression, and which encapsulates the town's heritage, alongside exploring urgent environmental themes.
The commissioned artist, Ian Kirkpatrick said: ""It's been an absolute pleasure working on this commission for the Treasure House and East Riding of Yorkshire Council. I've really enjoyed visiting and researching the town of Beverley, and using some of its iconography to explore environmental themes.
"This was a particularly intensive sculpture, in part because of its large, round size – and also because of the complexity of the plinth that it stands on. But I'm really pleased that it's all come together finally – after months of work – for locals and visitors to Beverley to enjoy when they visit the Treasure House."
Helena Cox, curator of Beverley Art Gallery, said : "I'm delighted to welcome Ian's vibrant sculpture to the Treasure House, especially as it links to Beverley Art Gallery's ongoing effort to engage with contemporary art.
"I was blown away by the immense national and international response to the call for artists, and 'Beverlac' really stood out with its powerful message and a bold, dynamic and colourful form. Our visitors will now have the chance to see this very contemporary piece, creating a refreshing contrast to our collection of historic artwork displayed in the Edwardian 'red' gallery."
The piece is set to be exhibited at the Treasure House until 2021, when it will be relocated to Beverley Guildhall for a further two months. When it is relocated, details will be released for a talk by the artist, which will be free of charge and open to all.
Further details on the artist and the piece can be found online at https://www.eastridingmuseums.co.uk/exhibits-and-collections/treasure-house-contemporary-art-commission/
Photo (l to r) : Helena Cox, curator of Beverley Art Gallery; artist Ian Kirkpatrick; and Lauren Frost, who led the commission