Apprentices receive awards delivered by hand
Thu 29th July 2021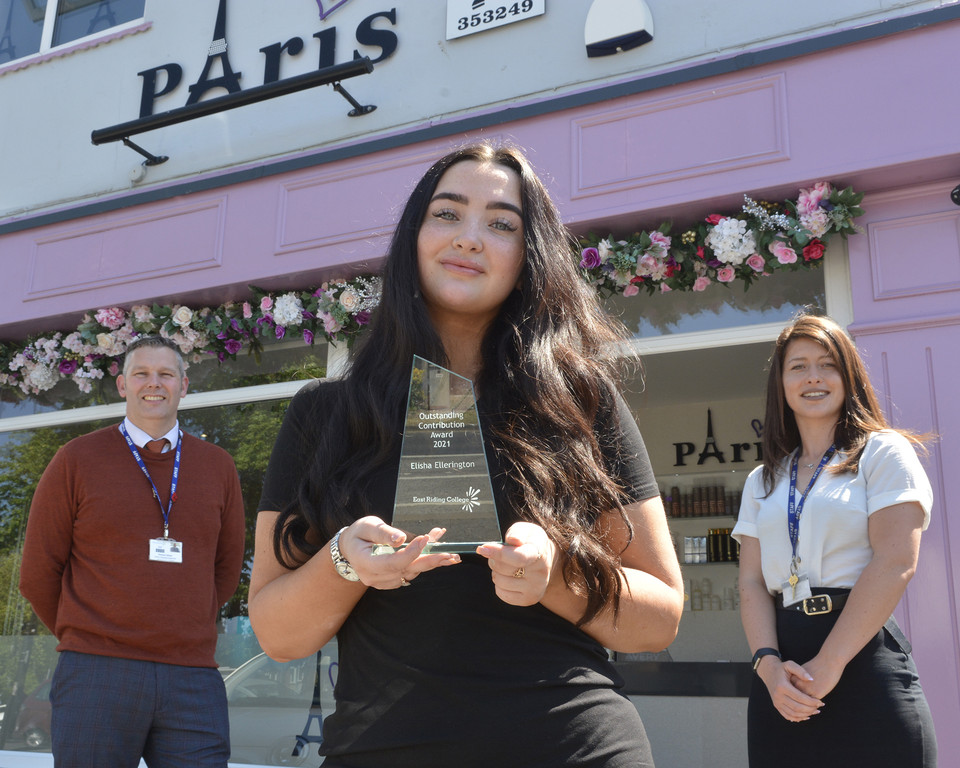 East Riding College's annual apprenticeships awards were personally delivered to their recipients at their place of work by members of the business development team in 2021, because of the restrictions on public events.
The novel approach was taken as winners were not able to attend the traditional glittering ceremony usually held at the Beverley Racecourse and attended by apprentices and their employers and assessors, as well as family and friends.
Richard Sellick, Director of Business Development, said: "We thought it was still very important following the unusual year that they have had, that apprentices were recognised for their achievements, dedication and hard work, even if we could not have a formal ceremony. Our apprentices have been fantastic this year, especially when you consider the disruption caused by the pandemic over the last 18 months.
"We had so many nominations and it was difficult to choose the winners, as all our nominated apprentices were making a real difference to their employers' businesses at such a difficult time. Our winners represent a wider group of outstanding young people and adults who are working hard for their employers through tough times. Everyone at the College wishes them and their employers every success in the future."
Apprentices were nominated by their employers from across the region, and across all apprenticeship levels. A wide range of apprentices won apprentice of the year in their respective industries, and two apprentices won outstanding contribution awards.
Megan Johnson, aged 23 from Bridlington, was nominated by her employer Cranswick Country Foods for an outstanding contribution award in the large employer category. She won for the immediate impact she had made in her business administrator apprentice role. Her employer applauded her highly professional and enthusiastic approach to her work.
Jackie Riggall, cold store manager at the national food producer based in Hull, said: "After a few short months Megan was competent to balance stocks weekly and assist in stock control. Megan worked flexibly to cover for unavoidable staff absence and remained calm and professional, her approach is commendable, she is confident and ask questions so that she has a full understanding of site processes. We're delighted that she won the outstanding contribution award and we're very proud – she really deserves it."
Elisha Ellerington, aged 18 from Hull, received an outstanding contribution award in the small employer category, nominated by her employer KarAesthetics Limited. She won for her teamwork, positive attitude and support for her colleagues and the business, including thinking of revenue ideas to keep the business going during the pandemic and handling social media enquiries.
Kara Huggins, Director at KarAesthetics, said: "She goes above and beyond every working hour, and more. From day one she has been a breath of fresh air. The positive attitude she adopts in everything she does is contagious; she is a pleasure to work with. Her fast ability to learn new skills is inspiring, and it makes us proud every day to see her progress in her career and overcome the challenges faced due to Covid. We can't remember what working life was like without her – how did we cope? She is outstanding!"