A fantastic day at Beaver Park with two wins for Beverley 1st and 2nd team
Mon 30th January 2023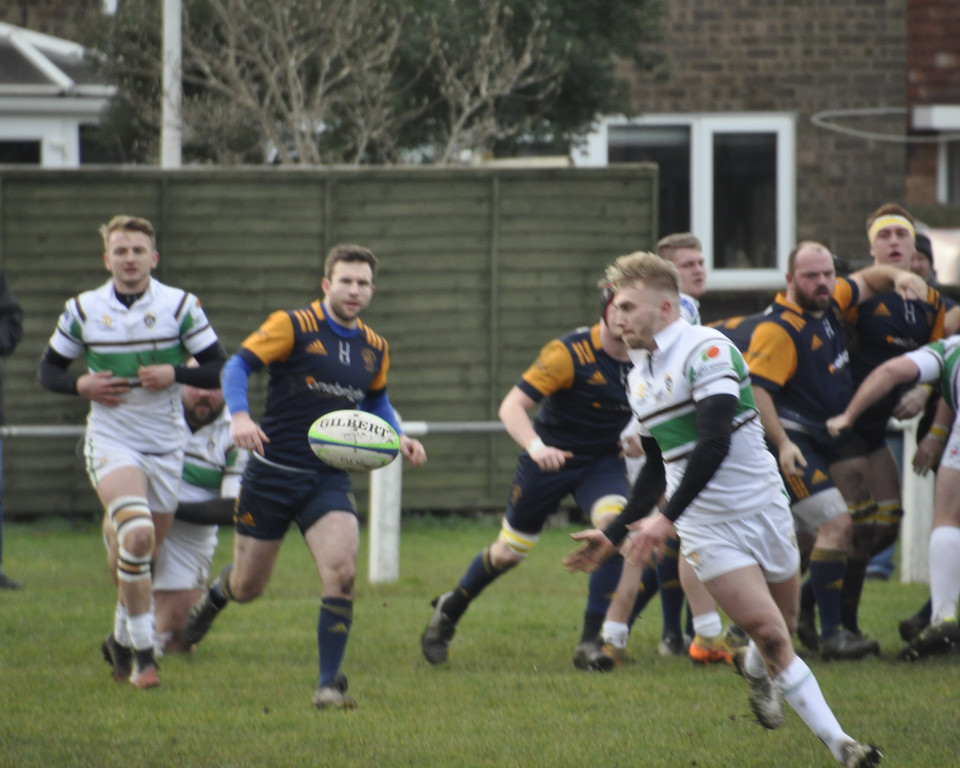 Beverley 1s Match report - Leodiensian at Home
Beverley's Beaver Park witnessed two wins for Beverley's 1st and 2nd teams, the atmosphere was electric. The club was filled with players and supporters from days gone bye for the annual reunion, A big thank you goes out to all the old boys and girls along with the current supporters for making the day extra special. Making the day extra special was the performance of both teams with some scintillating rugby on display. Pitch no.1 the first team were convincing victors' over Leodiensian, final score 43-15.
Beverley - Match report - Leodiensian at Home.
The visitors started quickly with an early try in the corner after an assault on a Beverley line that deserved reward, but unconverted. This was the wake-up call the home team needed and they started to apply their trade to the challenge in front of them. There were a number of line breaks and when needed the Beavers defence was resolute. Going forward the halfbacks and backs were clearly starting to penetrate through the line and it was just a matter of time before Beverley made it count on the scoreboard. It wasn't until 30 minutes had passed when Jake Boardman was able to go over in the corner to draw Beverley level, unconverted, 5-5.
Then on 38 and 39 minutes two very well worked carbon copy moves from a Beverley scrum (which was dominant all afternoon), The first of which was quick hands and interchange between Rob Smith, Jake Boardman and then back to captain Smith to finish under the posts, and the second, Smith two Luke Hazell and then back to Smith again finishing under the posts and both tries converted taking the half-time score to 19-5. Leo's were playing well and definitely looked a stronger team to the one we played in November, but Beverley were playing better defensively and offensively, and were starting to enjoy themselves. On 45 minutes good crisp cross field passing gave Jake Boardman the opportunity to shake free from the up-rushing defence to create a footrace to the corner, and even though the conditions were heavy under-foot it was a race the speedster was not going to lose scoring his second try, unconverted, 24-5.
Then there was some respite for Leo's as the tackling machine Lewis Szrama went off with an ankle injury and young Archie Harwood playing only his second game was yellow carded for slowing down the play whilst defending his line. This gave an overlap advantage that the visitors were able to capitalise on scoring in that same corner 5 minutes later on 65 minutes, unconverted, 24-10. Undeterred the home team marched back up the field and after pressure on the Leo's line, scrum half Dan Lee who had a great game was able to dive over from the breakdown, Smith duly converted. Two minutes later with good hands and pace once again on show that could not be matched, Jacob Holmes finished well with some strong running, and 4 minutes after that Jake Boardman got his hat-trick after a quick tap and go penalty, once again fed from captain Rob Smith, who converted the extra two points, 43-10. Leo's who battled hard throughout the afternoon had the final say with the last try again which was testimony to their effort in an afternoon where they accepted second best, final score 43-15.
Although the result was impressive it would be fair to say that Beverley can still play better and need to work on their consistency and structure, commented Craig Hancock, Head Coach after the game. But he was still pleased and it's a good foundation to build on especially with a thriving second team which may yet spill over into a third team which would be fantastic for the club. To add to this, the Beavers will also be debuting the Beverley Women's team on Sunday February the 5th 2pm kick off at Beaver Park, which is a very exciting first for everybody at the club. The man of the match was split between 17-year-old Beau English in only his second game and outside centre Alex Calvert. Six wins in a row now for the Beavers who are in the hunt for a promotion spot.
Dinnington next week away, everybody is welcome to support, why not join us on the coach!
Match report - Brian Gilbert.