A chance to take part in the Danes Dyke Picture Challenge
Thu 15th October 2020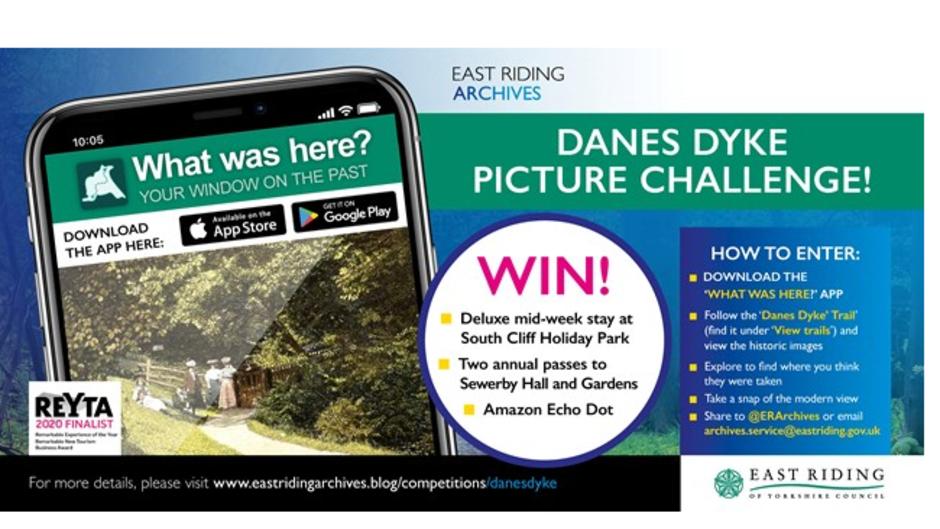 A special picture challenge trail at Danes Dyke is now available on the 'What Was Here?' app to encourage people to say where they think historic images were photographed.
Normally, the 'What Was Here?' app shows users historic photographs at the locations where they were taken, but now the tables have been deliberately turned for a special 'Picture Challenge' trail at Danes Dyke on the app, and it's up to you to tell us where you think the historic images were photographed!
The competition - jointly organised by East Riding Archives and the council's countryside access team - involves walking the Danes Dyke Picture Challenge trail on the app to view five historic images of the nature reserve from the early 20th Century.
Participants can explore the area and use the special 'camera view' on the app to help decide where they think those images were taken. They must then find where they think any of the five historic images were photographed and take a modern-day snap of the scene using their own camera. Winners will be then picked for each of the five image categories and be awarded an Amazon Echo Dot.
But the prizes don't stop there: all entrants will be put into a FREE prize draw to win a pair of annual passes to Sewerby Hall and Gardens, or a four-night deluxe midweek stay at South Cliff Holiday Park, Bridlington.
To enter the competition, the modern-day photos need to be shared on Facebook or Twitter, with the tag @ERArchives and hashtag #DDPChallenge together with the name of the image category. Alternatively, please email it all to archives.service@eastriding.gov.uk
The competition is now open, and entries close at 5pm on Monday, 9 November; however please check the East Riding Archives blog page for more details before entering: www.eastridingarchives.blog/competitions/danesdyke
Patrick Wharam, countryside access manager at the council, said: "We thought this would be a fun way of getting visitors to take a closer look at the nature around them, and by using the 'What Was Here?' app people will quickly notice how much the landscape has changed, just through natural growth.
"It's been a tough year for everyone and our colleagues at Sewerby Hall and South Cliff Holiday Park have been so generous in donating these prizes, to help give everyone a bit of fun and a nice reward for the lucky winners."
Danes Dyke has long been a much-loved nature reserve for visitors to the Bridlington area. Its name hints at Danes (Vikings) who once invaded the area at the end of the eighth century, but the dyke itself is an ancient ditch or earthwork constructed for defence, and dates at least as far back as the Bronze Age, with arrowheads from that period having been previously found there.